It only takes a couple of minutes to install Cevoid on your Woocommerce store.
Install the plugin
Go to https://wordpress.org/plugins/cevoid/ and download the plugin. Then upload it to your plugins folder in your Wordpress directory. If you are inside your Wordpress admin panel go to Plugins and click the 'add new' button. Then search for 'Cevoid UGC' and click the install button. When the installation is done click the 'Activate' button.
When your plugin is installed
Now you need to connect your store to your Cevoid account. Go to the Cevoid plugin page located in the admin panel sidebar to the left.
When you're on the page press the purple 'Connect' button. Now you will be prompted to create a Cevoid account or login if you already have one. Choose one of the options. If you need to create an account do that and then return to the plugin page afterwards and login.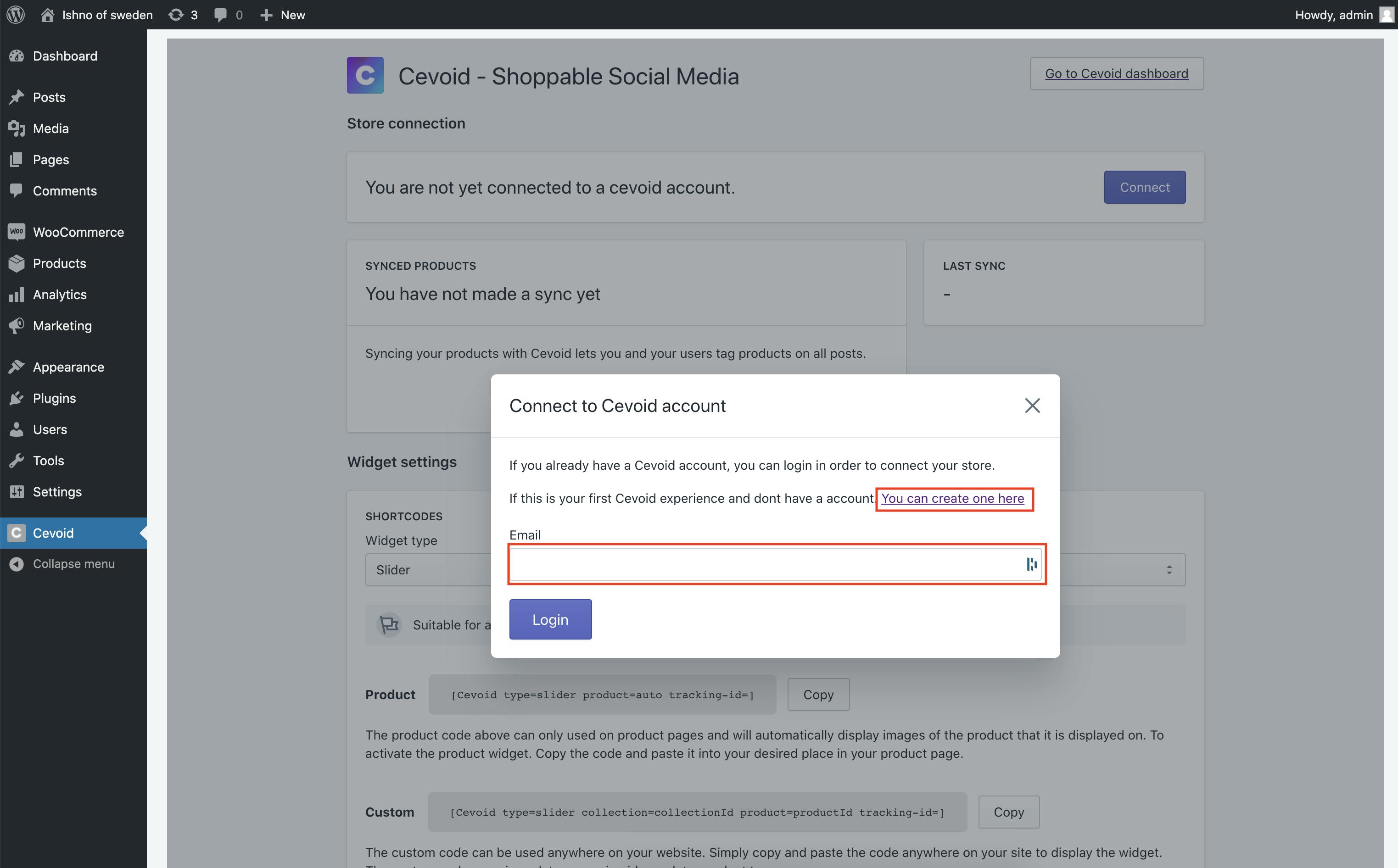 Logging in
Enter your email and we'll send you a token to your email to verify that it's actually your account that we are connecting the store to. See the screenshot below.
Connect the store the right account
When you're logged in you will get the option to connect to an already created Cevoid account or create a new one. This is because you can have multiple stores on the same email. Choose the store you want to connect to or create a new one and enter a name for the store.
When you're done with this you need to approve that we fetch information from your Woocommerce store. Press the purple 'Approve' button to agree to this. Without your permission we can't sync your products to the Cevoid platform.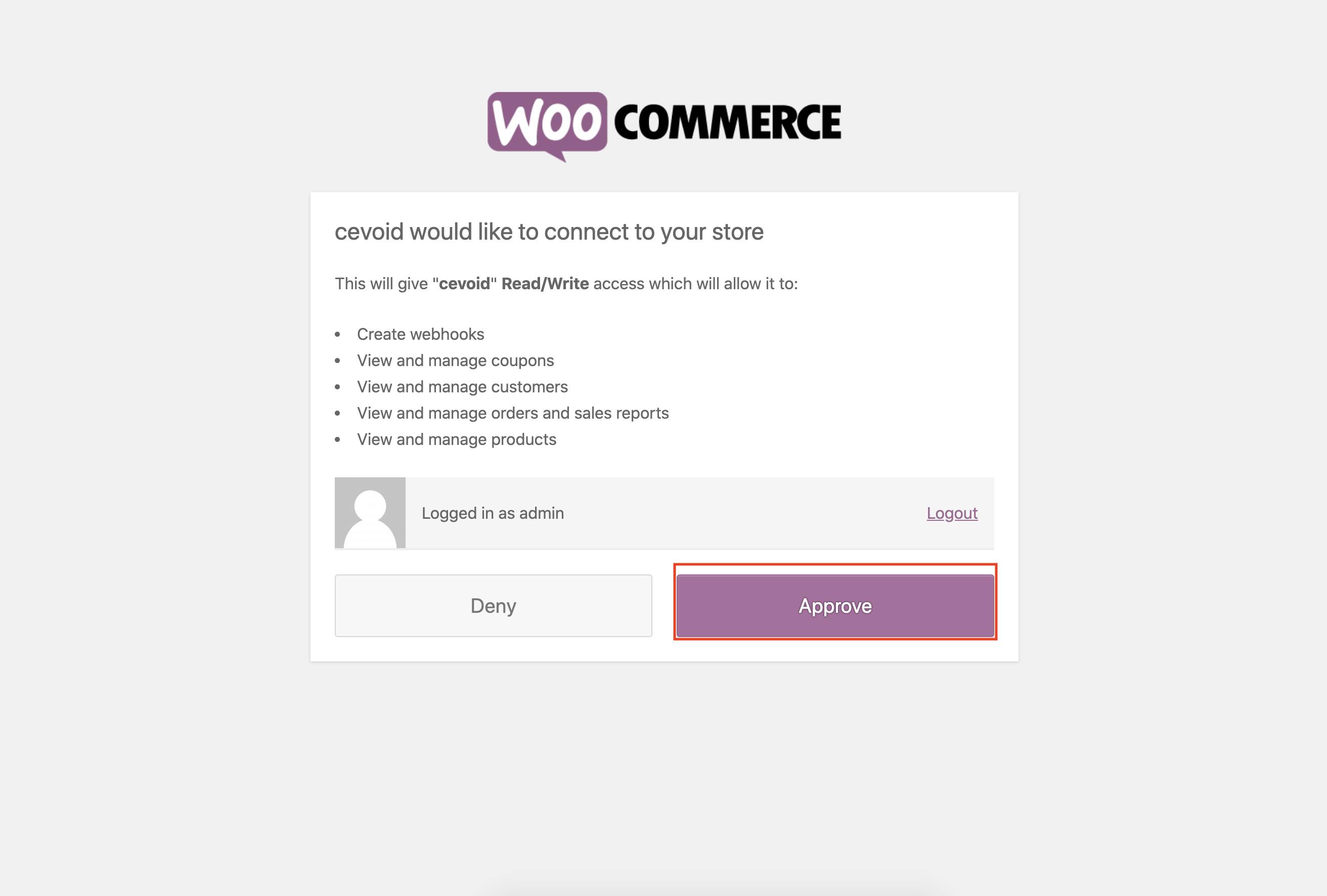 Successfully connected your store
After this is done your store is successfully connected to the Cevoid platform and you can now sync your products.
The best way to continue from here on is to visit the Cevoid admin dashboard and finish the Getting started steps to get you fully integrated to our system.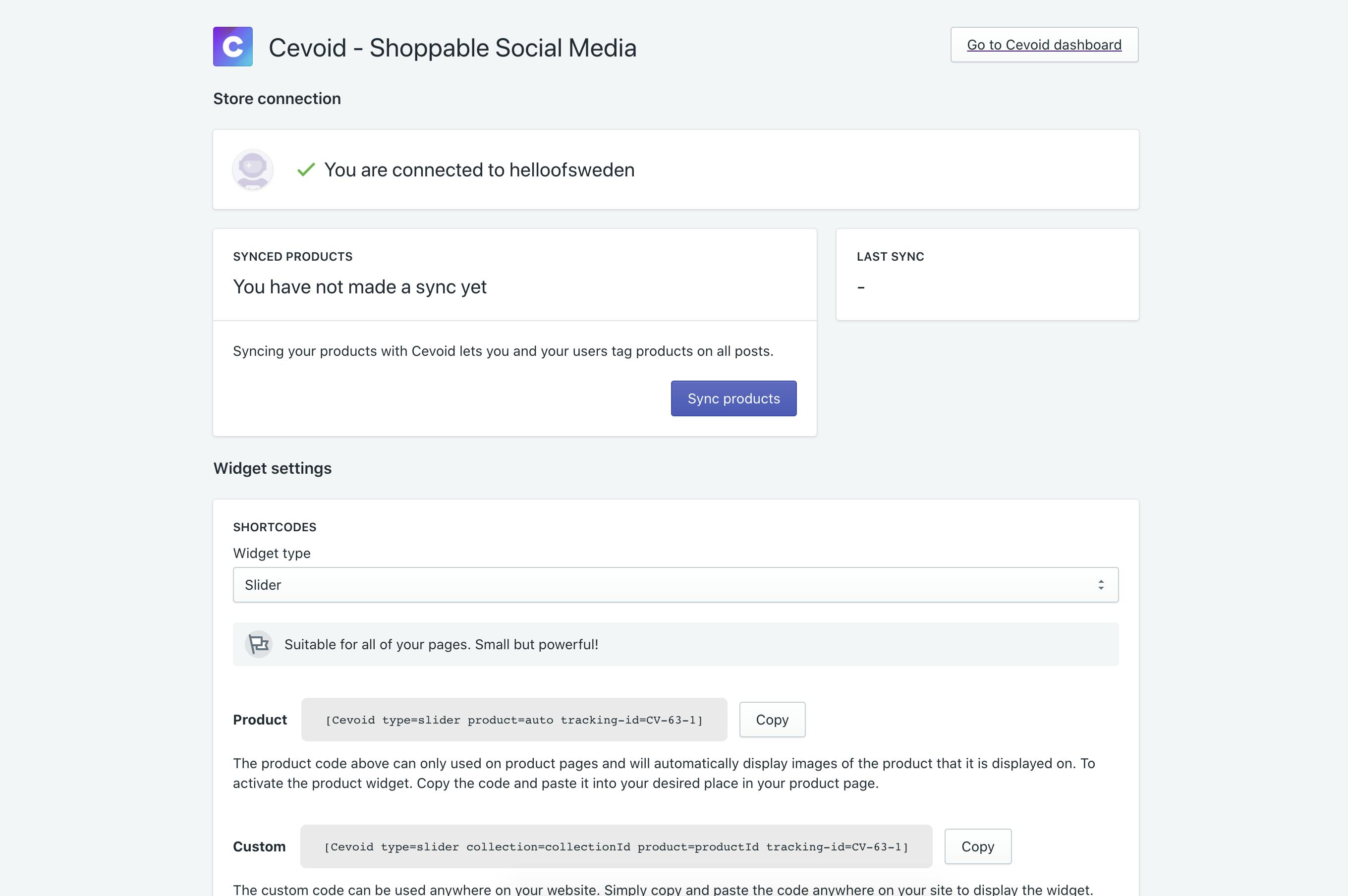 Add widgets to your store
Now that you have completed the installation and you've visited the Cevoid admin panel you need to add widgets to your website. You can find all the shortcodes for the installation in the Cevoid plugin page or the getting started page in our dashboard.
You can also see the shortcodes below. Simply copy them and add them to your website.
NOTICE: YOU HAVE TO ADD YOU OWN TRACKING IDs AND COLLECTION IDs. ALL SHORTCODE TYPES CAN BE USED WHEREVER YOU WISH.
Feed for Instagram business posts and store uploads:
Copy
 [Cevoid type=feed collection=store tracking-id=ENTER_YOUR_TRACKING_ID]
Slider for product pages:
Copy
 [Cevoid type=slider product=auto tracking-id=ENTER_YOUR_TRACKING_ID]
Collage for a specific collection:
Copy
[Cevoid type=collage collection=collectionId tracking-id=ENTER_YOUR_TRACKING_ID]