Imagine walking into a room where everybody knows you and loves everything about you. They'll cheer you on when you've got news to share, and they'll tell their friends how awesome you are. That's what having a brand community feels like.
E-commerce brand communities consist of shoppers passionate about a specific brand, primarily because they've had positive experiences with its products. These customers are happy to share their positive feedback with others and inspire their own audiences to try out products they enjoy.
Given that 88% of consumers globally trust recommendations from friends and family more than any form of advertising, the so-called word-of-mouth marketing has never been more relevant. That's because a recommendation from someone a shopper personally knows is much more credible and trustworthy.
Brand communities are becoming progressively important for e-commerce businesses as they focus on building sustainable communities around their brands. 
But what is community management, and how can it help brands build better customer relationships?
Let's find out!
What is community management?
At its core, community management is about fostering connections. It aims to create a space where people can come together, engage in conversations, share experiences, and support each other. And community managers are like the DJs of a virtual dance floor, playing the right tunes and getting everyone to vibe together.
But for the brands, community management is about more than just fun and games—the entertaining stuff is left for the community members. It takes patience and consistent work to keep the conversation going, resolve conflicts, and ensure everyone feels heard and valued.
A community manager is the glue that holds the community together and makes sure it grows in the right direction. But taking care of a whole community can be a bit of a task, so the first thing to focus on is choosing the right community management tools to take a load off your team.
However, managing people is like herding cats, but with fewer hisses and more spreadsheets. This is why we at Cevoid strive to take away your spreadsheet hassle and make your community management easy-breezy.
How can I manage my brand community with Cevoid?
Our mission at Cevoid is to make your community journey smooth sailing. That's why we've created a whole new section on our platform called Community. It encompasses different tools for how you can overview your members, manage them, and understand them better, helping you create better relationships with people passionate about your brand.
Here are seven ways Cevoid can help you manage your lovely brand community.
1. Get an overview of each member within your community
Member profiles make tracking each creator's contributions to your brand community convenient. Every community member you have on your Cevoid workspace now has a dedicated profile.
You can see all their content in one place on their member profile, like a creator portfolio. No matter if it's content from Instagram, direct upload links, or in-house photoshoots uploaded directly by your teammates—it's all on the respective member's profile! 
Plus, you can easily review and approve or remove it from the profile.
Take a look around:
2. Build member-specific galleries for your website 
With Cevoid, you can create a UGC gallery featuring content from one specific member within your brand community. Be it an influencer, brand ambassador, or a star customer—put their inspiring photos and videos in one pretty widget and let your creators shine!
UGC galleries featuring a specific member improve the community feeling for your brand. Seeing other customers who are satisfied with your products and who've had repeat purchases from your store creates a sense of safety and trust for newcomers.
Member-specific galleries are ideal for influencer and ambassador pages as well. Put your fabulous influencer photoshoots on display to highlight the contributions of your community members and encourage others to participate.
3. Keep track of different member roles
Sort your members the fun way! Create custom roles for your community members so you can tell apart your influencers, ambassadors, customers, or employees in just a click.
All member roles are visible in the left sidebar within the community tab. You can create new roles in seconds and customize them with an emoji of your choice.
Stay organized and effectively manage your members based on their function within your brand community!
4. Track each member's activities within the Cevoid platform
Curious about what your creators have been up to? Track each member's latest activities and contributions to your brand straight from their member profile!
Open up their member profile on Cevoid, click the Activity tab, and view all actions that a) the member has completed on Cevoid and b) your teammates have done on behalf of the member (e.g., changing the language, location, and other settings).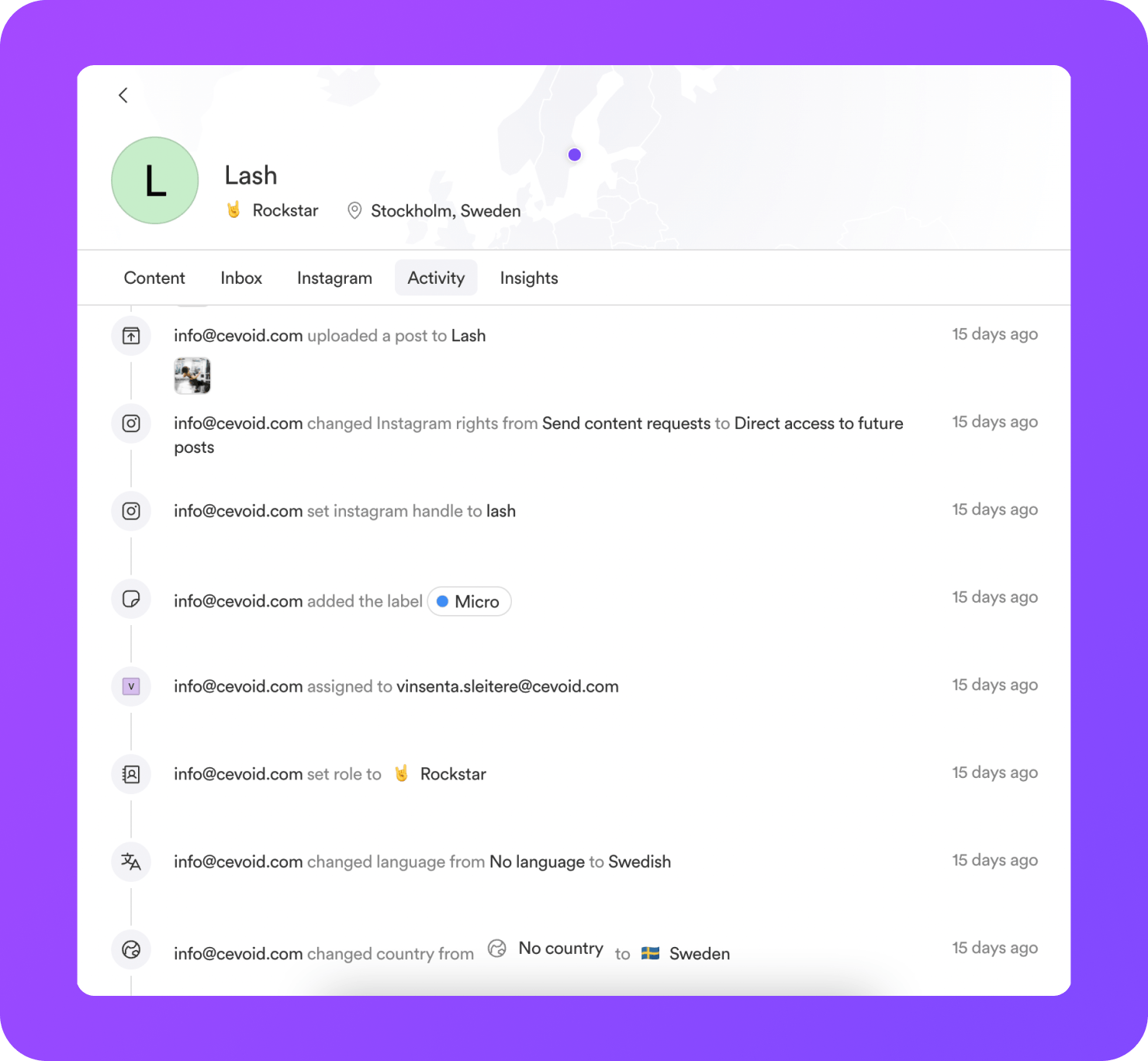 5. Assign members to your teammates
One of the most convenient Cevoid's community management tools is the option to assign specific community members to your co-workers. This lets you improve your workflow and distribute responsibility by assigning members to teammates who know them best, giving a personalized approach to community management.
Moreover, you can add notes to each member's profile for your team. This is particularly useful when you have specific information or instructions about a member you wish to share with your team. The notes are only visible to your teammates—the members won't know what you've written about them.
6. Make custom member views for easy access
Cevoid's community management tools allow you to create custom views to access relevant member profiles in one click. When creating a view, you can filter out members based on location, language, style, or any other characteristic or label relevant to your marketing campaigns.
The views feature allows you to easily segment and organize your community based on various criteria, making it easier to manage and engage with specific groups of members.
Here's how to create a new view:
All views are conveniently accessed on the left sidebar in the Community tab.
Hold up—so how do views differ from roles?
Each member can have only one role (or no role at all), but it's not true for views. Views are made by creating filters; you can include different roles, locations, and languages in each filter. In short, views allow you to save your most used filters so that you can get back to the same workflow later on in a matter of seconds.
Erik from Cevoid
Head of Product
7. Upload content directly to a member's profile
Have an influencer photoshoot saved on your computer that's perfect for your next marketing campaign? Then you can upload the content to the respective member's profile on the Cevoid platform. This convenient approach saves you the hassle of manually assigning each photo and video to a member, which is especially helpful when dealing with a large volume of content.
Here's how you do it:
Choose tools that support your community needs
Effective community management is essential for e-commerce brands to build thriving, loyal brand communities. And with the help of Cevoid's comprehensive community management tools, e-commerce businesses can create easy-to-use, engaging environments for community members and encourage content sharing.
It's time to increase that word-of-mouth marketing magic, save time, and take a load off your busy bee team with Cevoid's community management tools—try them out right away!