In the current e-commerce landscape, building a community around your brand is more important than ever. Did you know that around 50% of a company's revenue is from 8% of its most loyal customers? A thriving brand community is a potent tool for your business because they'll keep purchasing from you and motivate others to do the same.
But do you know what your brand community consists of?
Within your community, there are thousands of potential creators, each with their own unique set of characteristics, needs, and desires. Since they're an integral part of your community, it's crucial to understand and support them to build better relationships and a stronger and more engaged customer base.
In this blog, we'll dive into the four main creator groups within your brand community and explore the best ways to engage, support, and collect content from each one of them.
But first, let's take a closer look at what a brand community actually is.
What is a brand community?
In e-commerce, a brand community is defined as a group of people who share a common interest in a specific brand and its products or services.
So what is the goal of a brand community?
The ultimate goal of a brand community is to cultivate a space where each community member feels motivated to interact with others and share their experiences with your brand. Through communities, e-commerce brands can establish themselves as more than just a seller of goodies but also as a reliable vortex of information, inspiration, and support for their customers and other members.
What is the benefit of building a brand community for e-commerce?
Building a community for e-commerce brands has plenty of benefits, such as:
increased customer engagement,
improved loyalty and trust, as well as 
higher relatability and authenticity
Through a brand community, members can offer valuable feedback, exchange recommendations, and support one another. By building a vibrant community, e-commerce businesses can stand out from the crowd and drive more sales. When customers feel a sense of belonging, they're more likely to stick around, buy from your brand again, and even refer you to their friends.
What are the main creator roles in a brand community?
There are four main creator roles in every e-commerce brand community. So without further ado, let's check out what makes them tick and how to reach, support, and motivate them to become active members of your community.
The Social Customer
The first group is social customers. These customers love to share their latest purchases on social media and tell their followers about their experiences with different brands and products. Plus, they happily engage in conversations with brands.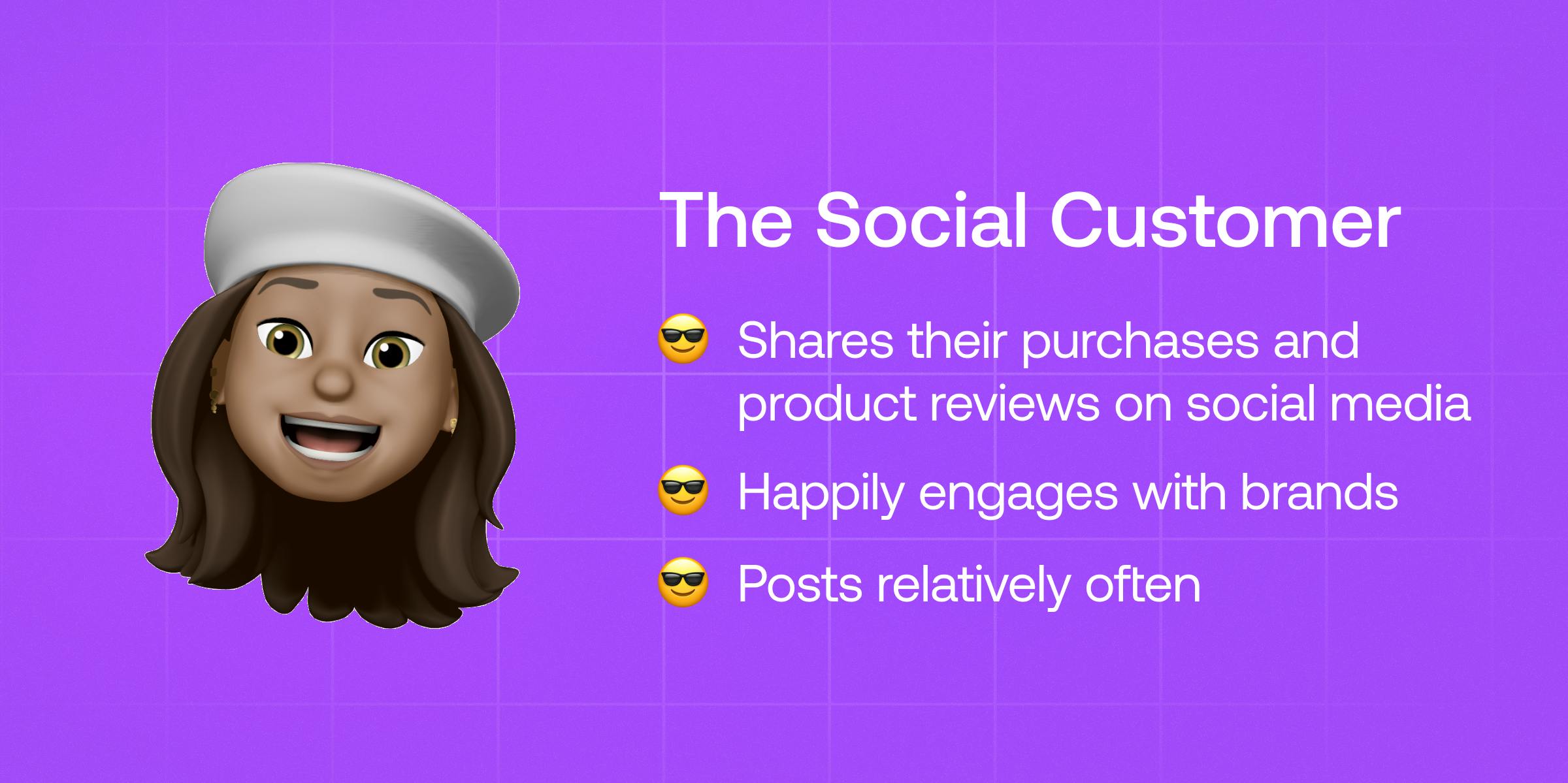 How social customers share content
Social customers usually post their experiences with brands and products on their own. While some of them are aspiring creators that would love to be considered for a paid collaboration, there are also plenty of social butterflies who want to try new products and tell their follower base all about their experiences.
This brand community creator group posts often, from a couple of times a week to a couple of times a day. Social customers are easily discoverable as these consumers love to tag their favorite brands and add hashtags to their post descriptions.
How to collect content from social customers
Since these consumers are avid social media users, the most effective way to collect their content is—you guessed it—through social media. Moreover, since social customers usually want to be associated with their favorite brands, they'll feel flattered you'd like to use their photos or videos.
If you want to save time and automatically retrieve tagged and hashtagged content from Instagram, try Cevoid. Once a new post featuring your brand is posted, our platform will automatically add it to your inbox so you can review it, effortlessly request use rights, and use it all over your marketing channels.
How to support social customers in your brand community
Since this creator group is self-motivated, they're easy to support. As long as you interact with their content, either by commenting a supportive emoji on their posts or proudly using their creations in your marketing, they'll feel valued and motivated to create more.
However, if you're looking to give your social customers an extra boost of motivation, create a social media contest or a giveaway.
For extra inspiration, check out our guide on ways to motivate your brand community to create more content.
The Quiet Customer
Another valuable yet quiet brand community role is the quiet customers. While they might tell their friends about their latest online haul, this consumer group rarely shares their shopping experiences online. However, quiet customers can give you valuable insights about your product, and this group also creates content and would happily share it with your brand if you asked.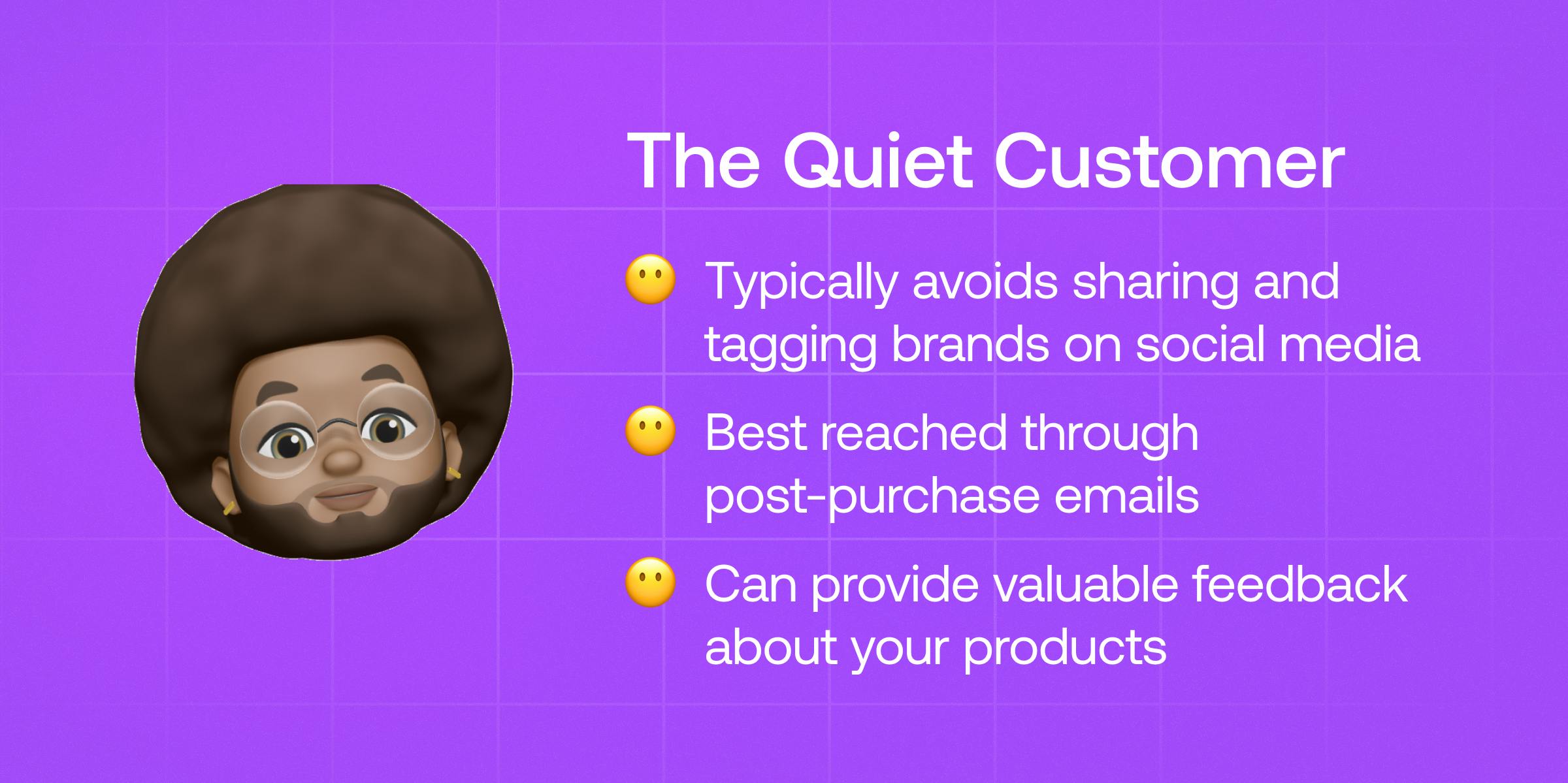 How quiet customers share content
Hate to break it to you, but the short answer is: they don't. That's why they're called quiet customers. Most often, they're the type of consumers that enjoy your products but don't necessarily post about their purchases and experiences on social media. Or, if they do, they rarely post, have a private account, or avoid tagging brands or talking about their purchases.
How to collect content from quiet customers
One of the best things about e-commerce is that you get to ask for the customer's email address during the checkout process. That means you already have a way to get in touch with this member group. After the customer has received their order, send them an email asking for a visual experience with their purchase. 
Additionally, we recommend always keeping the upload CTA button in your galleries activated to allow your community to upload content directly through your website.
How to support quiet customers in your brand community
The key to engaging with your quiet customers is to give them a good reason to share content with your brand. Providing this customer group with tools to share content without using their social media is a great start to including them in your brand community and letting their experiences be known. To motivate them even further, offer a discount code or a freebie in exchange for a photo or video to make their efforts worthwhile.
Plus, studies show that acquiring a new customer tends to cost 5x more than retaining an existing customer. So don't sleep on the quiet customers; activate them!
The Influencer
Next up in our brand community creator role list are influencers. These highly social creators collaborate with different brands, have a large following, and know how to steal the show. Plus, many influencers promote only the products they would personally use, so they have a high trust rate and relatability.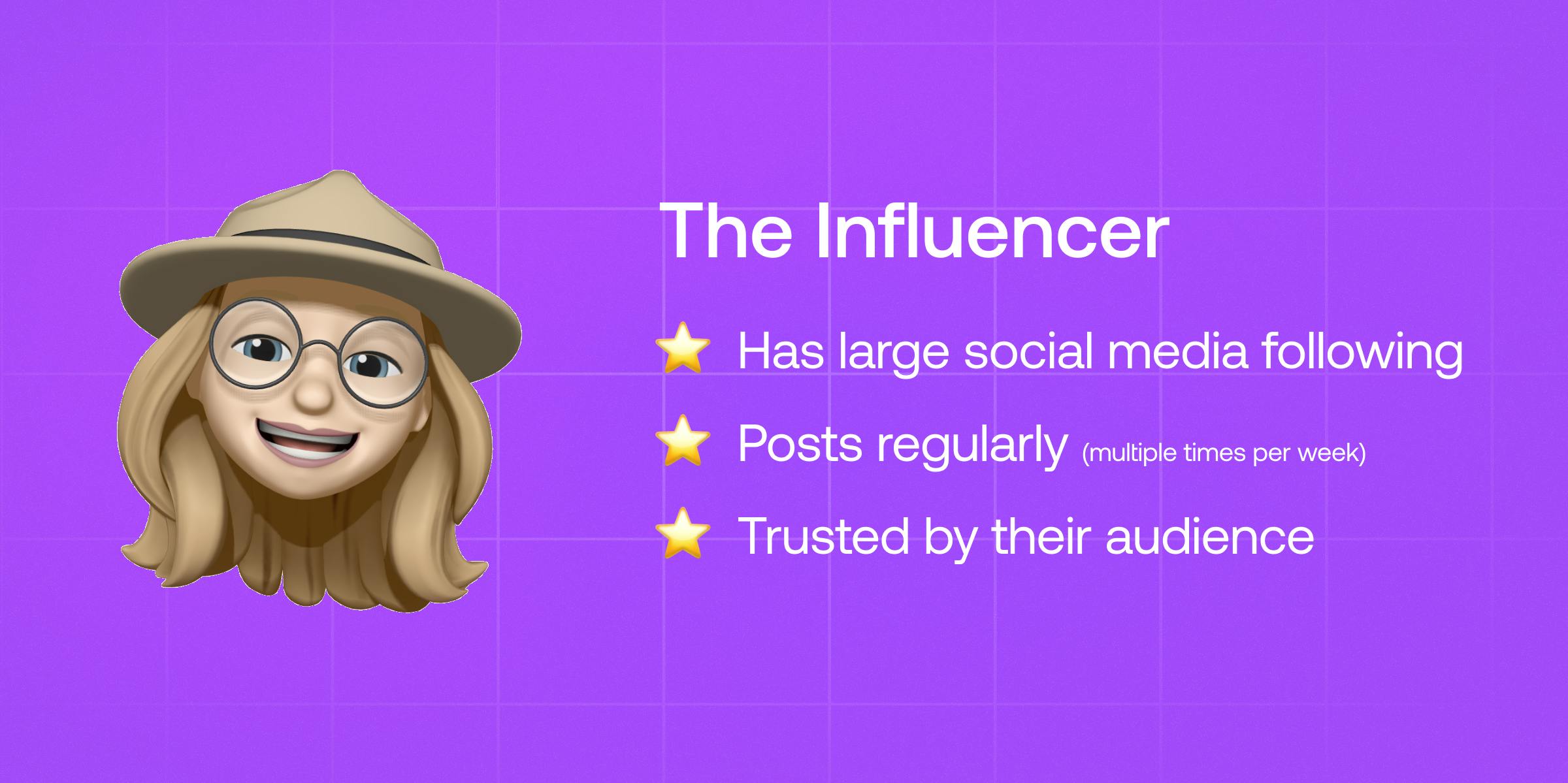 How influencers share content
Influencers are the kings and queens of social media. They post tons of Instagram stories, posts, Reels, TikToks, and YouTube videos. While each influencer has their own niche, and some may capitalize on just one social media channel, they're likely to post regularly and don't keep their followers waiting for new content.
How to collect content from influencers
If you already have influencers you're collaborating with, whitelist them to instantly access their content. Allow their newest creations to automatically show up on your UGC galleries without extra approval and make your collaboration a breeze.
Alternatively, give your influencers an upload form to store their content. Their creations will be stored on your Cevoid UGC hub for easy access, and you won't have to dig through countless Google Drive folders or email threads to find what you're looking for.
How to support influencers in your brand community
Influencers are self-driving creators that are also on the lookout for good collaboration opportunities. If they've already agreed to work with you, give them a way to share content with you that makes the collaboration process easier for both parties (see the "How to collect content from influencers" section above).
The easier it is to work with you, the more likely influencers are willing to collaborate with your brand in the future.
The Employee
Last but not least, employees are the fourth main creator group in your brand community. Unfortunately, they're the most overlooked creator group in brand communities. Your team works with your brand daily, and they know your products like nobody else. And that is why employees can be fantastic brand ambassadors when given a chance.
Consumers love to learn about the day-to-day at their favorite brands, so give them a peek by encouraging your employees to share the behind-the-scenes content. This will help boost employer branding and give your brand community an insider's look.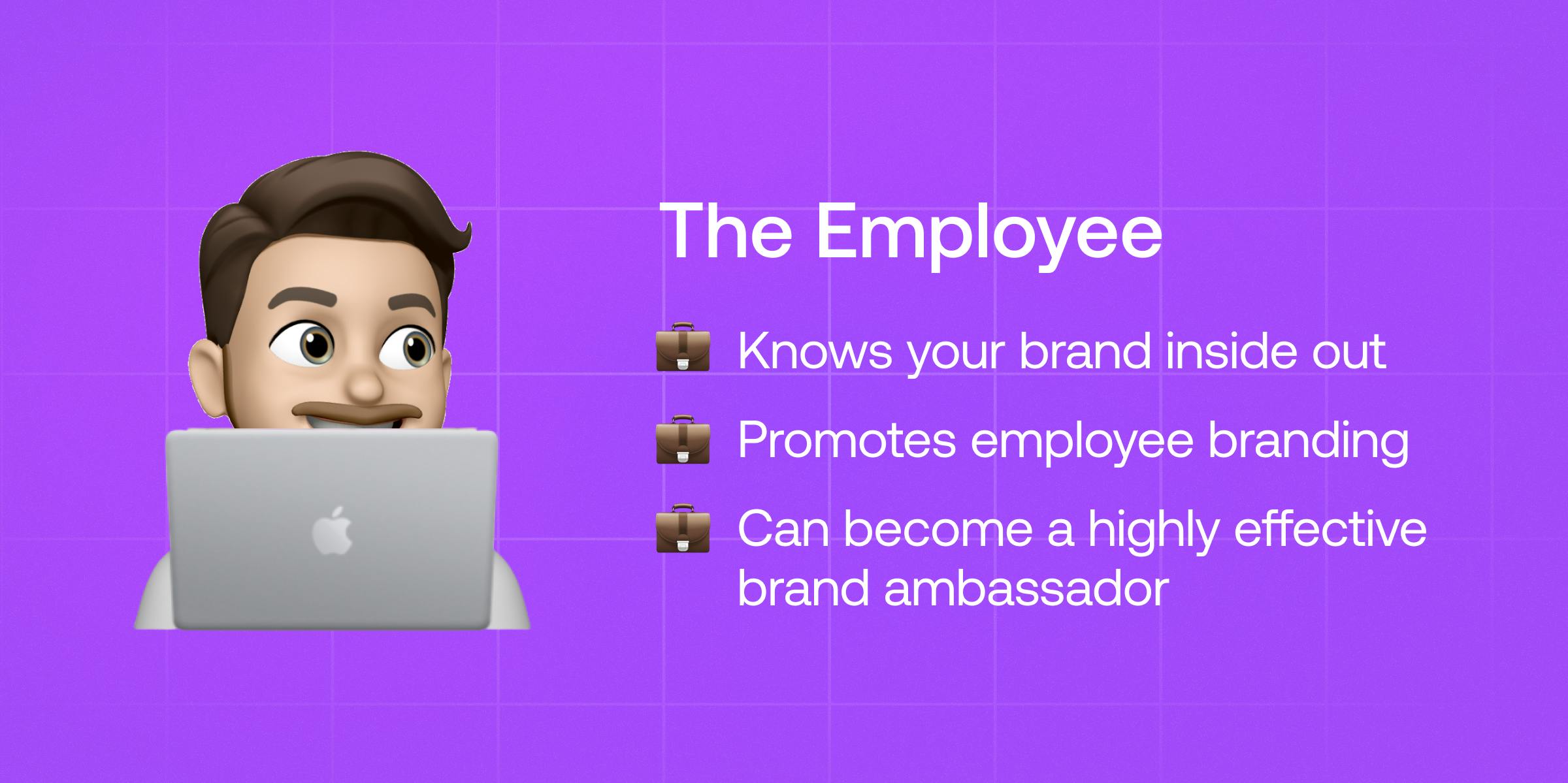 How employees share content
Depends on the individual. Some employees may be more active on social media and already act as brand ambassadors, while some may keep a low profile. Nevertheless, when given a little nudge, every creator in this group would be happy to share their experiences with your brand and product.
How to collect content from employees
The easiest way to collect content from your employees is through direct upload forms. In your Cevoid UGC hub, create a dedicated folder for photos and videos made by your team and share its link with your team through email, Slack, or any other messaging solution you prefer.
That way, your employee content will always be accessible in one neat place, and your team won't have to take the extra step of posting on social if they don't feel like it.
How to support employees in your brand community
This is a question that's deeply rooted in employee branding. If your team is happy working with your brand, they'll gladly advocate for it. But, overall, the healthier your culture and employee satisfaction, the easier it will be to empower your team to create behind-the-scenes content you can use to build a closer relationship with the rest of your community.
Takeaways
Creating a strong brand community is all about understanding the different creator roles and how to work with them. Everyone has a unique perspective to offer, be it a social customer, quiet customer, influencer, or employee.
By understanding these four key roles and adapting your approach to match, you can build a thriving brand community that inspires potential customers and fosters loyalty, growth, and engagement. So go ahead and nurture your creators in a way that works best for them, and you'll create a thriving community that swears by your products.
Not sure where to begin your UGC journey?
If you're curious about how user-generated content can help your business, schedule a coffee chat with us, and we'll help you understand how your business can best benefit from UGC.
Or, give Cevoid platform a go with a free trial, play around with different built-in UGC tools, and let us know if you have any questions!
You're not alone—we're here to support you every step of the way. 💜