Welcome to 2023, the year when artificial intelligence-powered tools have essentially become household staples.
If you're part of the tech world, you know AI-powered tools have blown up the internet. With nearly every LinkedIn influencer sharing their expert opinions on the latest AI trends and best practices, it's clear that AI tools have revolutionized how we work and communicate. 
But while AI can undoubtedly save time and improve productivity, it's not without its downsides.
In this article, we'll focus on the issue of authenticity, which has become increasingly important for building successful e-commerce businesses and thriving brand communities.
We'll explore why e-commerce brands need to prioritize authenticity in their content and how authentic content can impact a business in the long term. So, read on to discover why authenticity is a crucial aspect of e-commerce and why your customers produce more valuable content for your brand than any AI-powered tool.
Why is authenticity important for e-commerce brands?
When building a successful e-commerce brand, simply offering great products isn't enough. In today's oversaturated markets, businesses must create meaningful connections with customers and earn their trust to stand out. That's where authenticity comes in.
Authenticity is more than just a trendy buzzword. It's a critical component in building lasting, meaningful connections with customers. In fact, it can make all the difference between a one-time sale and a loyal customer for life.
Now let's explore five reasons why authenticity should be a top priority for any e-commerce brand.
1. Being genuine is expected
In a digital world, you can be anything. People can use different kinds of filters and AI-powered tools to paint a glamorized version of their lives, Which means that brands can do that, too. It's possible to create a brand around make-believe, altered, or even fake content, or push out misleading information. But that's not only unethical; it's also disrespectful to customers.
Let's look at the youngest generation of spenders, Gen Z, who are gaining more purchasing power every year. We can see that authenticity is a priority for them. According to this EY research, 92% of Gen Zers reported authenticity as their most important personal value.
Authenticity isn't just an extra nowadays—it's a must-have, especially for this generation.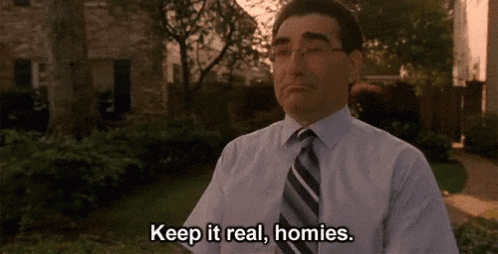 Think about it. Gen Zers, as well as younger millennials, grew up with advertising. They've seen countless promotions and exaggerated promises sold to their older family members ever since they were toddlers. 
Compared to the older generations, Gen Zers have a better eye for what is authentic and what's just a far-fetched ad. However, thanks to their skepticism, other generations are also increasingly becoming more attentive to the promise of advertising.
In an era of fake news and misinformation, authenticity feels like a breath of fresh air. That's why e-commerce brands can cut through the noise by prioritizing authenticity and deliver messaging that resonates with their audience. 
By showcasing your company's unique personality and highlighting the values that set you apart from the competition, you can create a more engaging brand identity that resonates with your customers.
2. Humanized brands build better communities
One way to establish authenticity and build stronger connections with your customers is by humanizing your brand. It means showing the people behind the brand and sharing their stories and values that drive your company. 
Here's what you can do to show the human side of your brand:
Publish images and videos of your team during a team-building event
Show off your employees interacting with your products on social media
Create an "About us" page on your website and include some fun, relatable information about your team members
By showing the human side of your business, you can build a personal connection with your audience, make your brand feel more relatable, and create a stronger sense of community. 
Take a look at this example by a digital agency called Digital Marmalade.
They've created an interactive "About Us" page that not only shows how their teammates look like and what they do at the company but also their favorite foods, sports teams, TV shows, and what they'd look like if they were superheroes.
After all, your team is part of your brand community. 
You can build trust with your customers and make your brand more relatable by showing the real people behind it. And the more relatable the brand, the more people want to join the community.
So let your customers get to know your team members. You'll create a deeper bond with your customers and build a more engaged community around your brand.
3. Transparency increases trust and brand loyalty
Honesty is the best policy. Especially because being open and honest with your customers about your product and business processes builds trust and loyalty.
This includes:
being transparent about your supply chain,
your manufacturing processes, and
any environmental or social impact your company may have
By sharing this information, brands demonstrate a willingness to improve and humbly show they have nothing to hide. 
Transparency also improves relationships with your customers. Brands focusing solely on quick sales without prioritizing customer retention and loyalty struggle to create meaningful connections with their customers. 
Take a look at this example from Amazon. A customer purchased footwear but was disappointed when the product didn't meet their expectations. When they left a negative review calling out the product as being fake, the seller responded with a dismissive "hehe."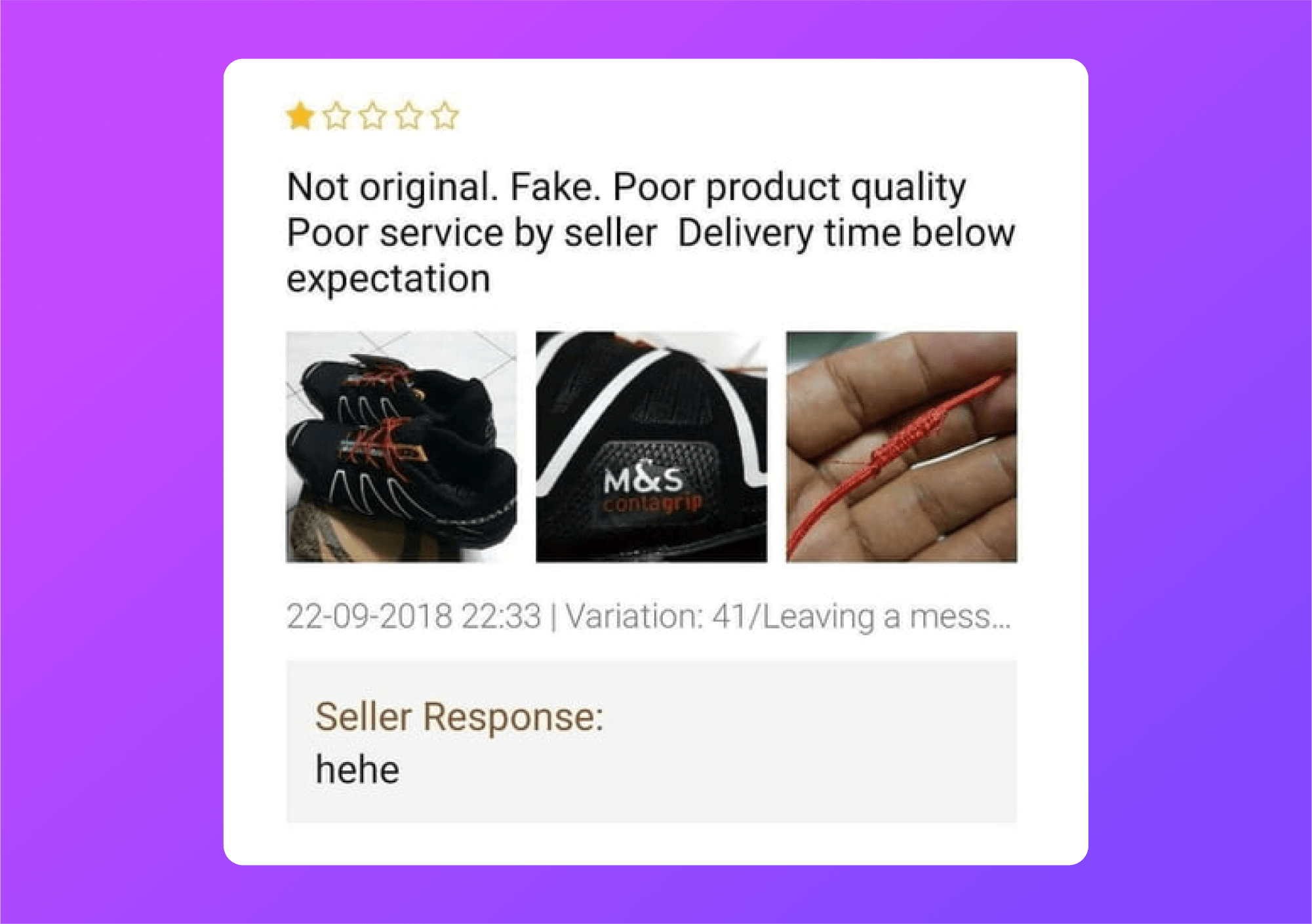 Selling fake branded products is far from transparent behavior, and a response like this demonstrates a lack of commitment to building trust and relationships with customers. When customer support is dismissive or unhelpful, brands risk losing not only that one customer but also potential customers who see this interaction. 
By prioritizing transparency and authenticity, you can build a brand that customers trust and want to support. Running an e-commerce business is not just about selling products; it's about making meaningful connections and positively impacting the world.
4. Authentic content boosts your brand's credibility
In other words, high-quality and authentic content improves your brand's street rep. This goes for both visual and written pieces. First, let's explore how written content can help with authenticity.
How can good copy improve authenticity?
Good copy is like a good conversation. It should be relatable, engaging, and easy to follow. And while AI-powered tools can generate coherent, smooth copy pieces, they lack relatability. Simply put, they lack the soul and passion that goes into the writing and makes your brand truly unique.
Aim for content that resonates with your customer base because that's a sure way to build a brand community over time. And you can't have a community without authentic content; everybody can type a common question into Google or ChatGPT and get a good answer. But not everybody can share your brand's experiences and know-how like you do. 
So share your authentic experiences and unique viewpoints to position your brand as a thought leader in your niche. And don't count on AI to write copy for you; use it as an assistant to generate ideas, correct grammar, or even improve the sentence flow. 
But leave the emotions to humans—they're the experts at feeling and relating.
Can AI-powered tools support your brand's visual content?
Visual content, such as product photos and videos, is often the first interaction customers have with your brand. That's why investing in creating compelling and authentic visuals that accurately represent your brand and products is crucial.
User-generated content (aka UGC) is one of the most effective ways to achieve this. By showcasing photos and videos taken by your customers, you can introduce newcomers to your brand community and build trust. In addition, UGC allows potential customers to see how your products look in real life and how other buyers interact with them.
While AI-generated content can enhance visuals, it's not a substitute for authentic UGC. Nevertheless, AI tools like Genus can improve your existing visual content by quickly transforming simple product photos into captivating ads. 
Keep in mind that customers can often tell when content is generated by a computer rather than a human being, especially when there isn't a legitimate social media account or person behind it. So, to ensure your content is authentic and trustworthy, use AI-powered tools to complement and enhance your existing content rather than trying to replace it entirely.
To make the most of AI-powered tools, use them in a way that complements and adds value to your existing content. This means basing your AI-generated content on real, authentic content that resonates with your audience.
But can AI-powered tools create UGC as effectively as your customers can? To find out, I put two AI image generation tools—Fotor and DALL-E—to the test by using them to create UGC pieces. Here are the results.
Fotor
I typed in "a selfie of a young woman smiling and holding skincare products in her hands," and this is what the Fotor AI tool gave me.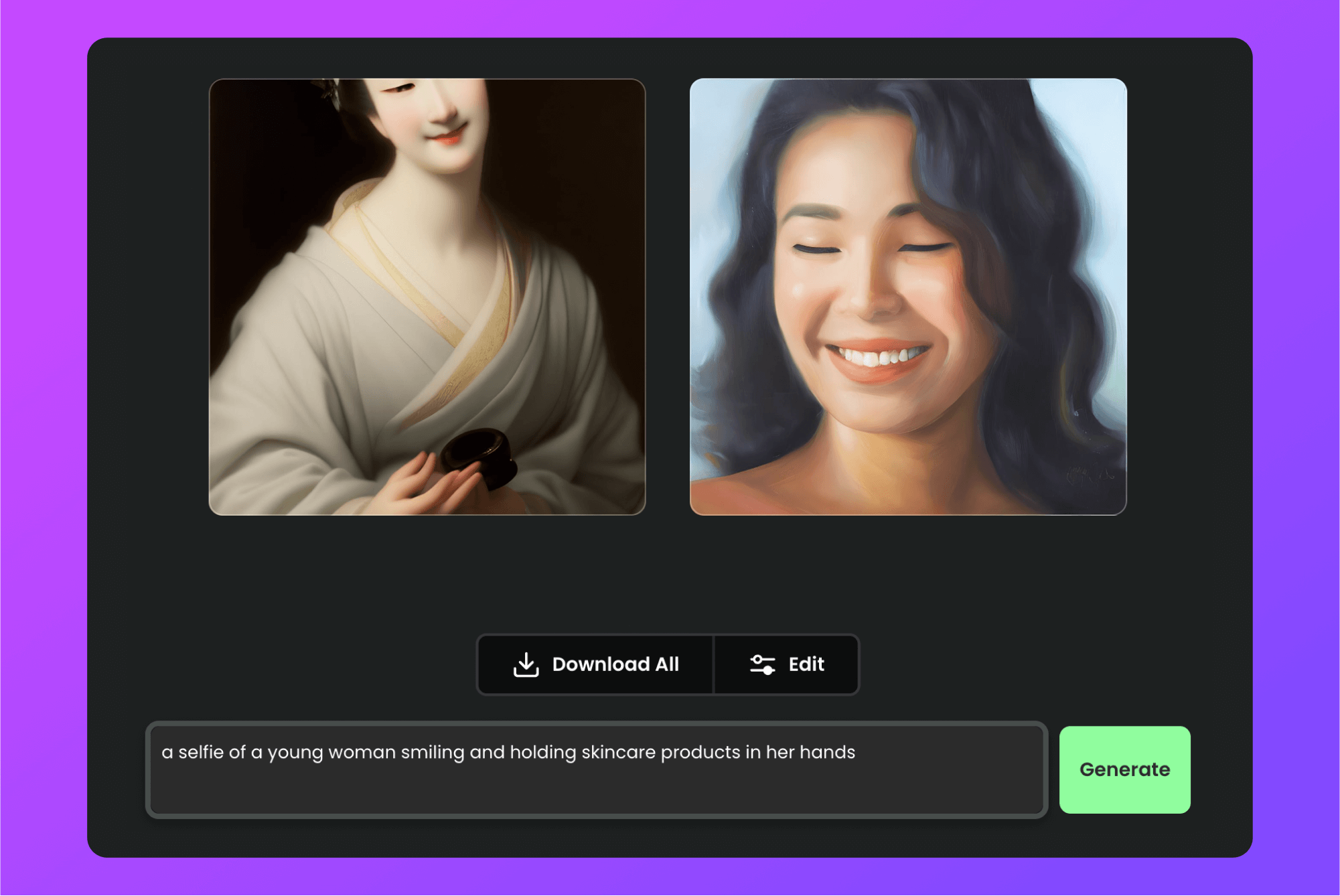 The first image is straight out of the 1800s, but the second has no signs of hands or skincare products. Next, please!
DALL-E
Since DALL-E is created by the same people behind ChatGPT, I had high hopes for this tool. 
Unfortunately, while the AI images produced by DALL-E were an improvement over Fotor's results, they were still somewhat disconcerting.
While these faces don't belong to real people, I'd easily mistake them for real, user-generated selfies on smaller screens and thumbnails.
But there's one major setback. There are no brand or product names in these images. Understandably so because AI tools cannot generate brand-specific images for legal reasons.
I experimented with Olaplex, and while the women in the generated images looked more realistic than in the previous tests, the AI tool not only failed to include the correct brand name (writing "OLAL" instead of "Olaplex") but also inaccurately depicted the product packaging.

When it comes to authenticity, there is no substitute for user-generated content. UGC is produced by real people with genuine experiences with brands and products, something AI cannot replicate. 
At the end of the day, customers want to feel like they're interacting with other people rather than corporations, and UGC is an invaluable tool for achieving this goal.
5. Personalized experiences increase customer engagement
Personalized experiences are essential for creating authentic connections with your customers. They're all about making your customers feel valued and heard. When customers feel they're being treated as individuals, they're more likely to engage with a brand and share their positive experiences with others.
However, personalized experiences work only when they're genuine. Customers can quickly tell when a brand is simply trying to sell them something rather than building a meaningful relationship.
One simple thing any e-commerce brand can do is engage with customers on social media.
Let's take an American pancake restaurant—Denny's Diner—as an example.
Exhibit A. Denny's Diner knows their audience. Their very first tweet in 2023 is an invitation to their restaurant for customers who want to cure their post-New Year's celebration headaches with pancakes.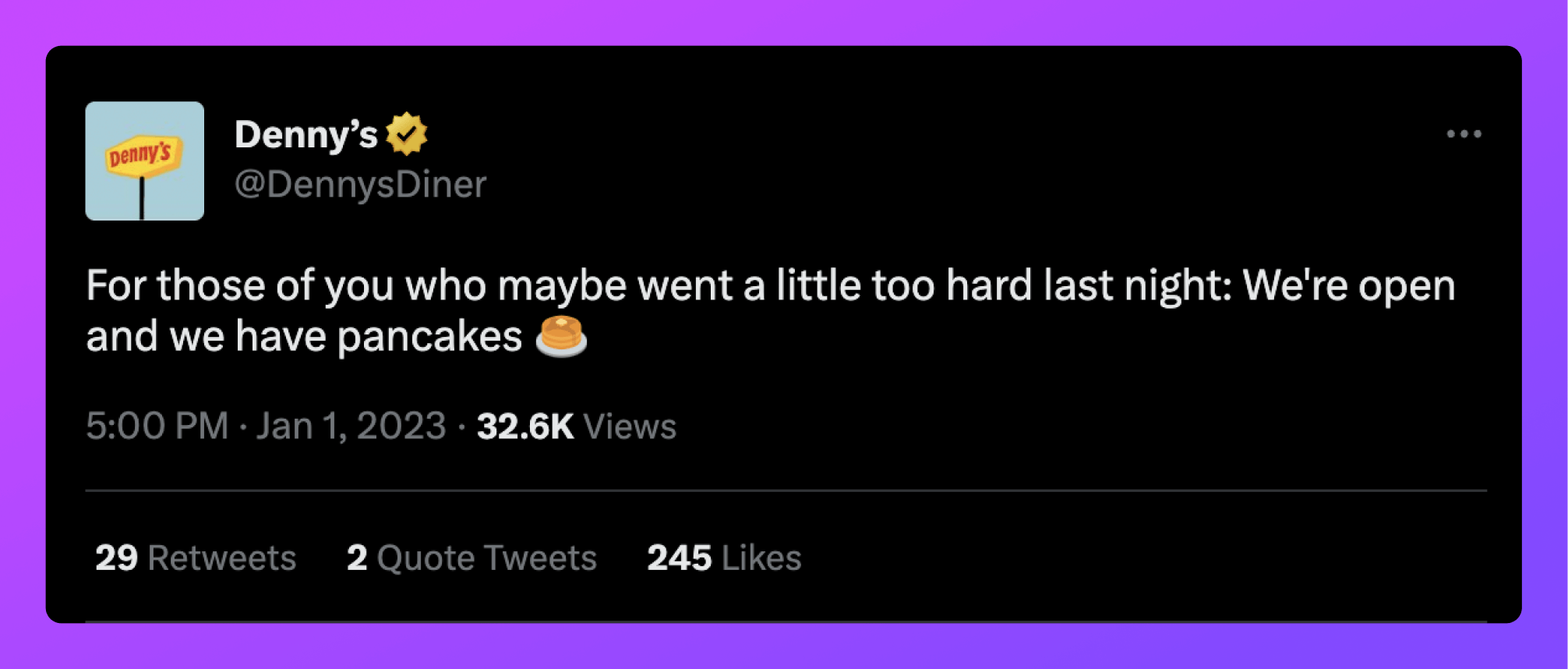 Exhibit B. The people behind Denny's Twitter account reply to their customers, no matter if it's a serious question or a casual joke. This, in return, motivates customers to engage with the brand even more.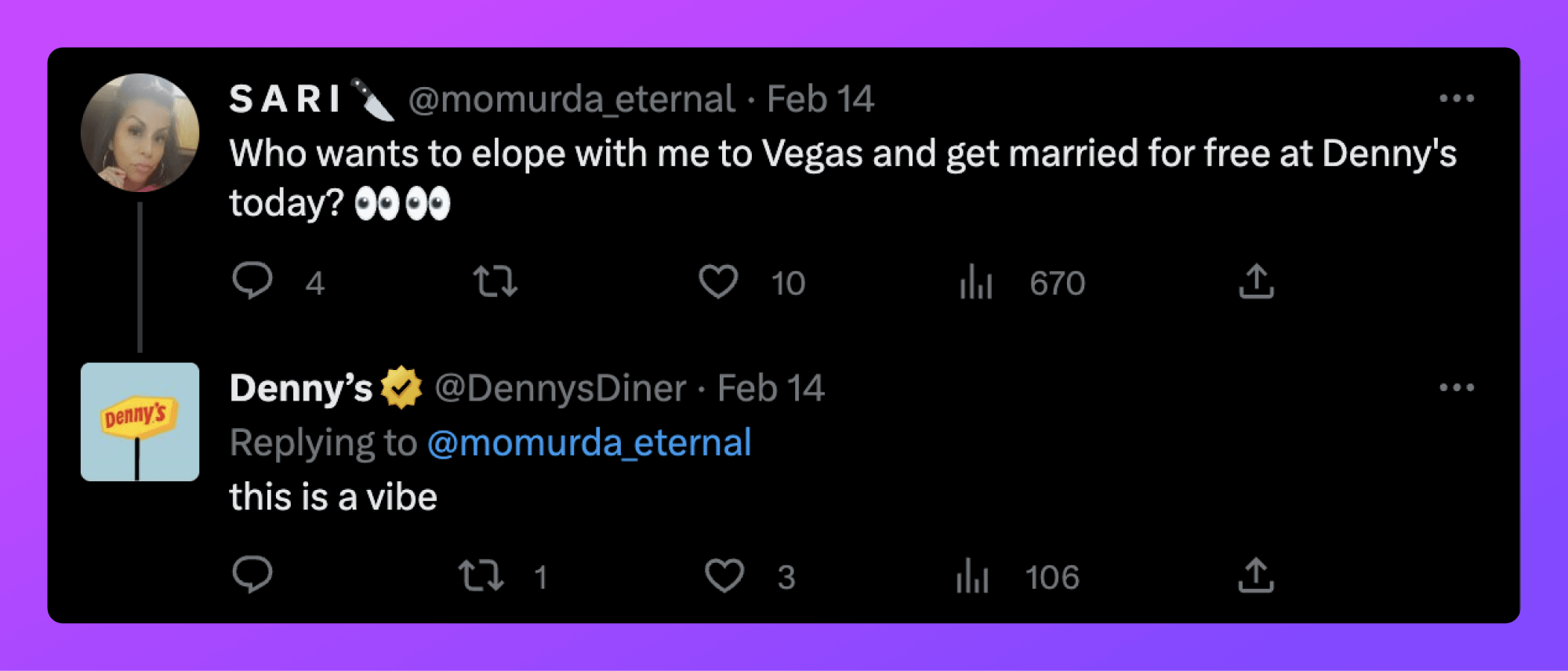 However, if casual replies are not on brand with your business, you can create a specific account that's dedicated to helping customers that have serious questions about your product, as the note-taking app Evernote did. 
They created a separate Twitter account called "Evernote Helps" to address customer issues on social media.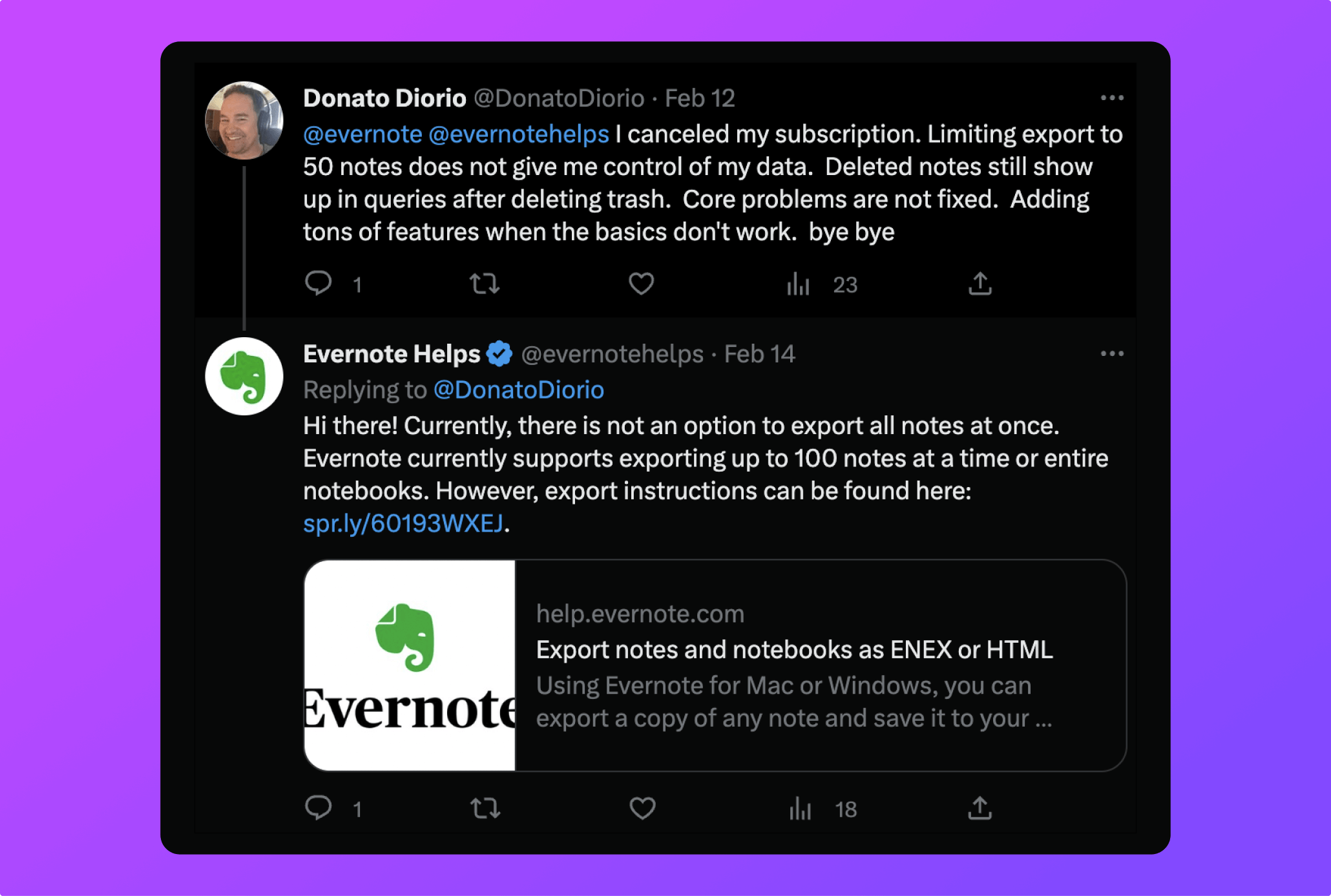 They're putting all jokes aside and focusing 100% on helping customers. Even though this might not seem like the most fun way to engage with the brand, any positive engagement builds brand loyalty and trust.
Embracing authenticity and human connections
Staying authentic in a world full of AI is critical for e-commerce brands. With customers valuing authenticity more than ever, it's important to find a unique voice for your brand that lets you stand out from the competition. While AI can help speed up and improve daily tasks, it's no substitute for the human touch.
And the good news is that you can easily build meaningful relationships with your customers by showing the human side of your brand. When approaching your customers, think of the interaction as trying to make new friends. Don't just try to sell them on the top 5 reasons they should become your friends; take your time, start a friendly conversation, get to know them, and take it from there.
Your brand community is human. So should be your brand.