Do you remember when you had just started your business and got your first tag on Instagram from a customer? How happy they were to receive your product, show it off to their friends and followers, and maybe somebody took a video of the unboxing experience!
User-generated content is a marketing form like no other. It's authentic, transparent, and creates a community around the brand, making the product experience truly unique.
So how does user-generated content work, and why is it a must-have for successful e-commerce businesses? In this article, I'll walk you through what user-generated content is, how it can elevate your e-commerce brand, and what you can do to get started right away.
Shall we?
What is user-generated content
User-generated content (UGC for short) is any form of brand-specific content not published by the brand itself. For example, if a customer buys something from your store, posts it on Instagram, and tags you, that's user-generated content. 
User-generated content can take different shapes and forms, such as:
What user-generated content can do for your e-commerce brand
Including user-generated content in your marketing efforts is more than just a fun and easy way to show off your products to a broader audience. The user-generated content game has many benefits that will help you grow your e-commerce business.
Let's dig deeper!
Show off your brand authenticity
Many online brands spring up every day like mushrooms after rain.
So to break through the noise and attract customers, it's crucial to stand out. One way to do that is by showing your authentic side. Since UGC is created by users who typically don't get paid for promoting brands, it makes the content more genuine.
Nowadays, shoppers, especially Gen Z, want a unique and transparent brand experience. Younger generations grew up seeing advertising left and right, so they can see right through them, and they're more difficult to pursue through ads alone. That's why creating an authentic brand experience is a must.
Customers are honest when reviewing products they have paid for. Since user-generated content is created by the customers, UGC is more reliable than branded content published by the company selling the product. In fact, surveyed millennials believe that UGC is 35% more memorable than other media, and 50% more trusted.
Moreover, most advertising uses models and environments that are not true to everyday life. Seeing another person using a specific product creates a feeling of safety — or lack of it if the product doesn't fit the description. User-generated content ensures customers are not buying a cat in a bag. 
Or, you know, you don't end up wearing a potato sack instead of a prom dress like this lady.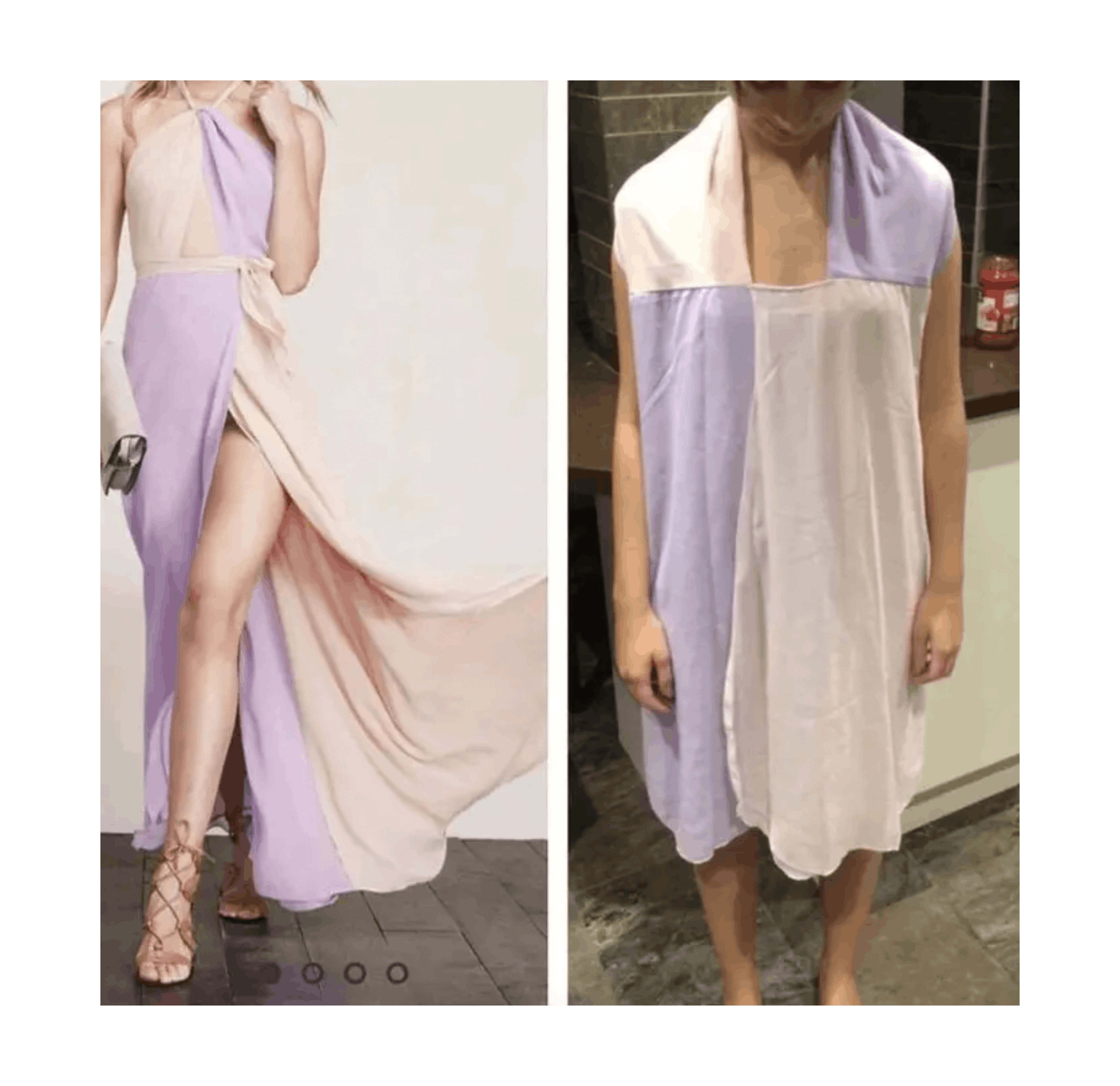 To say that UGC saves lives is a stretch, but it can definitely save some dignity. Both for the customer and the online store, too.
Improve customer loyalty and build trust
Only 9% of Americans say they place high trust in mass media. And no wonder — the internet is full of fake news, making it difficult to distinguish what's reliable and what's not. For businesses, it's easy to get overshadowed by noise, so building trust, no matter how difficult it may be at times, is essential.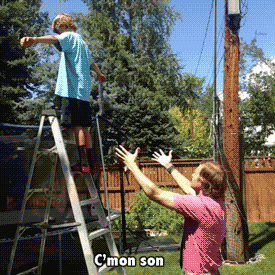 Luckily, user-generated content is a fantastic tool for building trust.
Consumers trust other consumers more than they trust brands, so the more quality UGC you can collect and showcase, the more credible your business looks. And if a customer trusts your brand, they're 88% more likely to buy from you again and 93% more likely to recommend you to others.
Boost conversions
User-generated content not only improves your brand experience but can also improve your sales. User-generated content has a significant influence on the buying behavior of customers. As many as 9 out of 10 people find consumer-generated content influential to their purchase decisions.
User-generated content adds value to all stages of the customer journey. Since it works as a social proof, helping you close the gap between "maybe" and "yes," consider including UGC anywhere on your sales and marketing funnel. 
Here are a couple of ideas where you can put user-generated content to good use:
Marketing and sales materials: social media, ads, sales pitches
Onsite: product pages, blogs, testimonials
Onboarding flow: sign-up page, onboarding emails, and more
For example, a Swedish pet food tech company called Petgood uses UGC on its product page. The brand is showcasing its fluffy customers along with the pet goodies they sell. Now look at those puppies — how can they not increase conversion?

Moreover, the puppy gallery is scrollable. *Yay for more puppy content!* And if you're their customer, you can also upload visual content of your own four-legged friend to bring more cuteness into the world.

On top of building an engaging product page, you get free visual content. Which, in return, improves your brand experience, drives more sales, and allows you to engage with your audience.
User-generated content examples that work
There are many ways you can utilize UGC. Now, let's examine how three direct-to-consumer brands make user-generated content work for their e-commerce stores.
Petgood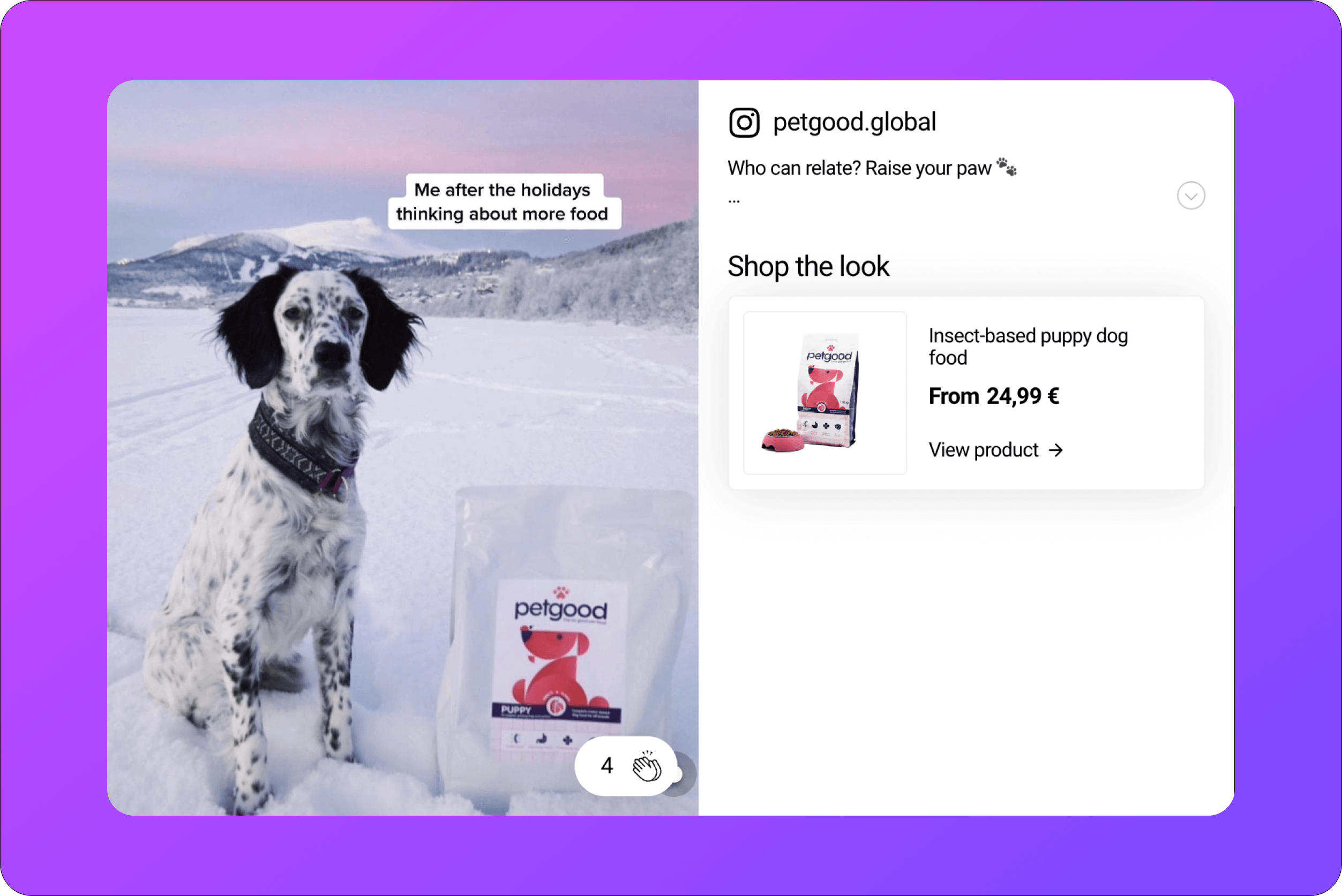 The puppy gallery is just the first step for this pet goodie brand we covered in the previous section. Upon clicking on any visual content pieces, you can see the featured product and purchase it immediately. With this approach, your customers don't have to search far and wide, which increases the probability of closing a sale.
What's more, if your customers enjoy the content piece, they can engage with it by clicking on the clapping hands and showing their appreciation for the post.
Nordic Nest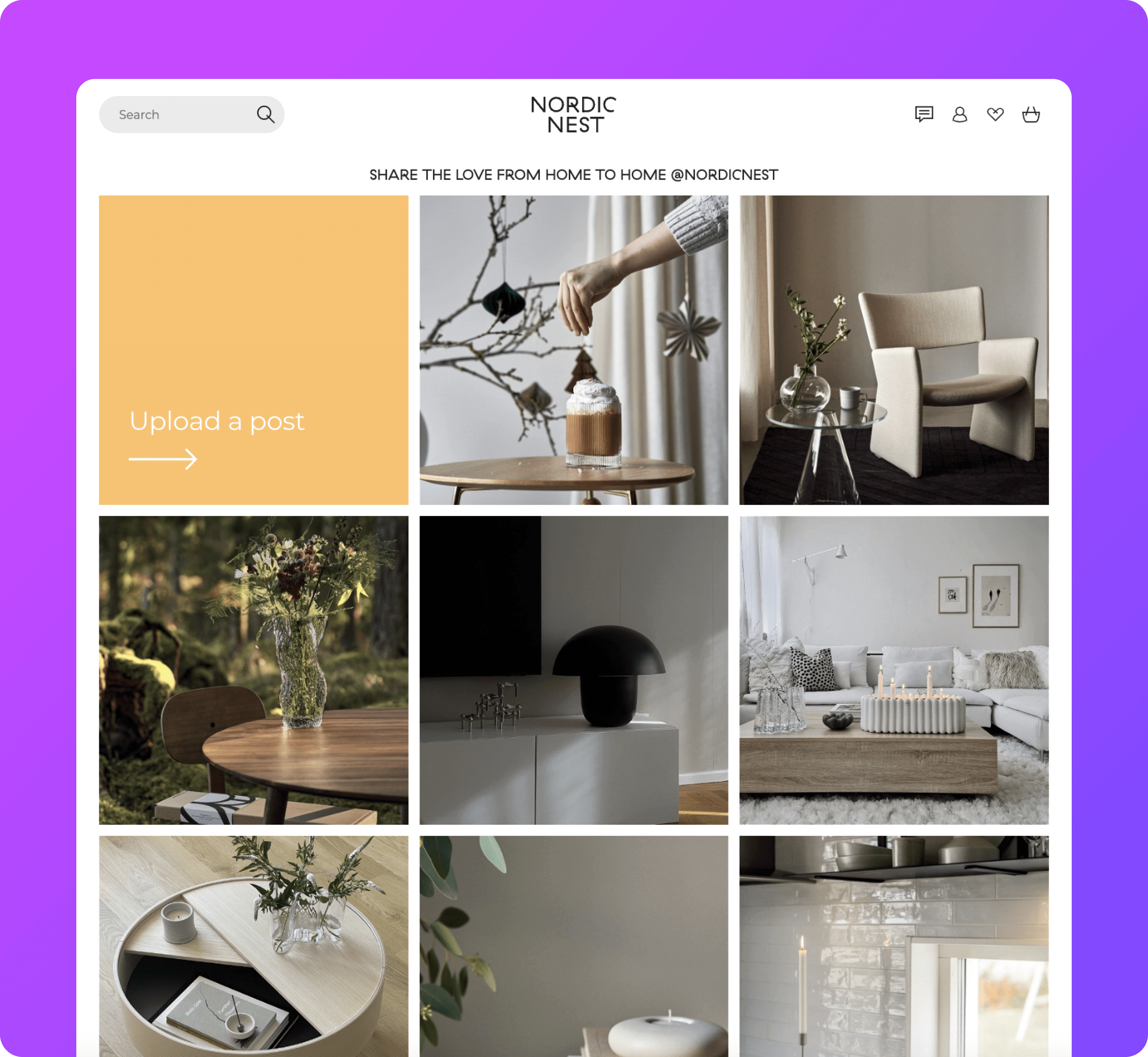 Nordic Nest has created a smooth, harmonized UGC gallery that captures the brand essence nicely. Coordinated content like this is a fantastic way to build brand identity and give the viewers a clear understanding of what it would feel like to be your customer.
BGA Frames
This Scandinavian wall decor business creates a pleasant brand experience by adding a UGC gallery for its products. The gallery shows off the brand's beautiful mirrors while serving as a social proof and inspiration board at the same time.
Imagine you'd like to purchase a mirror but are unsure how it will fit in your freshly-renovated bathroom. Look no further — the gallery widget has UGC containing the exact product you're looking for so you can see how other people use it.

Pro tip: by promoting numerous products on your UGC galleries, you can draw more traffic to your product page and increase the upsell opportunities.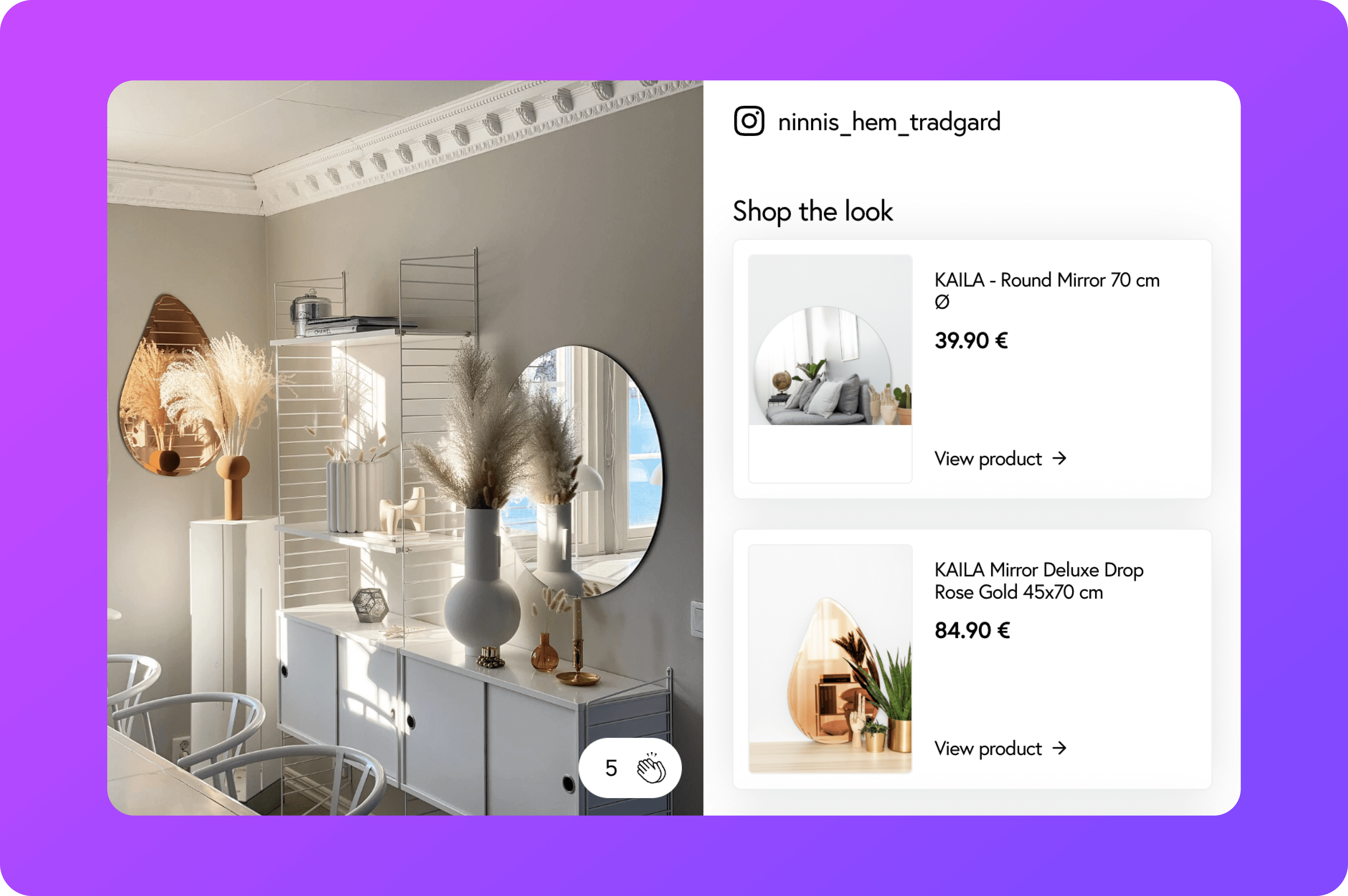 Tips for acing your user-generated content strategy
1. Define what kind of content you need
Before putting together beautiful UGC galleries, you must ask yourself what type of content you wish to display. What type of content fits your brand's aesthetics? Is there a specific pattern, a color combination, or a setting that best captures the feeling of your brand? 
2. Encourage your audience to create
Instead of hoping the perfect UGC lands on your lap, put out a call to action. Let your customers know what kind of content you want to see.
For example, if you're looking for Christmas-themed images, launch a social media campaign with a specific hashtag (that will also make the content filtering easier). That way, you'll get a clear picture of how your audience interacts with your product, and you'll get holiday-themed content to use in your campaigns in the upcoming year.
3. Always credit the author
Most situations in business and life have etiquette. User-generated content marketing is no different. Unless you have exclusive rights to use a specific creator's (think signed influencers) content, asking the original creator for permission to use their work is strongly suggested. 
Thankfully, with Cevoid, it takes just a click to request the rights.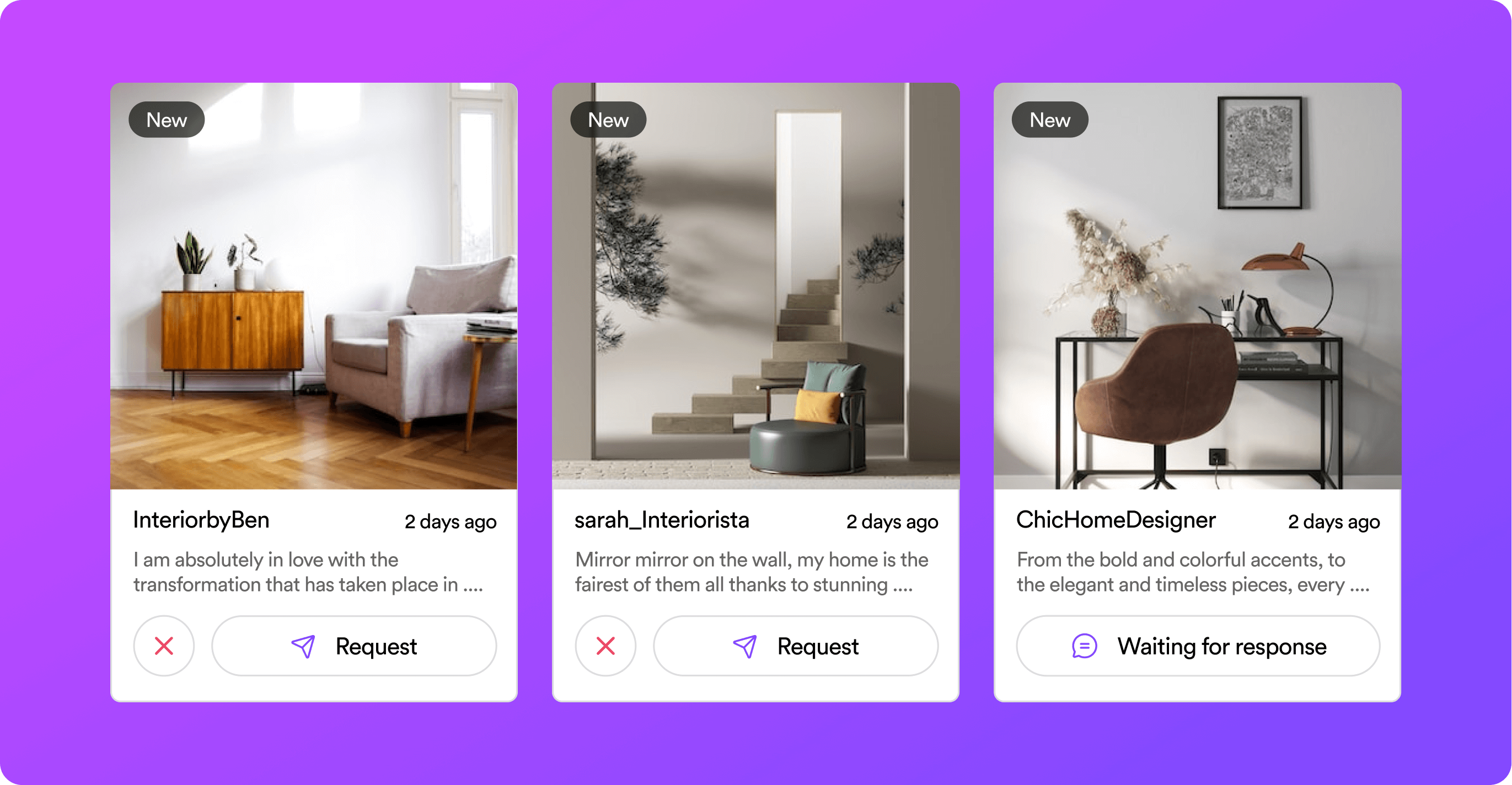 Choose tools that support your needs
Collecting and showcasing user-generated content can be a lot of work unless you have the tools to do the heavy lifting for you.
Cevoid would love to help you take your e-commerce brand to the next level. If you're ready to elevate your business, discover how Cevoid can help you ace your user-generated content game. Or, if you'd like to talk in more detail, schedule a coffee chat with us. We're always happy to help! :)