Lindas Dekor is an online store that specializes in user-friendly DIY home products. Founded in 2012 in a small town in Norway, today, the family-owned company is a country-wide market leader for self-adhesive foil products that help turn any living space into a dream home.
The story behind Lindas Dekor
As the name suggests, the company was founded by Linda Melby. At the time, Linda lived on a small island at the end of Lofoten, Norway, called Værøy. In the small community of 750 people, there weren't many opportunities for high achievers, so Linda decided to pave her own path to success. She set up a shop and started selling wall stickers through Facebook.
The business went well, and Linda's daughter, Charlotte, soon joined the team to help create a website and market the business. Charlotte had previously lived in a rental apartment in New York and knew how difficult it was to find user-friendly options for updating a living space. There were limited options available in the market, but it was especially challenging to find products to update her kitchen and tiles that desperately needed some love.
Together, the Lindas Dekor team started brainstorming whether the vinyl used to produce the wall stickers they were selling could be used in other areas in the apartment, not just walls. They decided to look into what was available on the market, and even though they found a product that fit the description, the quality didn't live up to their expectations.
However, not long after that, a German company that wanted to introduce their product—a self-adhesive design foil for furniture and interiors—got in touch with Linda. And it turned out to be a match made in heaven! Linda's Dekor started selling this product, and soon after the official website was launched, Lindas Dekor rapidly became the market leader for these products in Norway.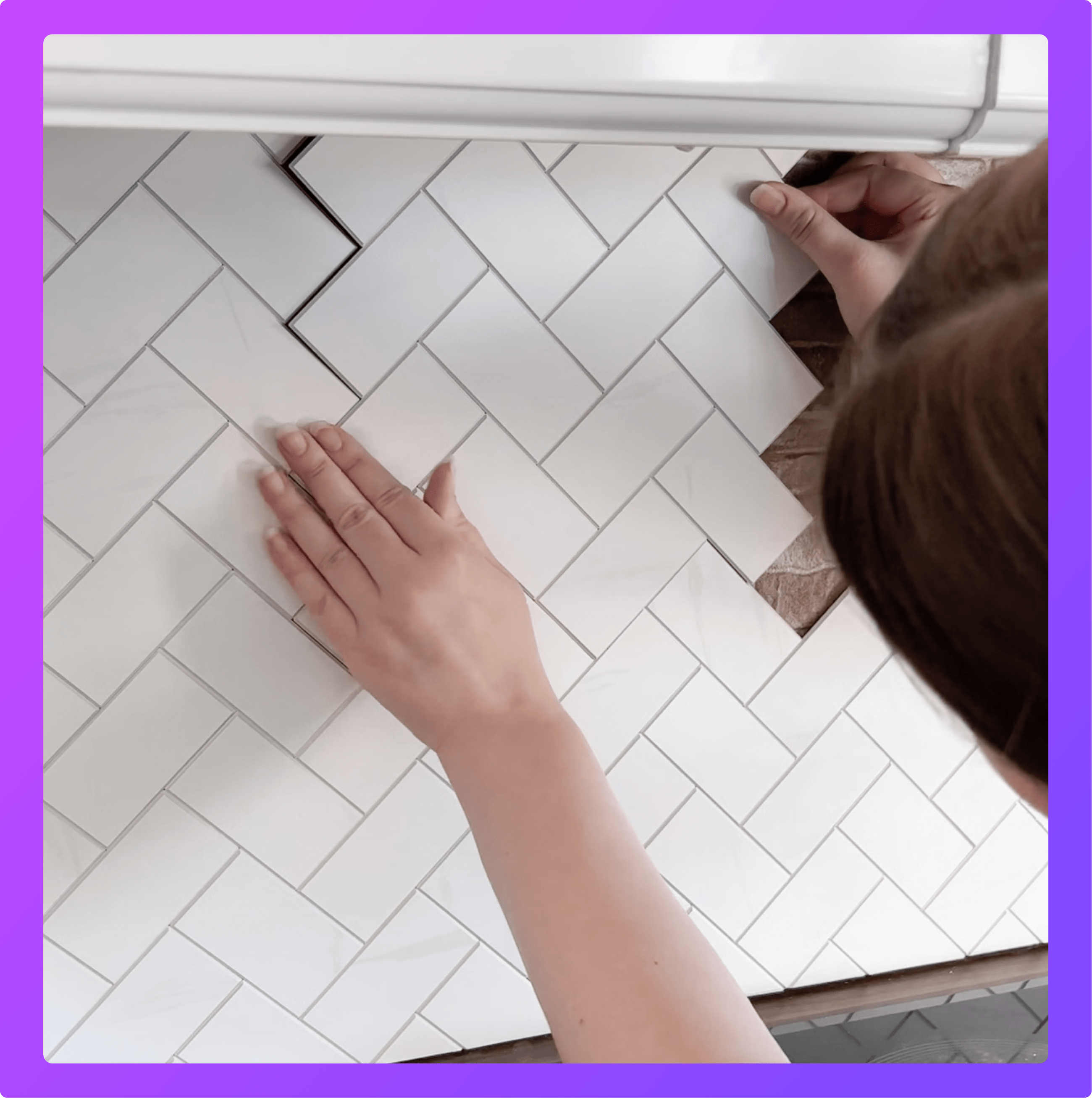 Lindas Dekor's mission was born out of the family's own needs. The team believes that everybody, regardless if you're a homeowner or a renter, deserves to have the opportunity to build their dream home fast, easy, and budget-friendly.
To learn more about Lindas Dekor's crafty business and their team, we had the wonderful opportunity to ask Charlotte a couple of questions. Charlotte's now the Chief of Operations at Lindas Dekor, taking care of all things marketing and e-commerce development.
To tune off from work, Charlotte likes to read, learn new skills, and spend time with her family and two cute dogs, Chewie and Yoda.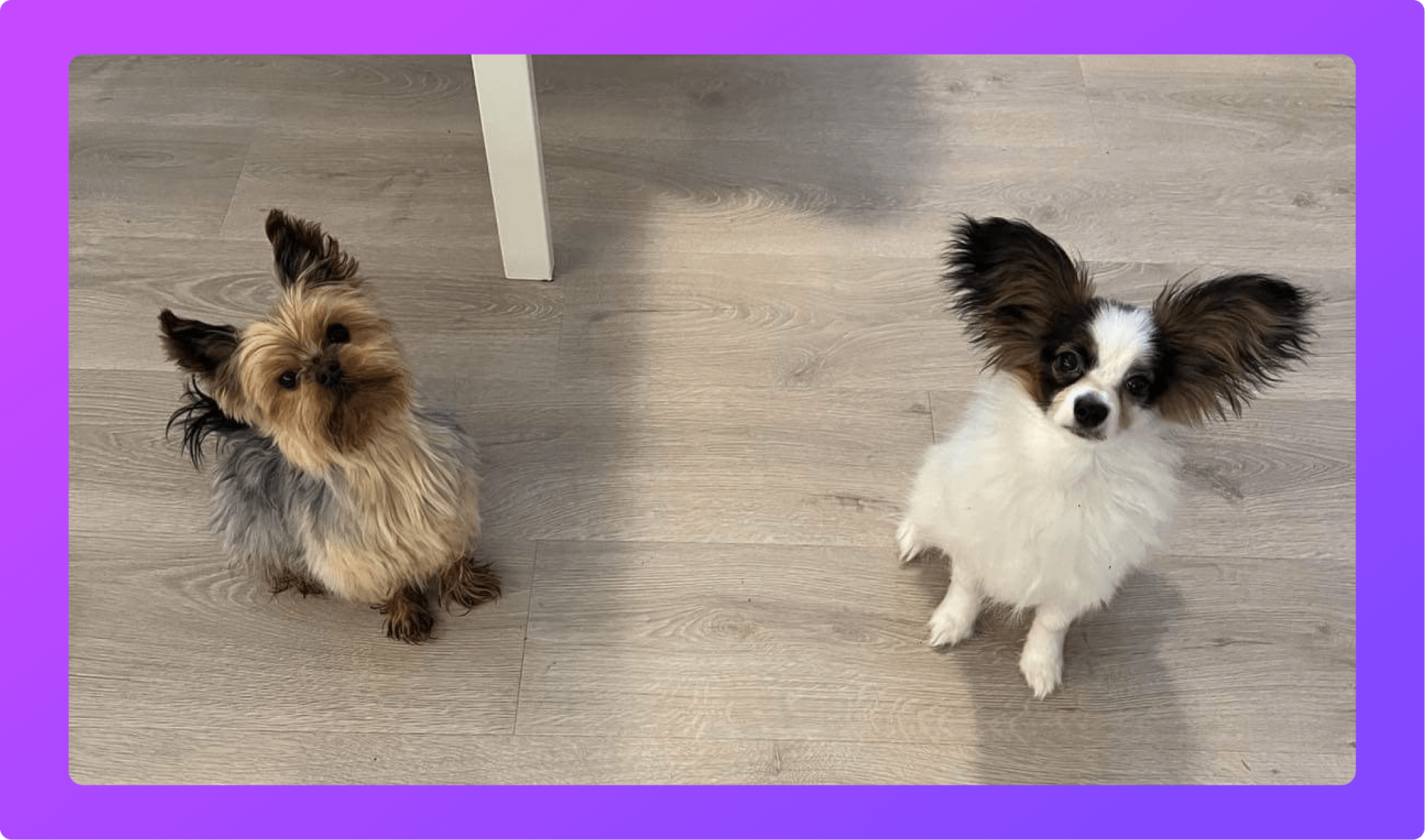 Now, let's ask Charlotte a couple of questions, shall we?
Can you tell us about the team behind Linda's Dekor?
"Currently, Lindas Dekor's team is 12 people strong. Since growing a business on the mainland was easier, the team moved from the island to Verdal—Linda's hometown—4 years ago.
The environment in Lindas Dekor allows people to develop skills in areas they're passionate about. Everything we do is teamwork, including helping each other polish our craft. We like to ask for feedback from our peers and receive it because we believe that helps us develop our professional skills faster and better."
What's your team really proud of?
"We at Lindas Dekor are proud of being the largest private supplier of self-adhesive foil and tiles in the Norwegian market. In fact, we were the first company in Norway even to have self-adhesive tiles! There have been several competitors that have sprung up and tried to copy us over the years. Still, we continue to dominate the market share because of our forward-thinking strategy."
Moreover, Charlotte says they're also proud of the community Lindas Dekor has built on social media. Their strategy was to include their customers in their marketing efforts early and build a community around their brand. 
"One of our cornerstones in marketing is to share our customers' projects on social media (with their consent, of course) to inspire others and show what can be achieved with our products. Many photos and videos we share have not been created in a studio. Those are pictures of real projects in real homes by real customers. This marketing approach has made Lindas Dekor what it has become today."
Today, Lindas Dekor is proud to have a strong social media community with:
What's your favorite thing about your business? 
"My favorite thing about our business is receiving customer stories as they are surprised that the products could do so much for them. Our customers send us personal reviews, pictures, and videos, and it is so awesome and heart-warming to see how proud they are of what they've achieved using our products. Seeing our customers happy makes me happy."
Do you use Lindas Dekor products yourself?
"Yes, of course! I wholeheartedly believe it's quite hard to sell a product you don't love. It is crucial to believe in your products," says Charlotte.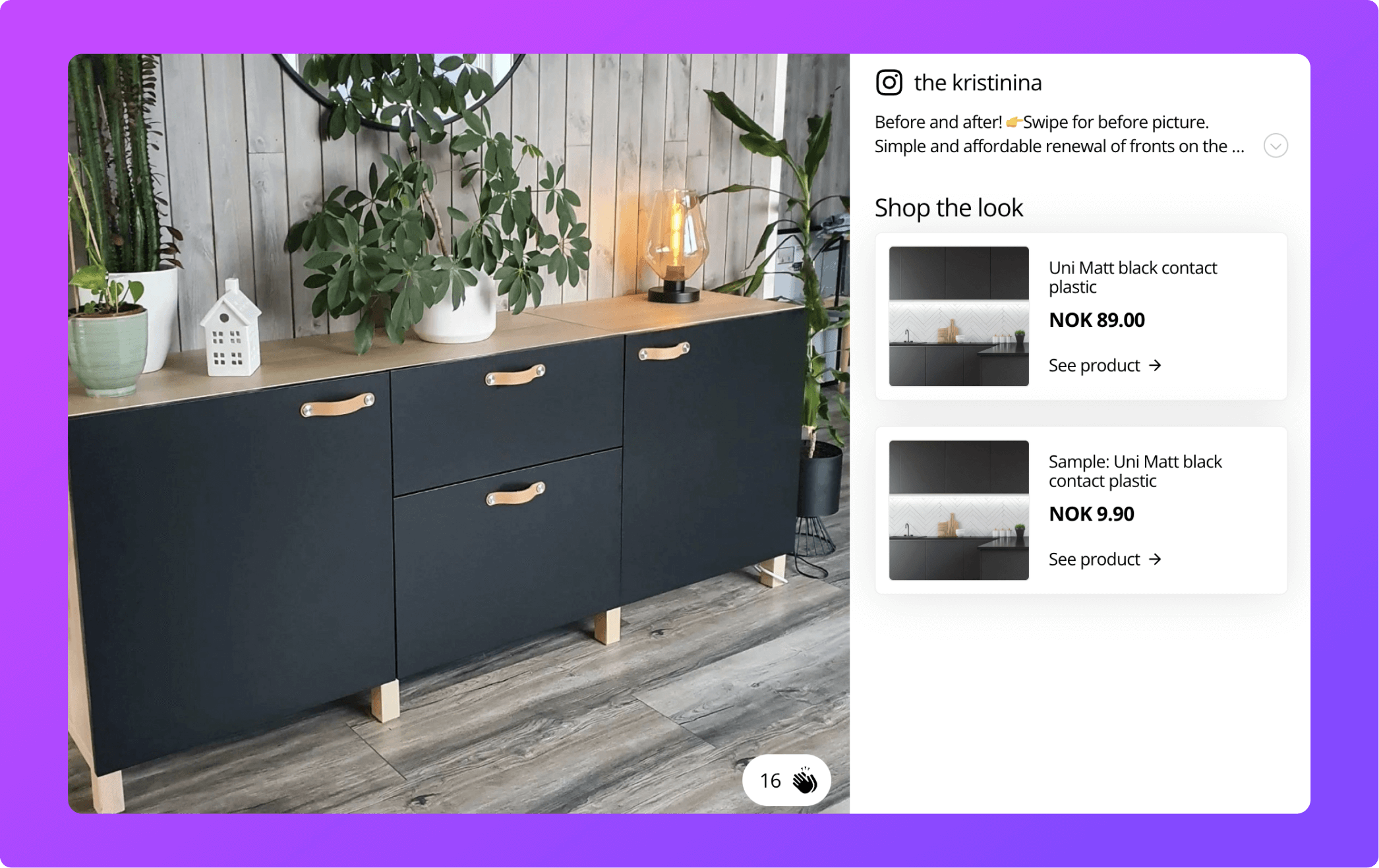 We at Cevoid couldn't agree more. Excitement is contagions. If you're passionate about your product, your customers will share the same enjoyment with you. The same goes for customers—if your customers are happy with your offering, they'll inspire other shoppers to try it out, too. 
Growing with Cevoid through UGC
One of the easiest and most effective ways to spread this excitement is through user-generated content. It's real, transparent, and since your brand community creates it, it's the most authentic content a business can use. 
And we're thrilled to learn how Lindas Dekor is growing with the help of user-generated content and how it has impacted their business.
What were your goals with Cevoid?
"We were looking for an easy way to streamline the content our customers sent us and were also eager to show off their creations on our website. In addition, we wanted to inspire our website visitors by showing them examples of what the product looks like in different settings, homes, lighting, and projects," says Charlotte.
What do you appreciate about Cevoid so far?
"What first caught our eye was the beautiful design and the ability to customize the galleries ourselves. The platform is also user-friendly for both our customers and our team. And the fact that Cevoid constantly automatically updates our product pages with new photos and videos from customers has been incredibly helpful."
Like Lindas Dekor, we believe that everything your customers desire to create should be in their own hands. That's why we build Cevoid with usability in mind.
"Cevoid galleries show our visitors plenty of examples instead of just relying on our product images, which are normally time-consuming and costly to create. Furthermore, the team behind Cevoid is very helpful, and if there have been requests from us, they reply and find a solution quickly," adds Charlotte.
Which Cevoid solutions do you use?
"In the beginning, we tried every feature and have now noticed that the most helpful ones for us are the content grid on the product pages and the collection process itself. It's incredibly easy for us to collect the content customers have made with hashtags on Instagram, as well as uploaded directly to the platform."
💜 Have conversion rates improved with Cevoid?
"When we started using the Cevoid UGC platform, we immediately saw results. The conversion rate rapidly increased as soon as a product received its first customer photo. To be precise, the conversions increased from 50% to 300% for individual products. These are astounding numbers!"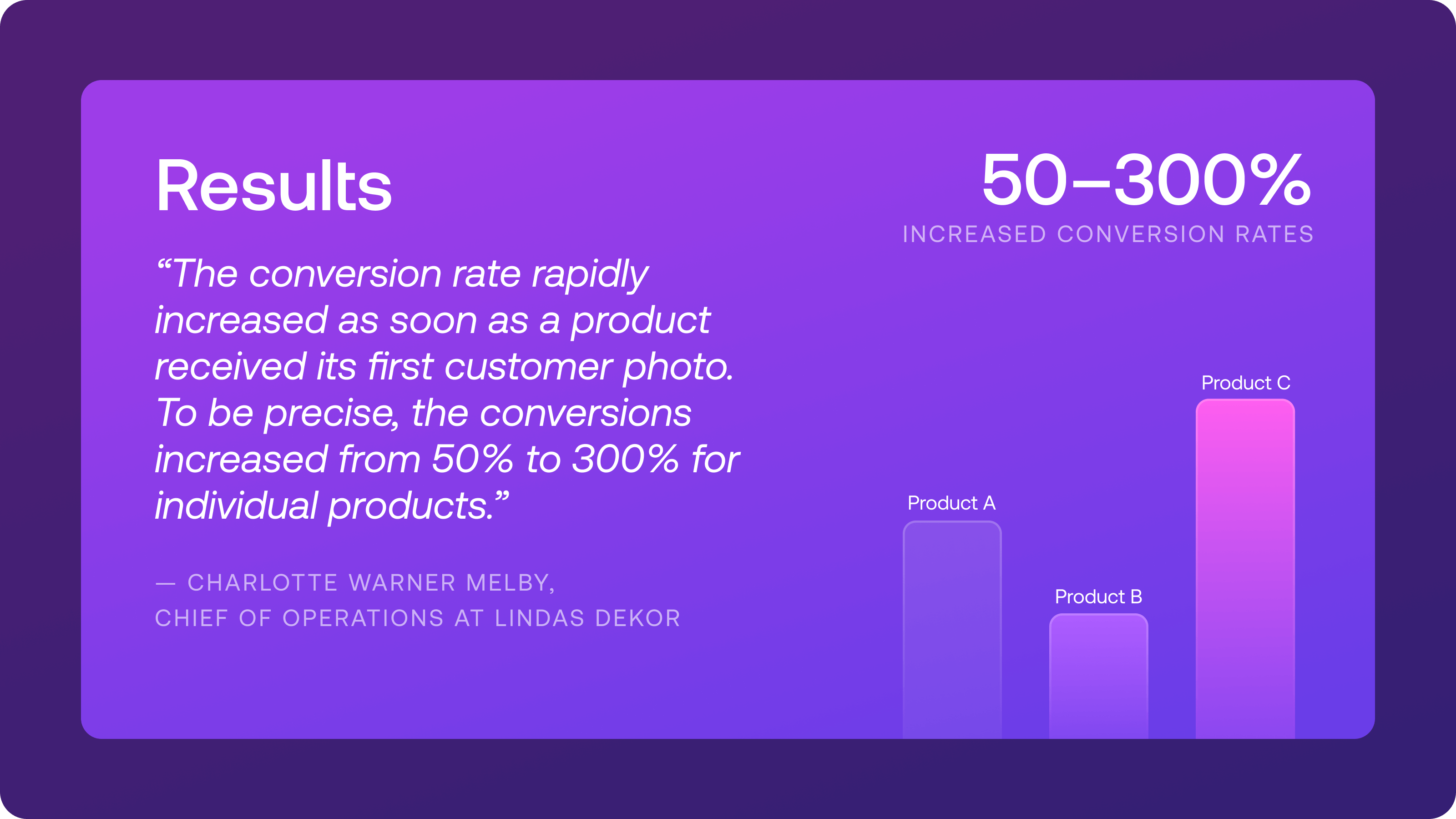 Charlotte says that if the product had no customer photos, "the first photo alone of the product would bring the highest increase in conversion rate." This proves that time and time again, customers value authenticity. 
Shoppers want to see the realness of what business owners sell, they want to see the raw experiences, and user-generated content is the way to show your product in the authentic limelight it deserves.
Does your product page need a conversion boost, too? 
Consider using UGC to show off your incredible product and build customer trust. However, collecting and showcasing user-generated content can be a lot of work unless you have the tools to do the heavy lifting.
Cevoid would love to help take your e-commerce brand to the next level. So, if you're ready to elevate your business, discover how Cevoid can help you ace your user-generated content game. Or, if you'd like to talk in more detail, schedule a coffee chat with us. 
We're always happy to help! 💜