Pamo Design is a furniture store like no other. They create industrial design furniture made from water pipes. While they offer a variety of different pipe furniture, this Germany-based brand puts its primary focus on coat racks.
What makes their product unique is its modern design. While seemingly simple, the coat racks are smooth, black, and matt, making them a unique design piece that's also pleasant to the touch.
Pamo Design's clothes racks are a must-have for minimalists passionate about rustic industrial design and those who want to improve the aesthetics of their dressers.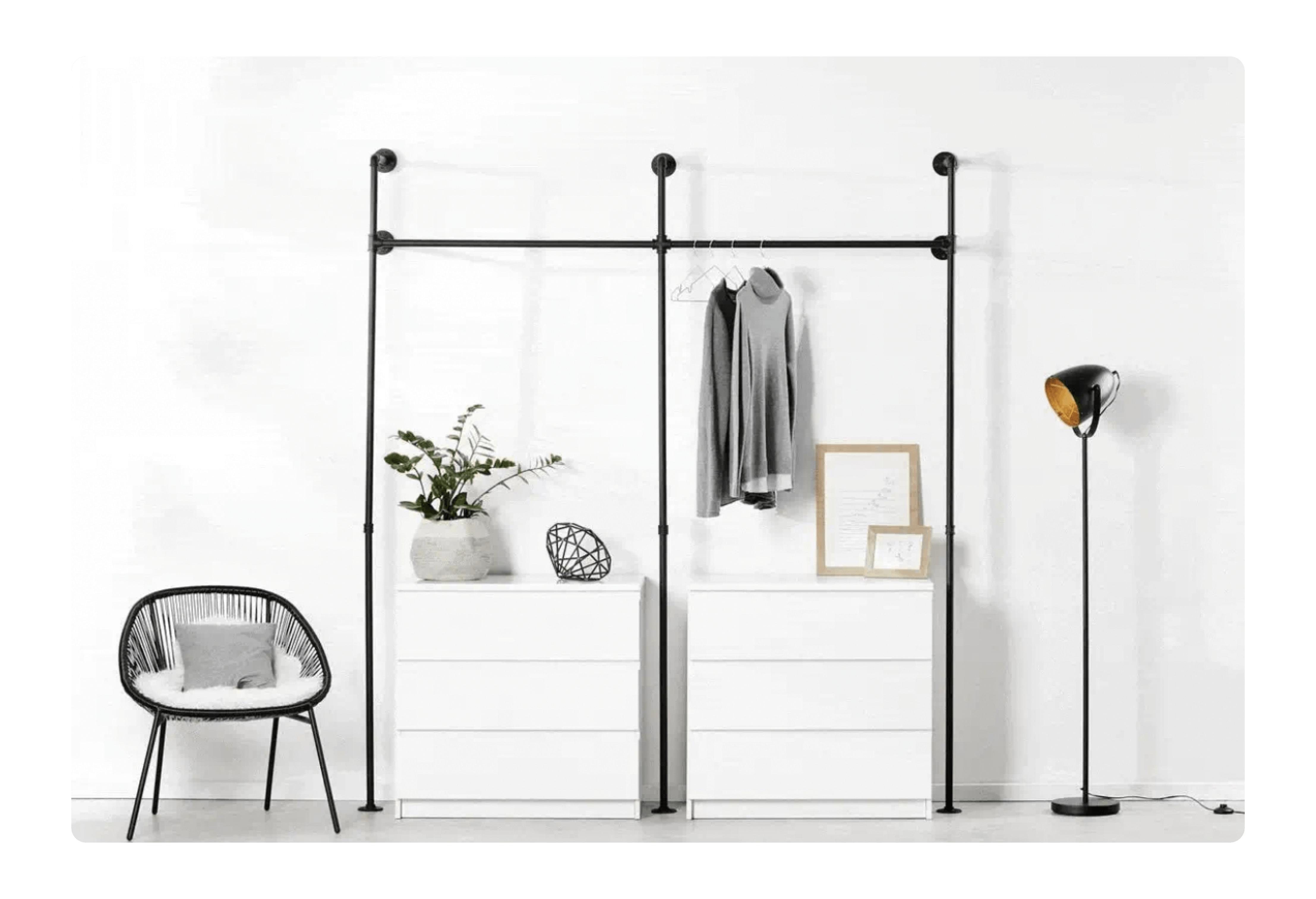 Pamo Design: a furniture store like no other
Founded in 2019, Pamo Design has grown into a 15 people tight-knit team that enjoys playing Mario Kart every lunch break. The people behind Pamo Design are industrial design enthusiasts. We had the chance to interview one of them to learn more about the company and how they're using Cevoid to grow with user-generated content.
We were honored to talk to Patrick, Pamo Design's Performance Marketing Manager. Patrick makes sure ads run smoothly, conversions keep improving, and he also runs A/B tests to ensure Pamo Design is always on top of its game. Generally, Patrick makes sure all performance-related things are in check.
Outside of work, Patrick enjoys doing sports. Since Patrick's always eager to learn and improve, he's always on the hunt for the next big challenge.
The story behind Pamo Design
Patrick tells us that what sparked the idea for Pamo Design was the belief that every home deserves beautiful and timeless furniture. "That's why we strive to create unique, beautiful clothes rails and accessories that will last a lifetime," he adds.
The founders of Pamo Design are called Paddy and Mona. They were looking for suitable furniture for their walk-in wardrobe, and their friends gave them the idea of using water pipes as clothes rails and making their own DIY dressing room. 
Once they went to the hardware store, their idea quickly evaporated into thin air. The individual parts were unaffordable. 
Nevertheless, the idea stuck with them; they were dedicated to making this dream come to life. So they got to work, and suddenly — voilà — they were selling furniture.
What makes your team proud?
"We are thrilled to see customers proudly post their new closets on social media. It's always super interesting seeing how people style our products," says Patrick.
Here's how one of Pamo's customers has styled their wardrobe.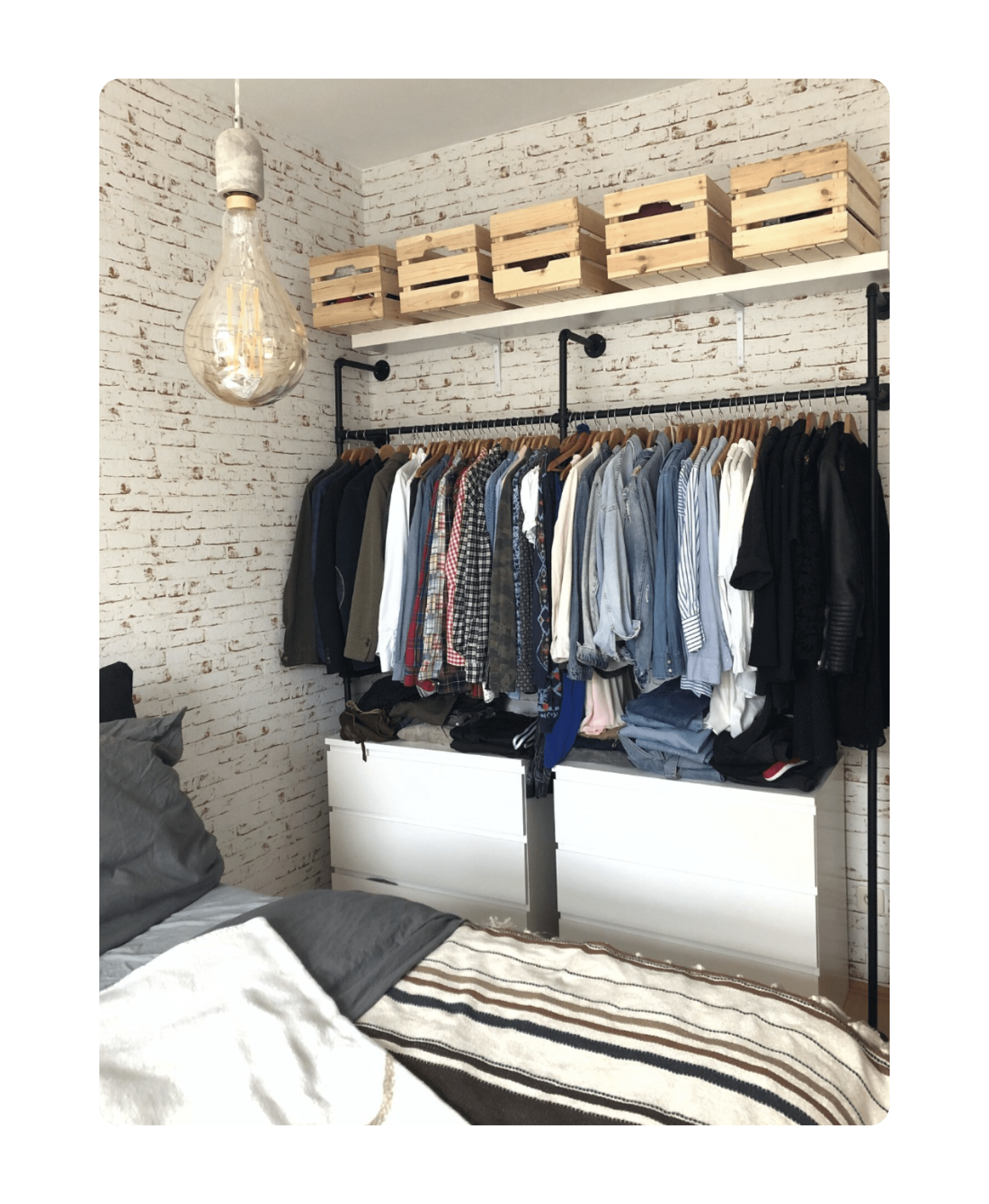 What is the best thing about Pamo's product?
The installation process, for sure! 
According to Patrick, "everyone can do it, even without any knowledge in the furniture build up." The assembling process is so simple that adding or adjusting your current setup is as easy as 1-2-3. Plus, the furniture lasts a lifetime and can be adjusted to your needs, no matter how they may change over the years.
And just like furniture needs change over the years, so do business needs. Pamo Design has chosen Cevoid to elevate their business with user-generated content. Let's explore why.
Scaling with UGC and Cevoid
User-generated content is a powerful tool for direct-to-customer businesses. Since UGC is created by the brand community, most often by the customers, it's more authentic, and new shoppers trust it more than brand-generated content.
So Pamo Design wanted to take it a step further. Instead of solely relying on brand-made photos (which are stunning, by the way), Pamo decided to include user-generated content into their strategy.
"Not only are we proud of seeing people using our products, but we also wanted potential customers to see how previous customers styled their furniture. We believe product-specific customer images are especially important as they show the full capacity of what our product can do," says Patrick.
Why did Pamo Design choose Cevoid?
 Patrick states that after a quick test, Cevoid could deliver on what Pamo had in mind. "The user interface seemed straightforward, and the functionality could do exactly what we imagined." 
He also appreciates Cevoid's nearly round-the-clock support. 
"The support is amazing, and the fact that Cevoid wants to work closely with their customers to improve the tool further is great."
The Cevoid UGC platform is built with the user in mind. Our team believes user-generated content management should be effortless and straightforward, and we're happy Pamo Design feels the same way. And our dedicated team is indeed available every day to help our beloved customers, offer advice, fix occasional bumps along the way, and further improve the Cevoid UGC platform.
Which Cevoid features does Pamo Design use?
"We use galleries on product pages and add specific tags to gallery images to create a filtered database for customers to shop according to rooms." 
Here's how that looks in action.
Using product tags in galleries makes it much easier for customers to get inspiration and information about the product. Plus, shoppable content helps close the sale, as customers don't have to search far and wide for the product they'd like to buy.
💜 Results from A/B testing Cevoid's UGC widget
Does using UGC on your website really boost your sales? Patrick has an answer to that. 
He shared that Pamo Design launched an A/B test to understand whether the Cevoid UGC platform was improving their conversion rate.
"I personally enjoy seeing real customer images when making a purchase. Especially when the product is on the pricier end, and you're interested in how it might look on you or at your home. And given the UGC trend, it was pretty clear that the widget would help boost the conversion rates. But to be sure, we ran an A/B test to check this hypothesis. This also gave us an idea if it is worth the subscription," says Patrick. 
This is how the A/B test looked:
50% of the traffic was sent to their original product page, and
the other 50% to the product page with Cevoid's UGC widget. 
For the test, Patrick used Google Optimize. "After reaching the required sample size with a confidence level of 95 and power of 80%, we ended up with a win probability of 97%," he adds.
And what's the result?
The product page with Cevoid's UGC widget took the cake. The conversion rate improved by 12.54%.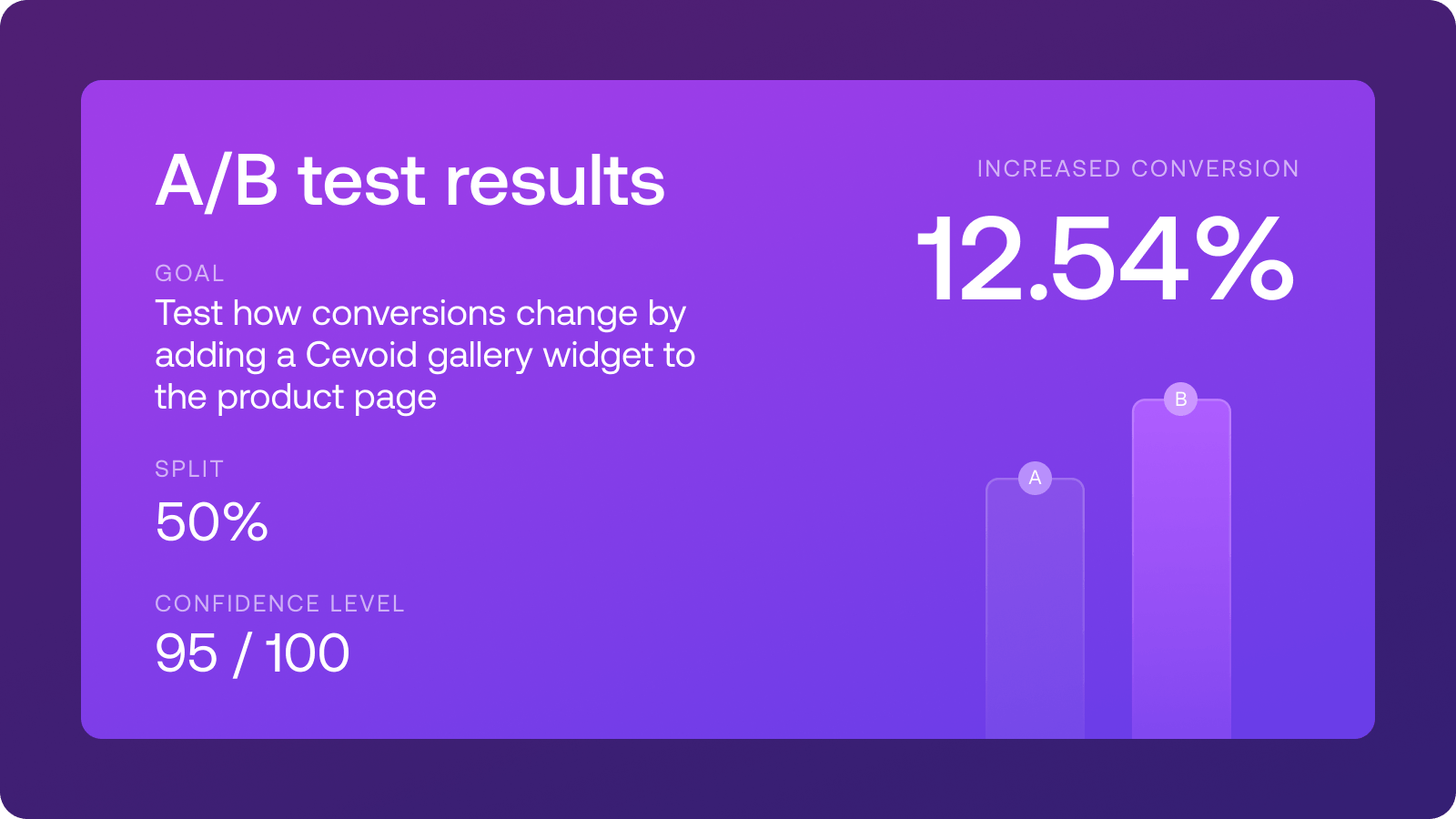 By incorporating Cevoid's UGC widget on their product page, Pamo Design was able to attract more customers who share their passion for minimalistic, industrial interior design.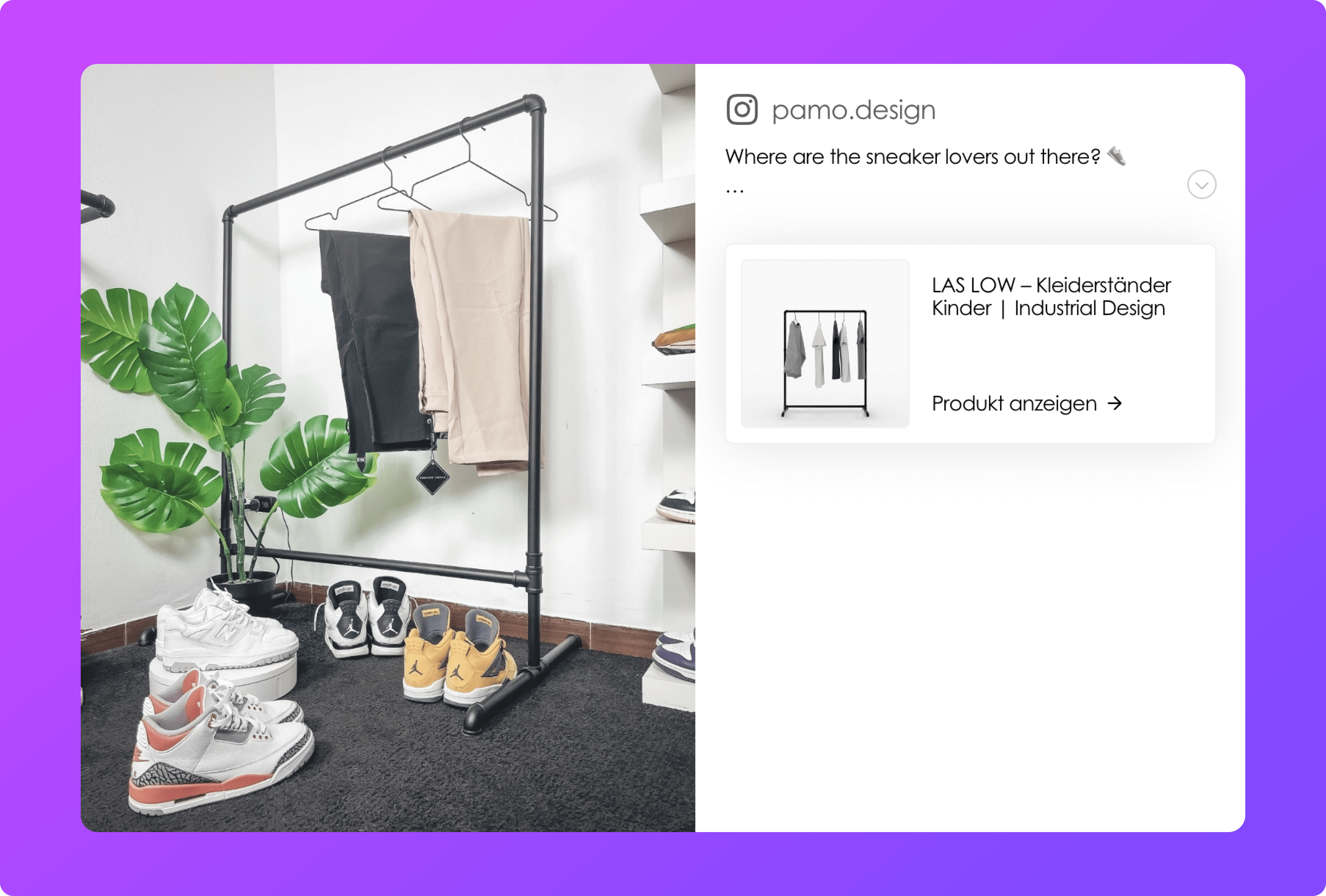 Does your product page need a conversion boost, too? 
Consider using UGC to show off your incredible product and build customer trust. However, collecting and showcasing user-generated content can be a lot of work unless you have the tools to do the heavy lifting.
Cevoid would love to help take your e-commerce brand to the next level. So, if you're ready to elevate your business, discover how Cevoid can help you ace your user-generated content game. Or, if you'd like to talk in more detail, schedule a coffee chat with us. 
We're always happy to help! 💜