Remember the days when catalog shopping was a thing? I do. A couple of times a month, a glossy, thick book filled with smiling people would make its way to my mailbox. I'd fetch it, go through the pretty images, examining every item, be it a gadget or a piece of clothing. I was just a child when catalog marketing was in full swing, but I enjoyed reading them. Perhaps it was because there were many pictures and not much text.
I used to wonder what the models in those catalogs were actually like. Do they really smile all the time? What's their secret to happiness? And is the lady with the "voted best vacuum of 2002" actually using it herself? So many questions, so little answers.
It was the time when most kids channeled their inner Picasso in Paint and tried to beat their brother's high score in Pinball; Facebook, Instagram, online shopping, and other "futuristic" things were not in the picture.
Catalog shopping was exciting, and I'd say it was the shoppable content of the early 00s. But what do we consider shoppable content in 2022?
What is shoppable content?
Most importantly, shoppable content is digital content. It allows consumers to purchase products directly from the content source. No need to make a call to place an order like in the good ol' days! 
Shoppable content can include images, videos, social media posts, and other types of digital media. Moreover, shoppable content typically includes product tags or links that allow shoppers to easily access product descriptions and purchase without leaving the digital platform from which they're viewing the content.
By integrating the shopping experience into content, shoppable content can help businesses drive conversions and improve the customer experience. 
Why? Because nobody wants to spend time on anything extra. The quicker and hassle-free the buying process, the more satisfied they'll be. 
Shoppable content can also provide a more seamless and engaging way for consumers to discover and purchase products online. Additionally, shoppable content can be shared and promoted on social media, which in return can provide exposure and boost sales for your business. Overall, shoppable content is a highly effective way to drive e-commerce sales and improve customer satisfaction.
What are some examples of shoppable content?
While there are many forms of shoppable content, the most popular are:
Images with product tags
An image with tags that highlight different products within the image allows users to click on the tags and view more information about the product or make a purchase straight away.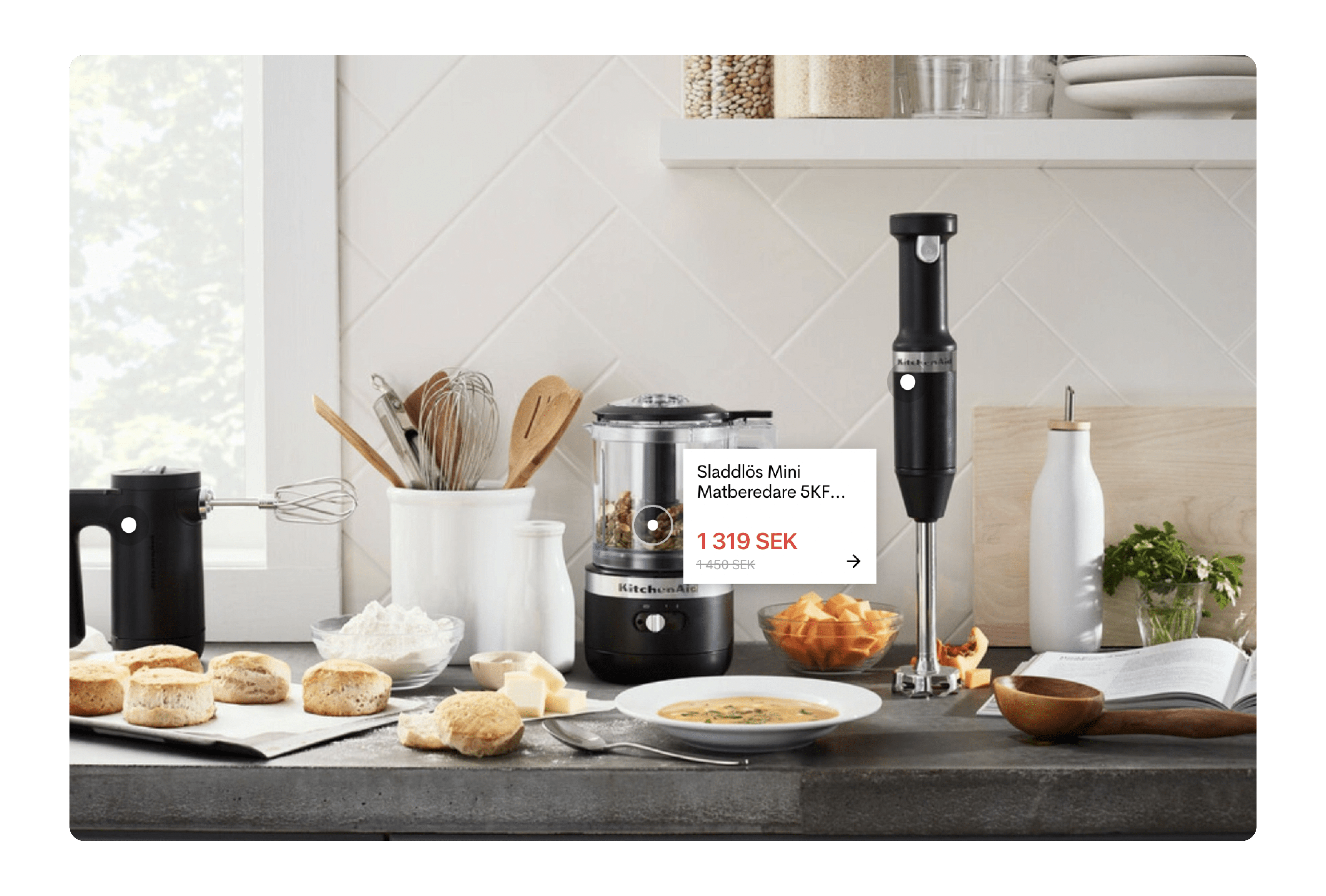 Images with product tags can also be a powerful tool for promoting your products on social media. This approach can drive more traffic and sales to your website and make it easier for customers to share your products with their friends and followers. Remember, nothing beats word-of-mouth marketing.
Social media posts with tags
Like images, a social media post with product tags allows users to view more information or make a purchase by clicking on the tags. Using social media posts with product tags in your shoppable content can help increase your brand's visibility and help customers discover your product.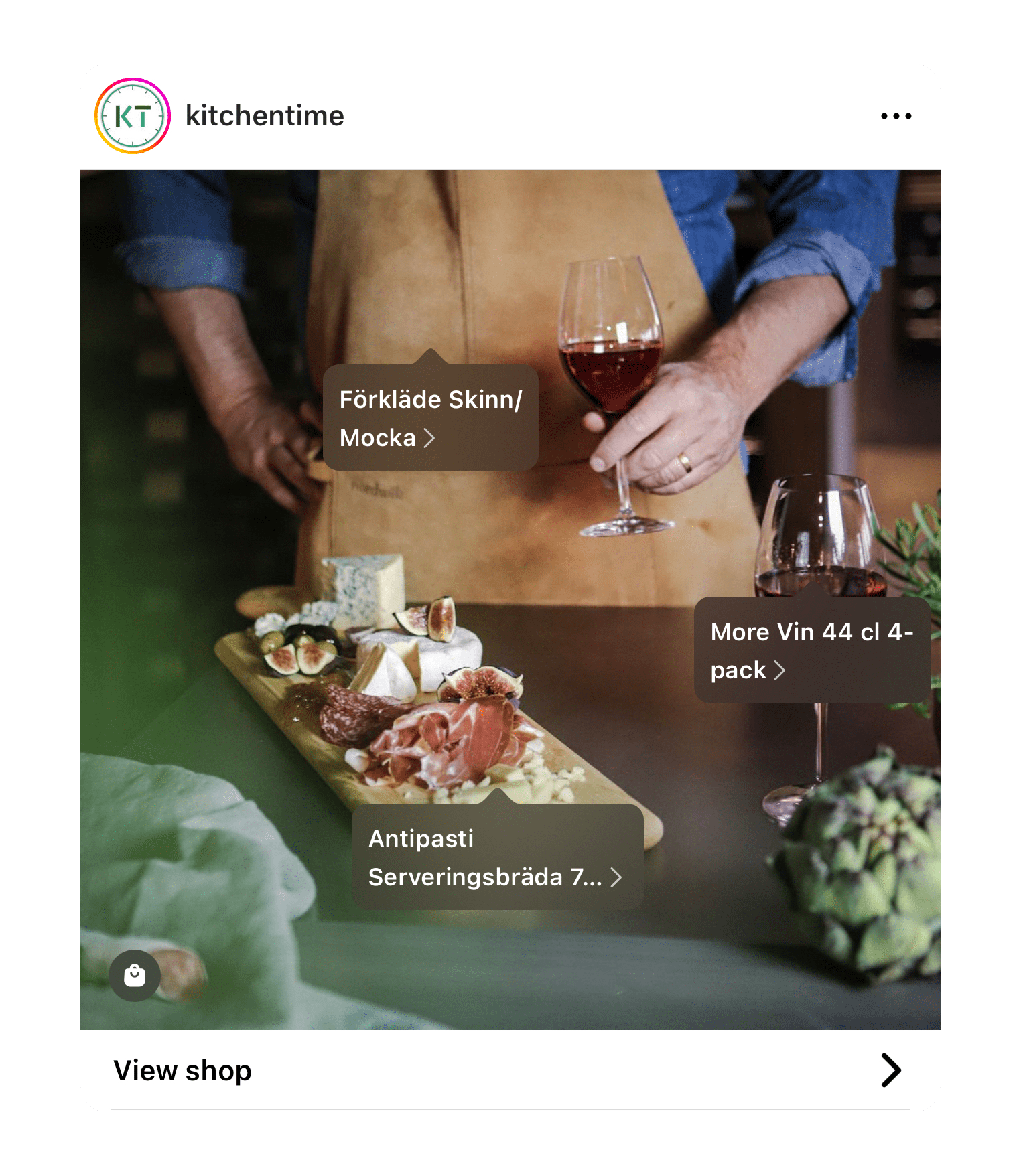 According to Sprout, 78% of consumers are more willing to buy from a brand, and 77% will choose a brand over a competitor after a positive experience with a brand on social media.
What's more, social media can help your product get social. The better your reach, the higher the likelihood that people will reshare your shoppable content. The more people reshare, the higher the chances you'll close more sales. Voilà!
Videos with clickable links
A video that includes links to products shown in the video is, first of all, highly engaging; and second, users can click on the links and head to the product page for a smooth shopping experience.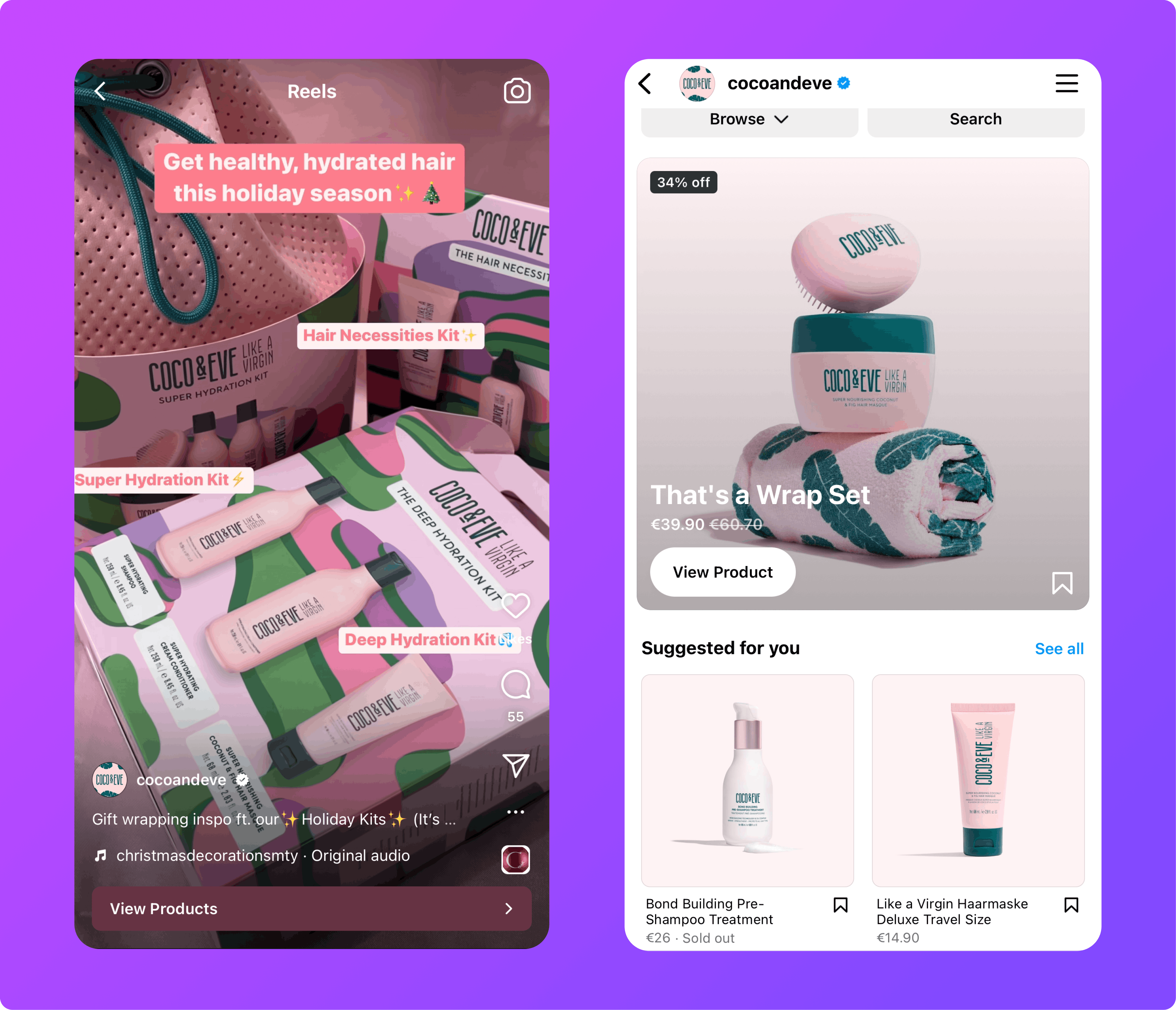 Generally, videos are the powerhouse of content — they're an exceedingly attention-grabbing medium and can help capture and hold your consumers' attention.
Interactive product catalogs
With an interactive catalog, customers can explore your entire product range and learn more about each product: features, specifications, pricing, usage recommendations, and whatever else you want to highlight.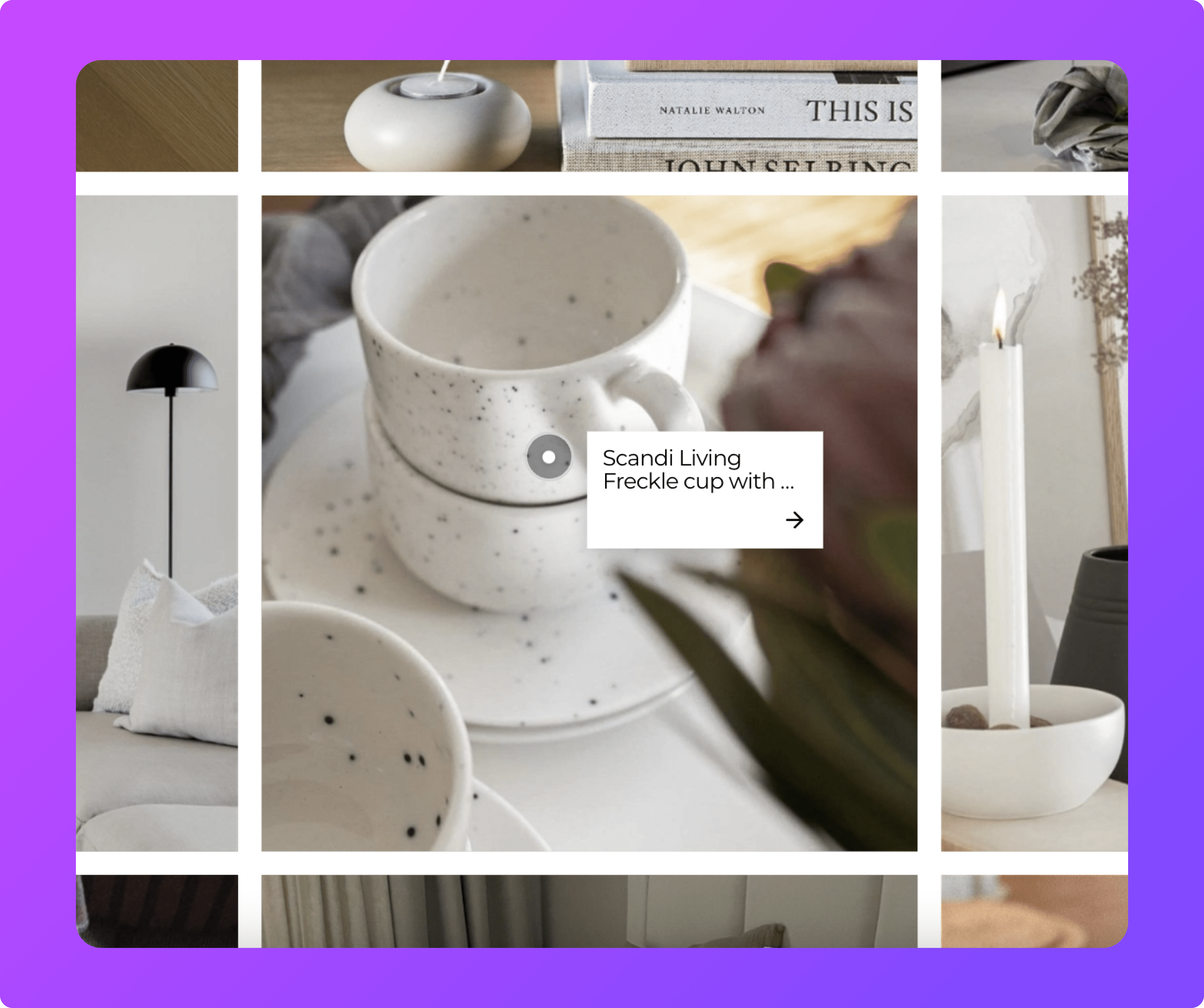 Interactive product catalogs help your products stand out and make it easier for customers to get inspired. Plus, shoppable content on your product catalog is fun, improving your customers' browsing experience and overall brand loyalty.
To recap, shoppable content takes the online shopping experience to a whole new level. It provides a seamless and engaging way for consumers to discover products, interact with content, and effortlessly make purchases online.
Should you use UGC in your shoppable content?
Abso-frickin-lutely.
While the digital era has taken most product catalogs out of physical mailboxes and placed them into digital ones, I still sometimes wonder about the models. They look so happy no matter what. Are they hiding something? Can I really trust them with my purchase? 
Personally, I don't trust advertisements with people paid to smile. And I don't think most other people do too. Dissatisfaction is part of human nature, and when I'm looking to purchase something, I don't seek something flawless because nothing is. 
I want something real. I want to know the imperfections so I can:
a) manage my expectations, and 
b) evaluate if the product will still be useful for me despite them.
But companies would rarely spill their beans on things like that. That's business. Best to focus on what works, not on what doesn't. However, I, just like most consumers, want to see both sides of the coin.
And that is where user-generated content comes in.
Instead of using catalog-ready models to tell your brand story, let real people do it.
Benefits of using UGC in your shoppable content
The rise of social media, the growth of e-commerce, and the increasing importance of authenticity (especially among Gen Zers) make user-generated content a must-have for e-commerce brands. 
Here are a couple more reasons why you should consider using UGC in your shoppable content.
1. UGC builds trust and credibility among your customers.
Featuring real people using, reviewing, and interacting with your product is a solid asset to your brand. By using UGC in your shoppable content, you can provide substantial social proof that helps persuade other users to pick your product over the competition.

2. UGC makes your shoppable content authentic and relatable.
Real people = real experiences. People trust other people more than they trust brands, so use UGC to build a stronger connection with your audience and make your content more personable.

3. UGC provides valuable insights and feedback about your products.
Adding UGC to your shoppable content will make it more fun and authentic for your audience and gather valuable feedback for your business. Take a close look at what your customers are posting about your offering because this can help you get new ideas for improving your product in the future.

4. UGC increases the visibility and reach of your shoppable content.
If you've tagged the original creator, they'll most likely want to show off to their audience by reposting it. I mean, who wouldn't? When customers share their own content featuring your products, it extends the reach of your content. And by getting exposed to a larger audience, you can drive more traffic to your website and get more sales.

To sum it up, incorporating user-generated content into your shoppable content  can help your e-commerce brand:
show off your authenticity,
get valuable feedback from customers,
and get more eyes on your products, leading to higher conversions and sales. 

Thanks, UGC!
Examples of using UGC in your shoppable content
Social media
Selling on social is a great way to get more eyeballs on your product. Since most consumers, especially the younger generations, live and breathe social media, it's where you have a good chance of reaching your potential customers.
The well-known fashion brand H&M seize the day by adding product tags to their Instagram images. And so can you. When customers are scrolling through memes, Reels, and their friend's vacation pictures, they can also have a chance to pamper themselves with the goodies your brand has to offer.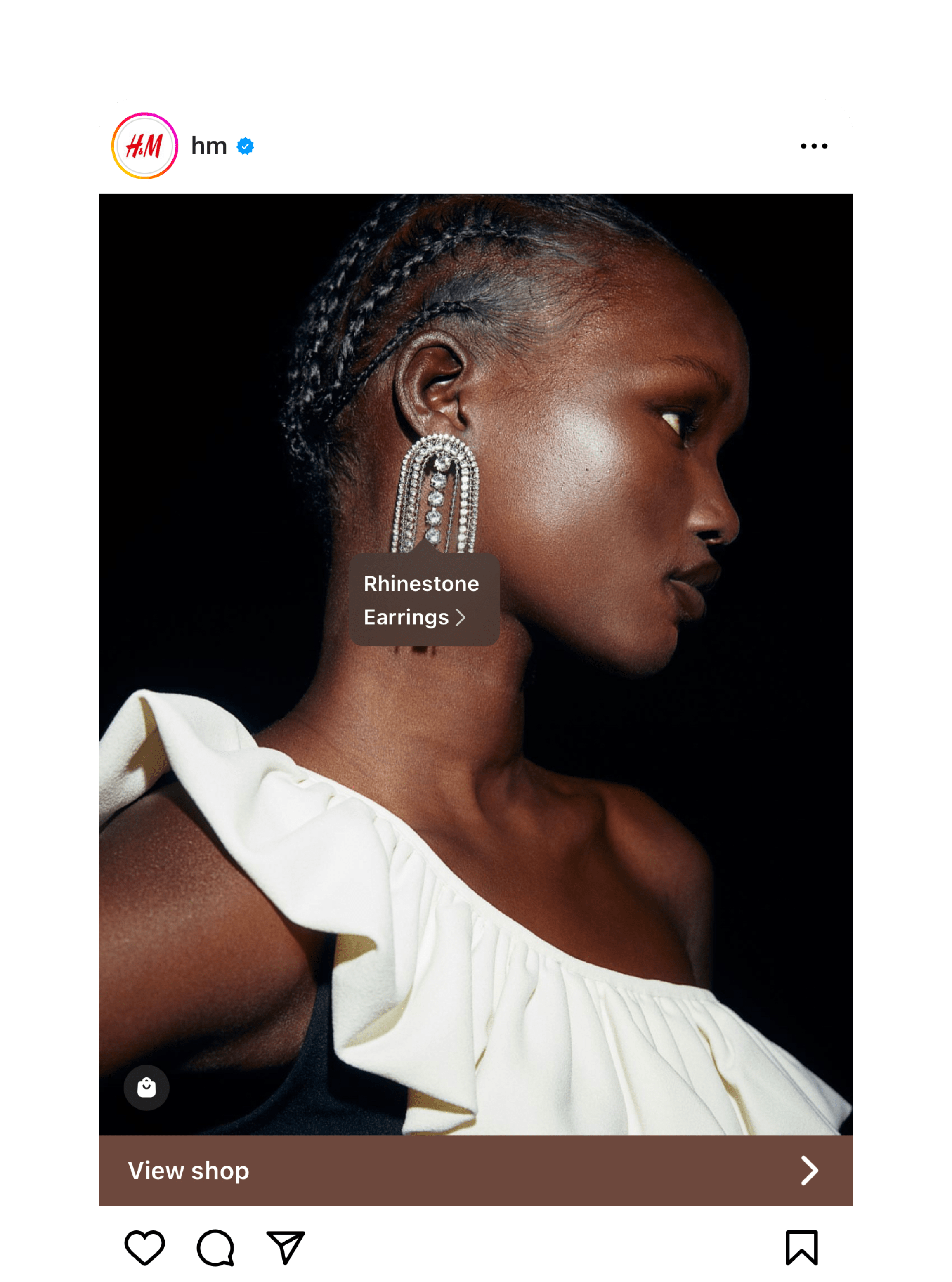 P.S. Note that you can only see Instagram product tags on the mobile app. But that's where most Instagram users hang out anyway.
Product galleries
Image galleries with shoppable UGC are a great way to inspire your customers and introduce multiple products in a single post. The hip fashion brand Teen Spirit has added product tags in their galleries to make the shopping experience for inspired viewers more seamless. 
It's like a lookbook for e-commerce!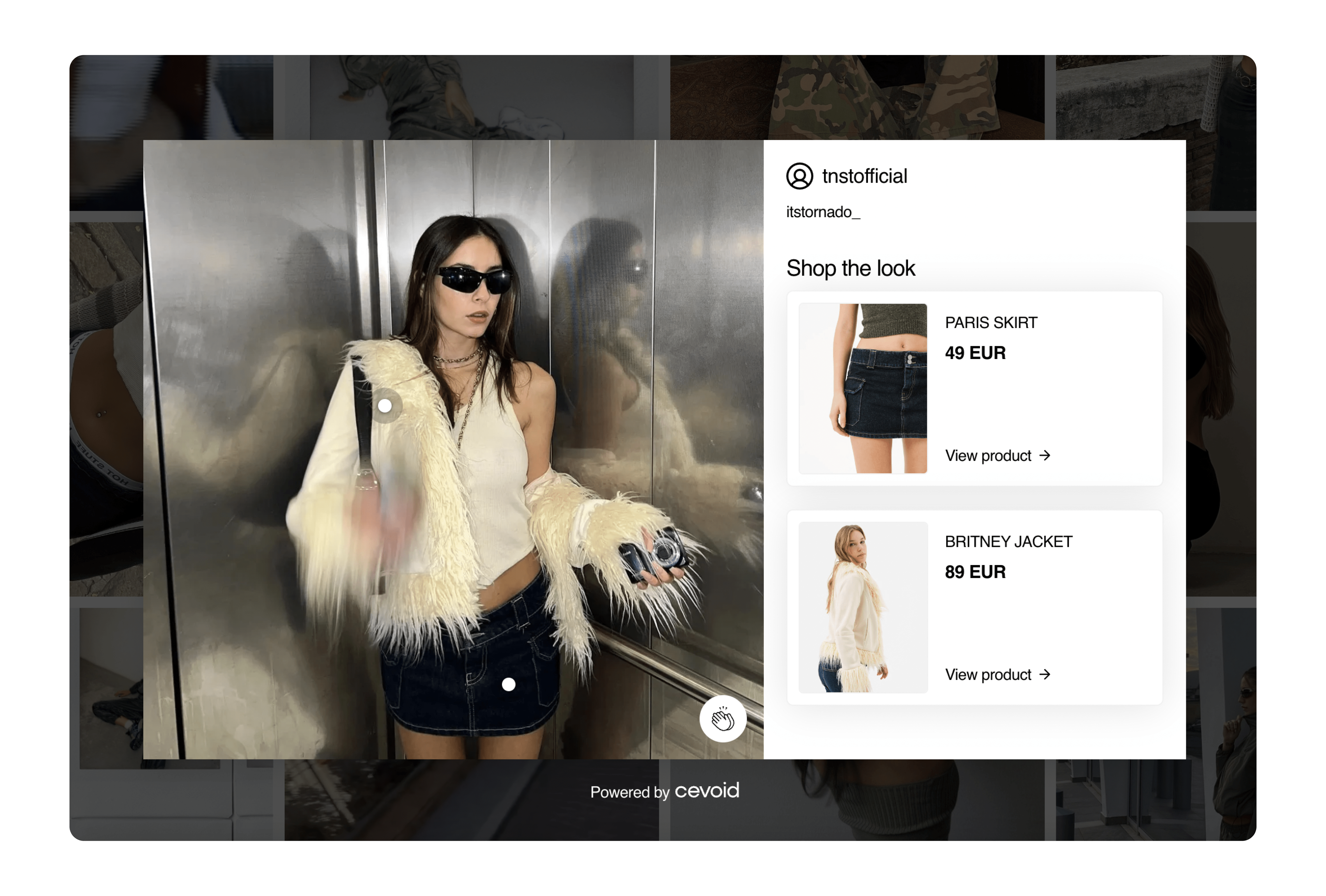 Blog
Adding shoppable UGC to your website enhances your promotional opportunities and can nudge a casual browser to become a customer. Take a look at how the Swedish pet food company Petfood has done it by integrating shoppable content into their blog.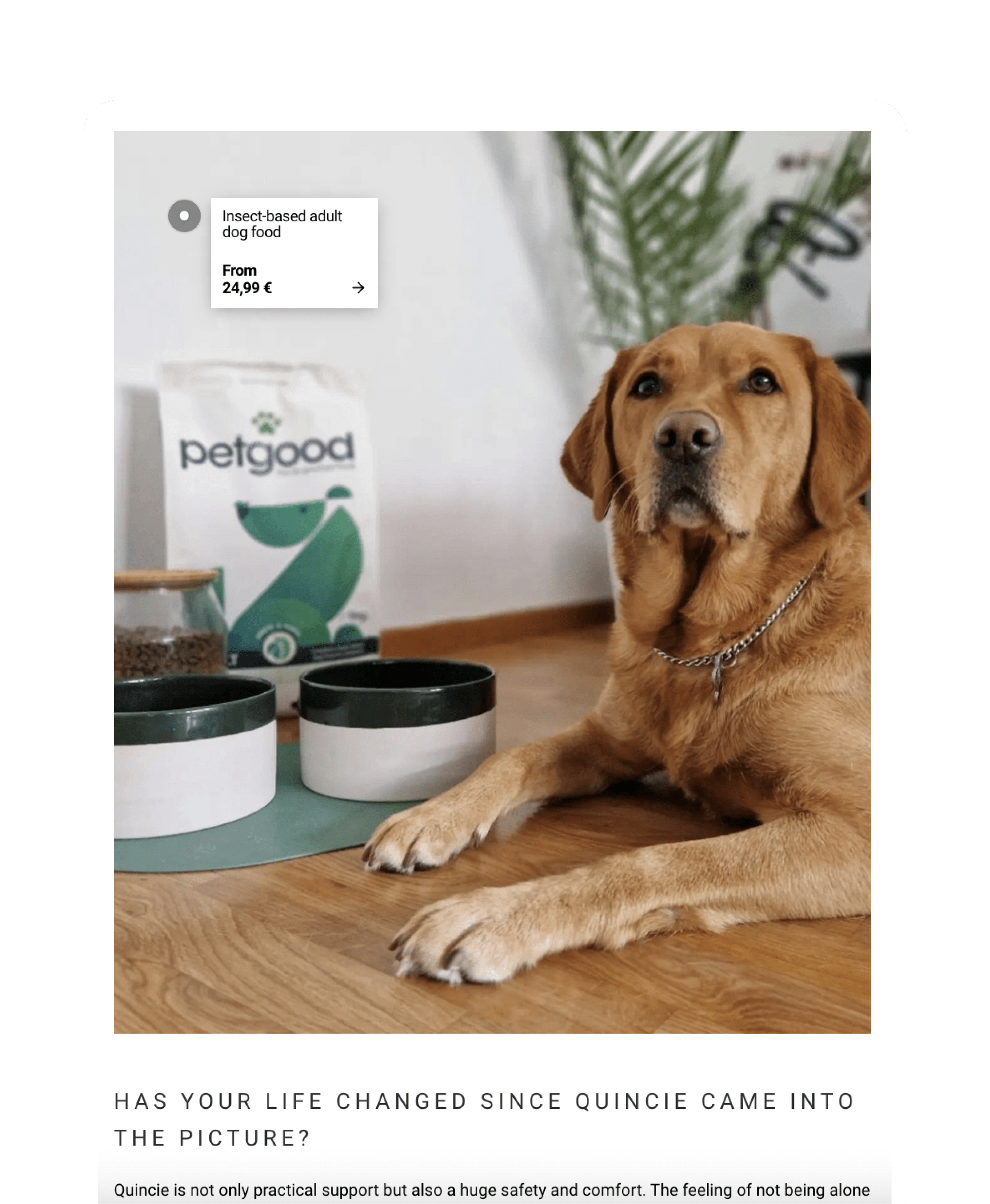 Suppose a curious reader has stumbled upon your blog (or any section of your website, for that matter) with integrated shoppable content. In that case, they can seamlessly inspect your product without navigating to a different page. 
And the best part is — adding shoppable UGC to your website is easy! Keep reading to find out how you can do it right away.
How do I add shoppable UGC to my website?
Social media is a strong selling channel, but your website is the face of your business. You don't have to pick just one place to show off your products since multichannel selling is a fantastic strategy for expanding your customer reach.
With Cevoid, adding shoppable content to your website is as easy as pie! Let me show you how to do it; we'll take it step by step.
1. Collect your UGC
Head to your Cevoid dashboard, click Inbox, and explore your options. This is the section where you'll see all posts where your brand has been mentioned.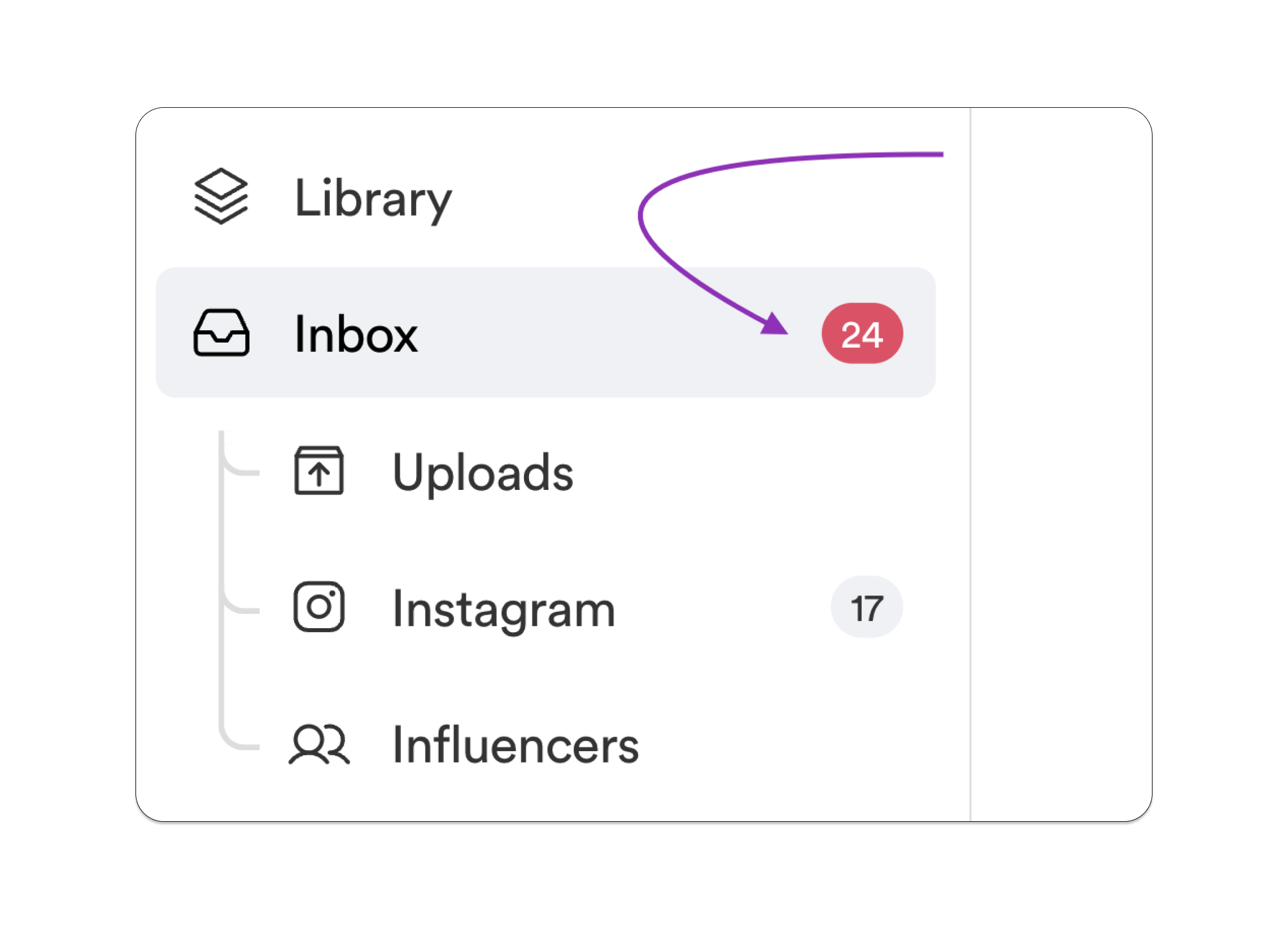 Request use rights (unless you have them already) in a matter of clicks, and move on to the next step. Or you can also use your in-house content instead of user-generated content.
2. Add product tags
Click Library; that's where all your collected content lives. 
Select the user-generated content piece you want to make shoppable, click Add product, and follow the instructions.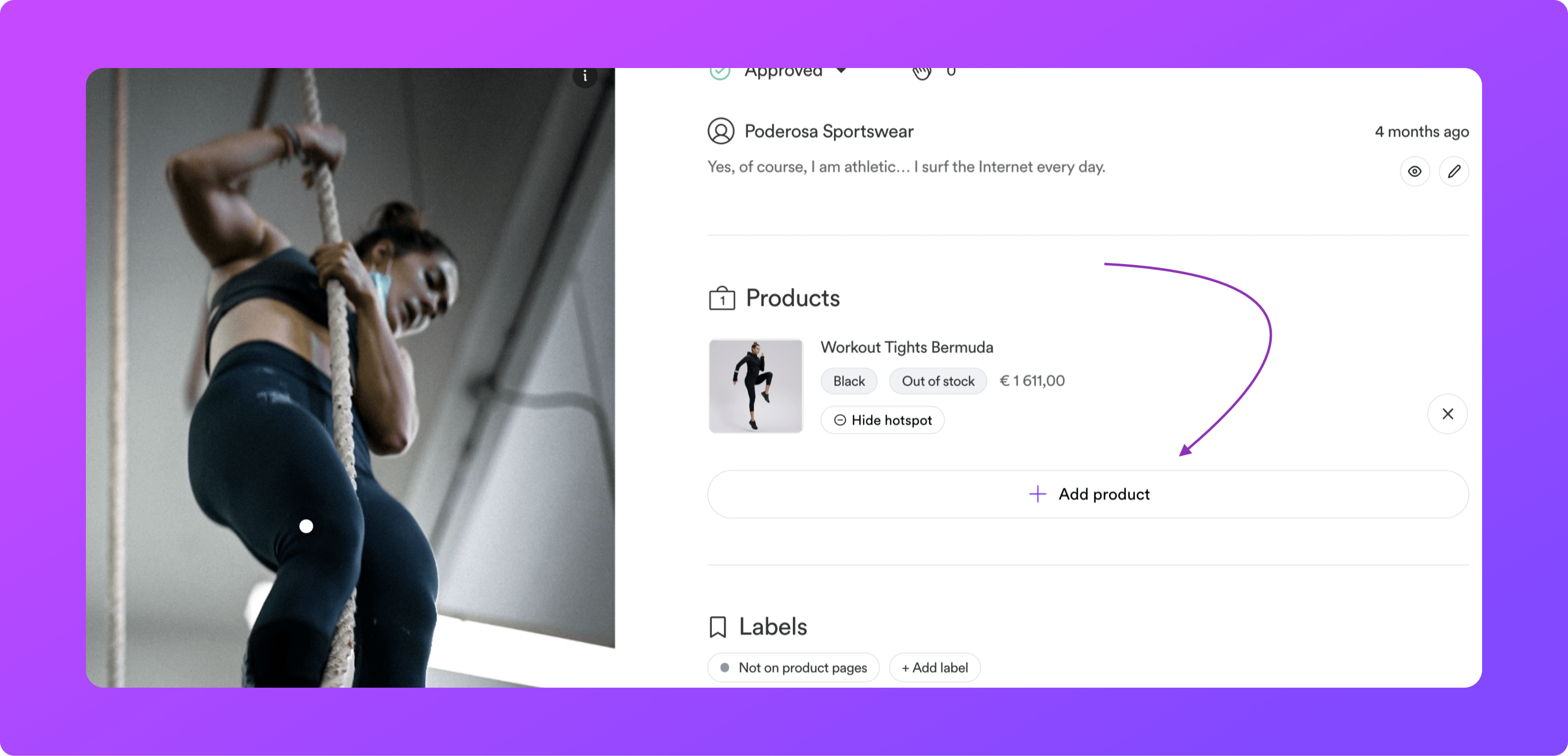 Remember to place the product tag (aka the hotspot) somewhere noticeable, so avoid corners of the image.
3. Create a Card
This is where the fun begins! In the product view where you just added product tags, scroll down and look for a Create card button. Click it. Alternatively, you can find the Cards section on your dashboard and take it from there.
Now you can style your card by:
Changing corner roundness and card width
Choosing if you want to display the original creator's username
Writing a catchy caption to engage your audience
Deciding if you're going to highlight the tagged product, and more!
Once you've finished styling your card, click Save changes. Then, when you're ready to add it to your website and mesmerize your viewers, click Embed card, copy the code, and add it to your site.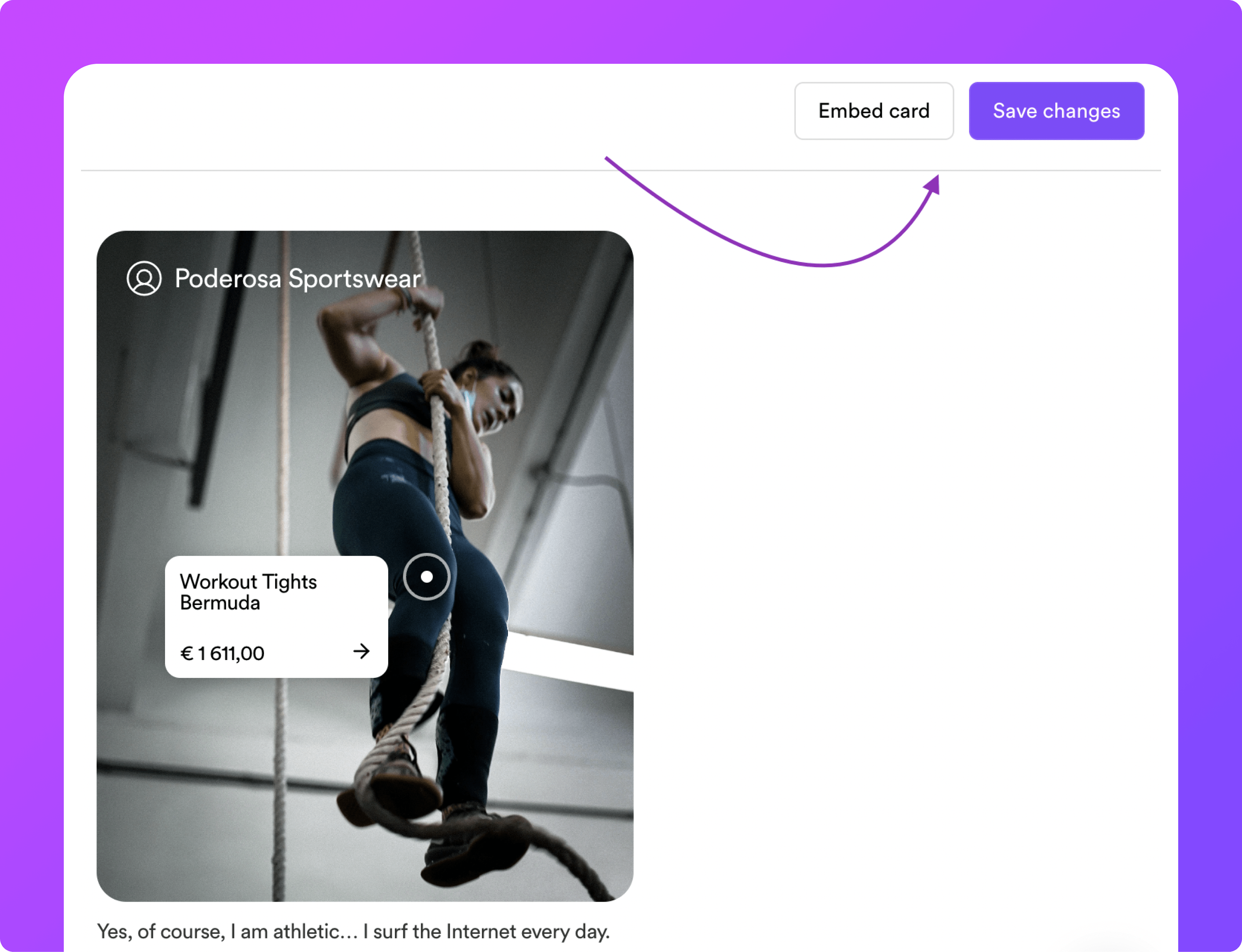 All done! 
And here's the end result in all its glory — this is how the card could look on your blog, too. Click to open the card and play around with it.
Dare to experiment with UGC and shoppable content
While using shoppable content improves the customer experience, UGC can help you close the sale. After all, UGC provides authentic, trust-worthy visuals that ensure the customer that they're making the right decision by buying from you.
However, the most important thing is to experiment — both with your UGC and your shoppable content. Add product tags to your social media posts and videos, but don't leave your website out to dry. It deserves some extra engagement and UGC love, too. 
Incorporate Cevoid cards in different sections of your website, blog, run A/B tests to see how they perform, and most importantly — never stop experimenting. The digital landscape is continuously changing, and so are the customers. So your approach to customer engagement should, too.

Ready to try out Cards? Click here to create one right now!