Navigating the ever-changing ecommerce landscape can be a whirlwind, especially when customers are drowning in a sea of marketing messages all day. That's why we want to share an exciting yet currently underrated marketing strategy that has great potential to revolutionize how ecommerce brands connect with their audience.
It's called community-led marketing (or simply community marketing), and in this blog, you'll learn what it is, why it matters, and how to do it right.
What is community marketing in ecommerce?
Community marketing is a strategy that focuses on building meaningful connections and fostering a sense of belonging among customers. It goes beyond traditional marketing, aiming to create an engaged and loyal customer base where each participant feels valued, heard, and can freely interact with the brand and other ecommerce community members. 
However, a brand community goes beyond customers. Each individual who supports and contributes to the brand's growth is considered a community member. For example, a community member is also a brand ambassador, a long-term influencer, an employee, and any other participant that cares about the brand's future. 
Essentially, a brand community is an exclusive tribe of individuals united by the love of a certain brand and its products.
What is the right way to do community marketing?
Everyone wants to work with a community-led marketing strategy. Every ecommerce business wishes to have an army of loyal followers promoting their brand. But few know how community marketing works and how to do it effectively. 
Spoiler alert: successful community marketing doesn't stop at creating a Facebook group for your customers. It's so much more than the ABCs of community building.
Marketing has evolved from emphasizing what the product is and what features and benefits it has to what a customer's life would look like if they were using a certain product.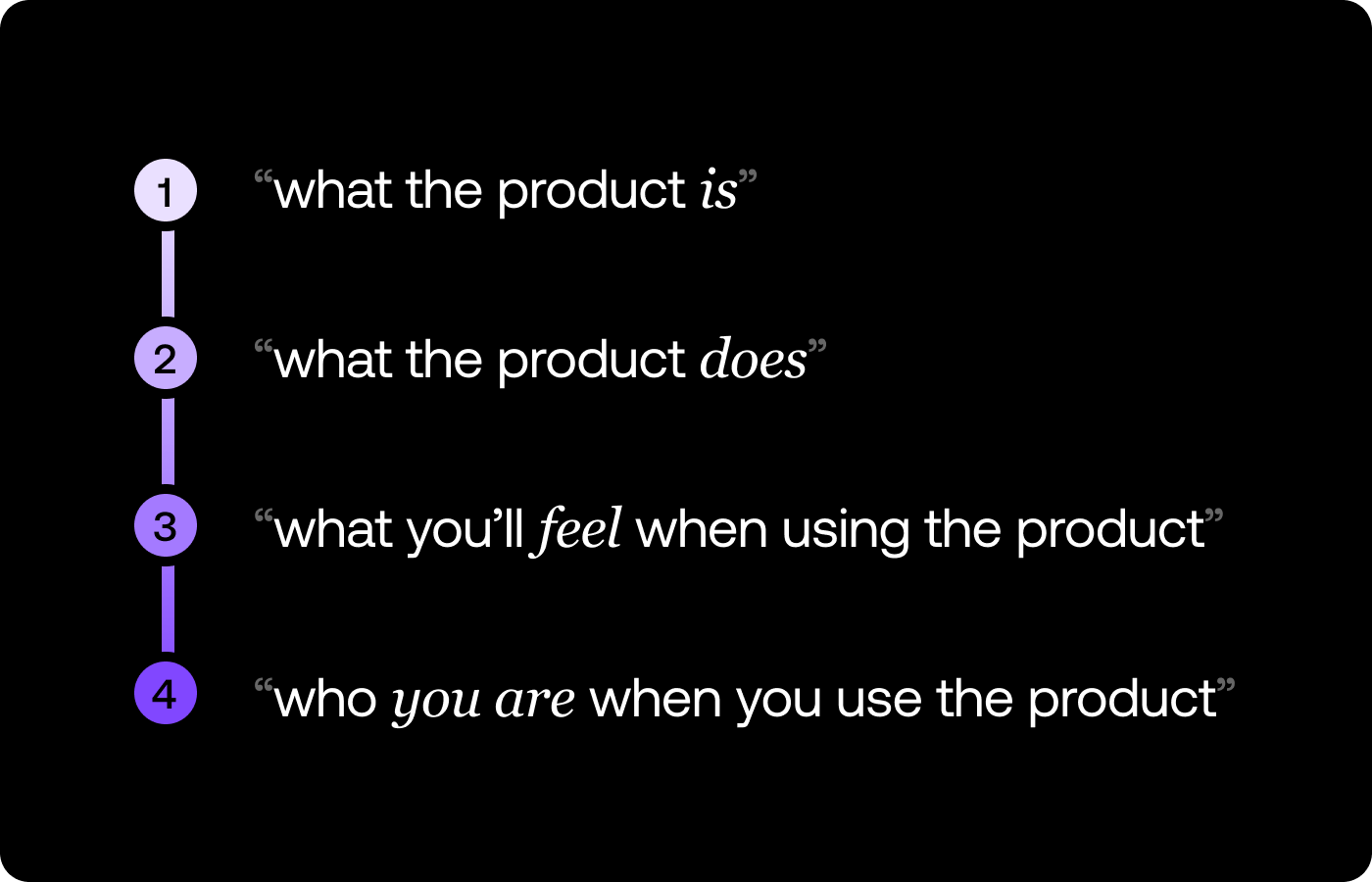 Features and benefits are still important, particularly for product differentiation. But aligning with customers' personal identities has become more important than ever. And in a way, aligning with the consumer identities is one of the most straightforward ways to do marketing because customers tell you precisely what they want to feel; but you have to be willing to listen.
The old vs. the new brand model
According to marketing expert Marty Neumeier, the old brand model, where a company creates a brand with the goal of attracting customers that will sustain the company, is no longer viable. These days, brands are becoming more fluid and adaptable. They're trying to fit their customers' needs, not make the customers tailor their lifestyles based on what the brand can offer. 
And this is where the new brand model comes into play.
The new brand model (aka community-led marketing approach) teaches that customers are the ones that essentially build the brand. The brand keeps the company going forward and helps attract new customers, which in return, also contributes to the brand building.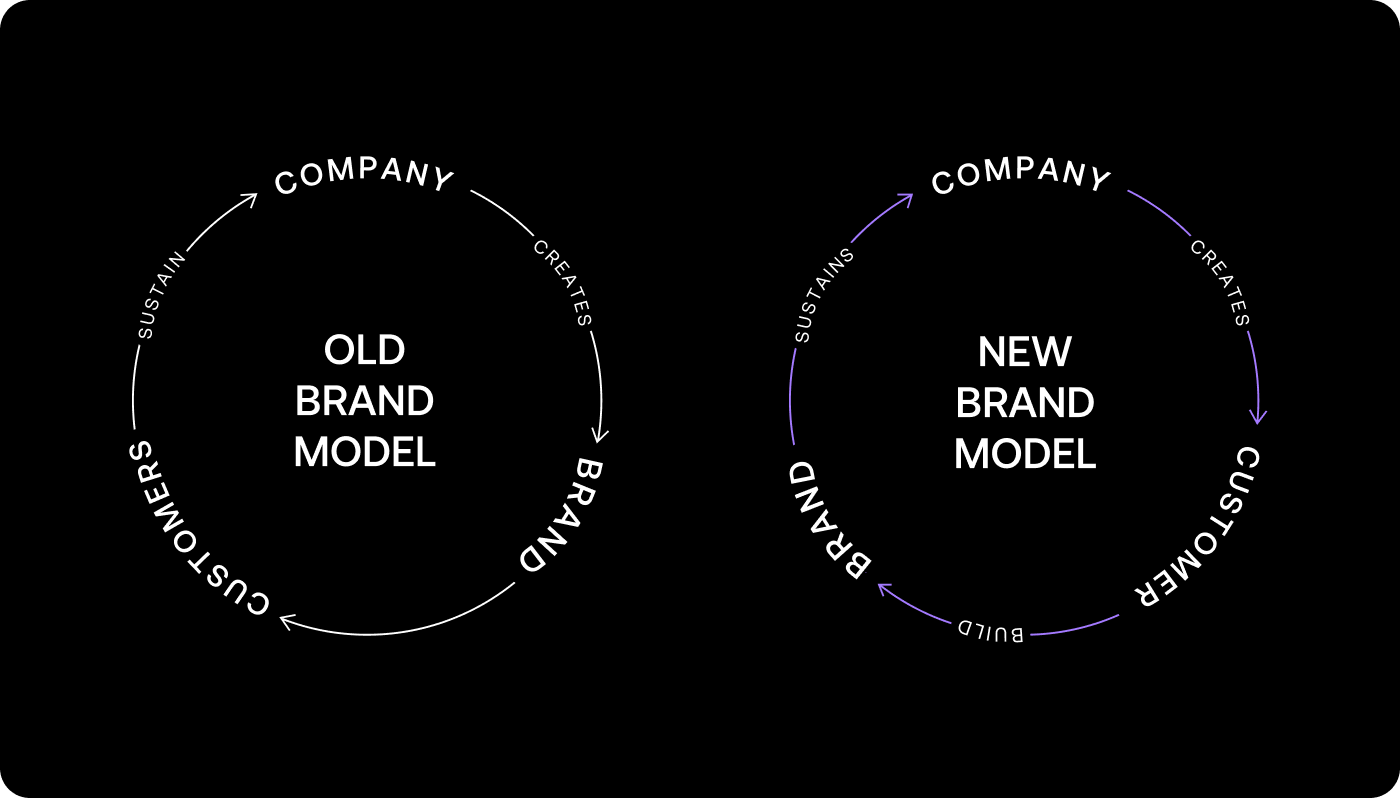 Community-led marketing is about truly listening to your customers. It goes beyond quarterly satisfaction surveys, loyalty discounts, and "we miss you" emails. While many ecommerce businesses pride themselves on being innovators or game-changers, community-led marketing is the ultimate test for checking if these statements hold true.
To build a successful brand community and make the best out of community-led marketing strategies, it's crucial to put brand ego aside. Brand community members and their voices should be the north star for further brand development. Businesses that are able to build their brand based on their customers' communicated needs and daily feedback are the ones that do community marketing right.
So how can you build a successful community marketing strategy for ecommerce? 
While we cannot create a strategy tailored specifically to your brand, we can help you ask yourself and your team the right questions to get you there. Plus, one of the first steps to an effective community-led marketing strategy is to understand what community marketing consists of.
The seven essential building blocks of community marketing
What has layers and can sometimes make people cry? Onions, Shrek, and the attempt to understand how community marketing works. But luckily for you, we're here to explain the basics of community marketing.
We've distinguished three levels of community marketing that consist of seven building blocks. It's our job to give you a complete guide to the building blocks of community marketing. However, depending on your brand's strategy, some blocks, such as purchase rewards, might be less relevant for your community.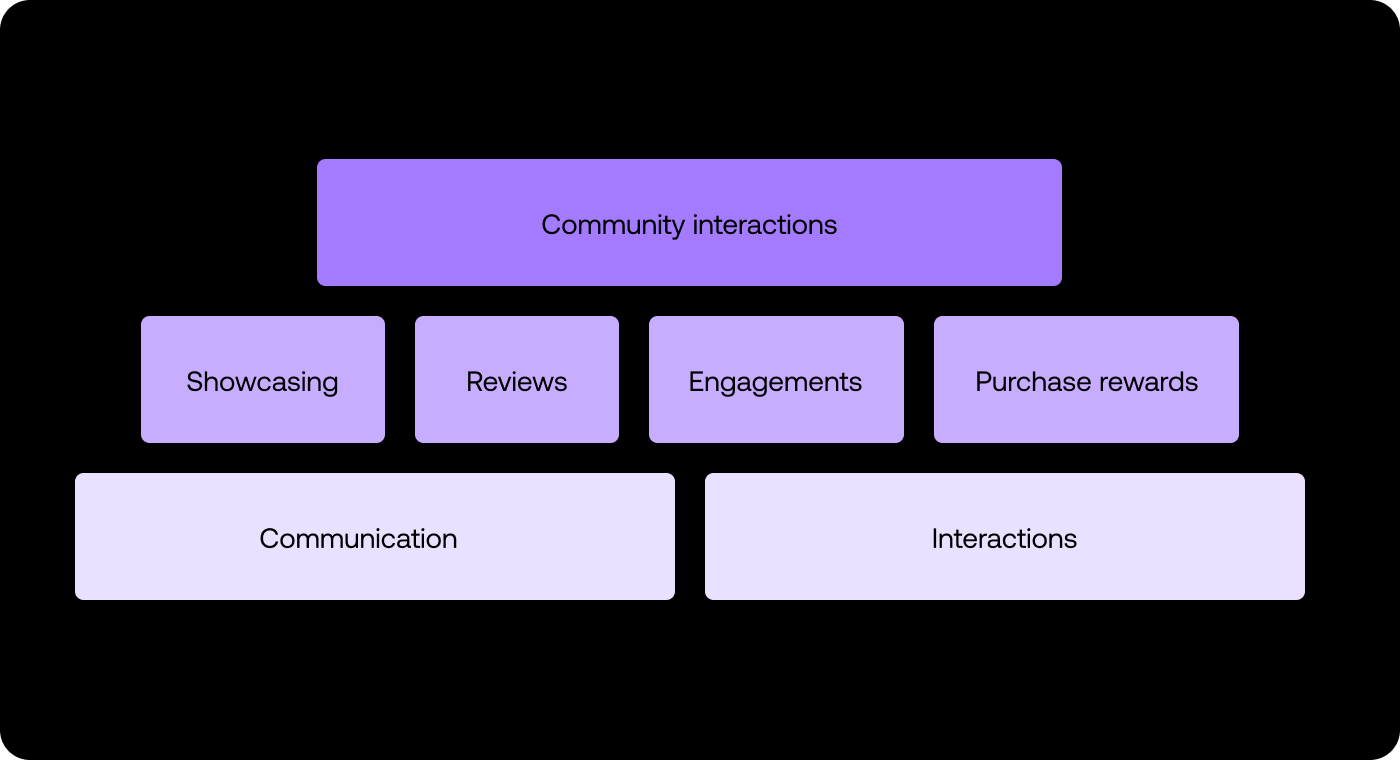 💜 Level 1: Laying The Foundation
Think of community marketing as a majestic mountain where the foundation plays a crucial role. At this initial level, two fundamental elements come into play: communication and interactions.
Communication
To be clear, in this context, we're talking about one-way communication. Communication begins with you, as the brand, sharing significant updates and engaging content with your valued customers.
One-way communication typically consists of:
News related to products and your brand
This communication is typically delivered in the form of newsletters and social media, allowing you to reach a wider audience and maintain regular contact with your community members.
Why is one-way communication important?
One-way communication helps keep customers informed so they don't forget about your brand. Without actively sharing content and updates, there would be no foundation for progressing to the subsequent levels of community building.
What's the purpose of this building block?
The main goal of this building block is to establish recognition, enhance brand awareness, and enable targeted communication. Before diving into more advanced aspects of community building, effective communication is essential as it sets the stage for meaningful interactions.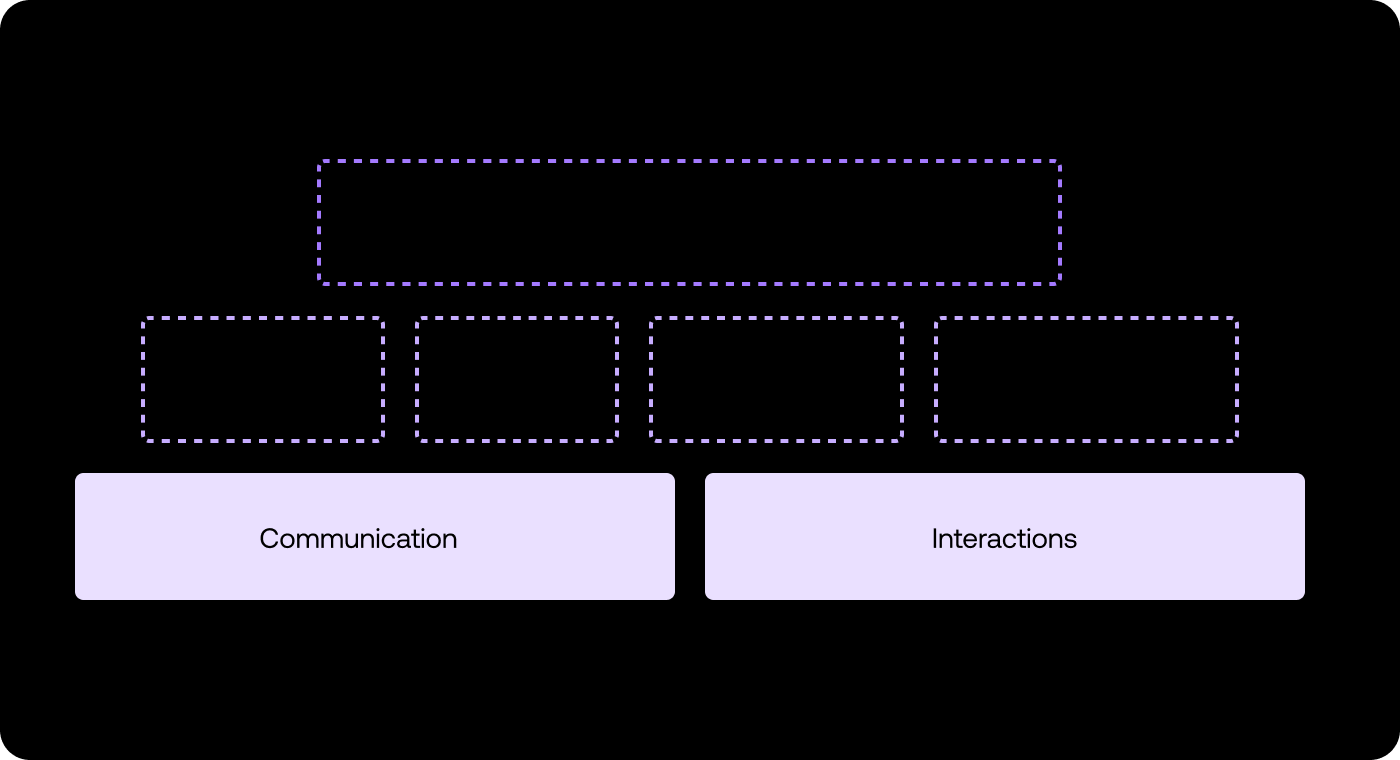 Interactions
Interactions with your community form the second essential building block of community marketing. To establish a solid foundation for healthy relationships, focus on two key elements: effective communication (as we discussed above) and meaningful interactions.
One of the most popular ways to engage with your brand community on social media is by addressing customer concerns. By tailoring responses to specific queries or feedback, brands can initiate a personal connection.
Here's an example of a soda brand Olipop having a friendly encounter with a customer on Twitter: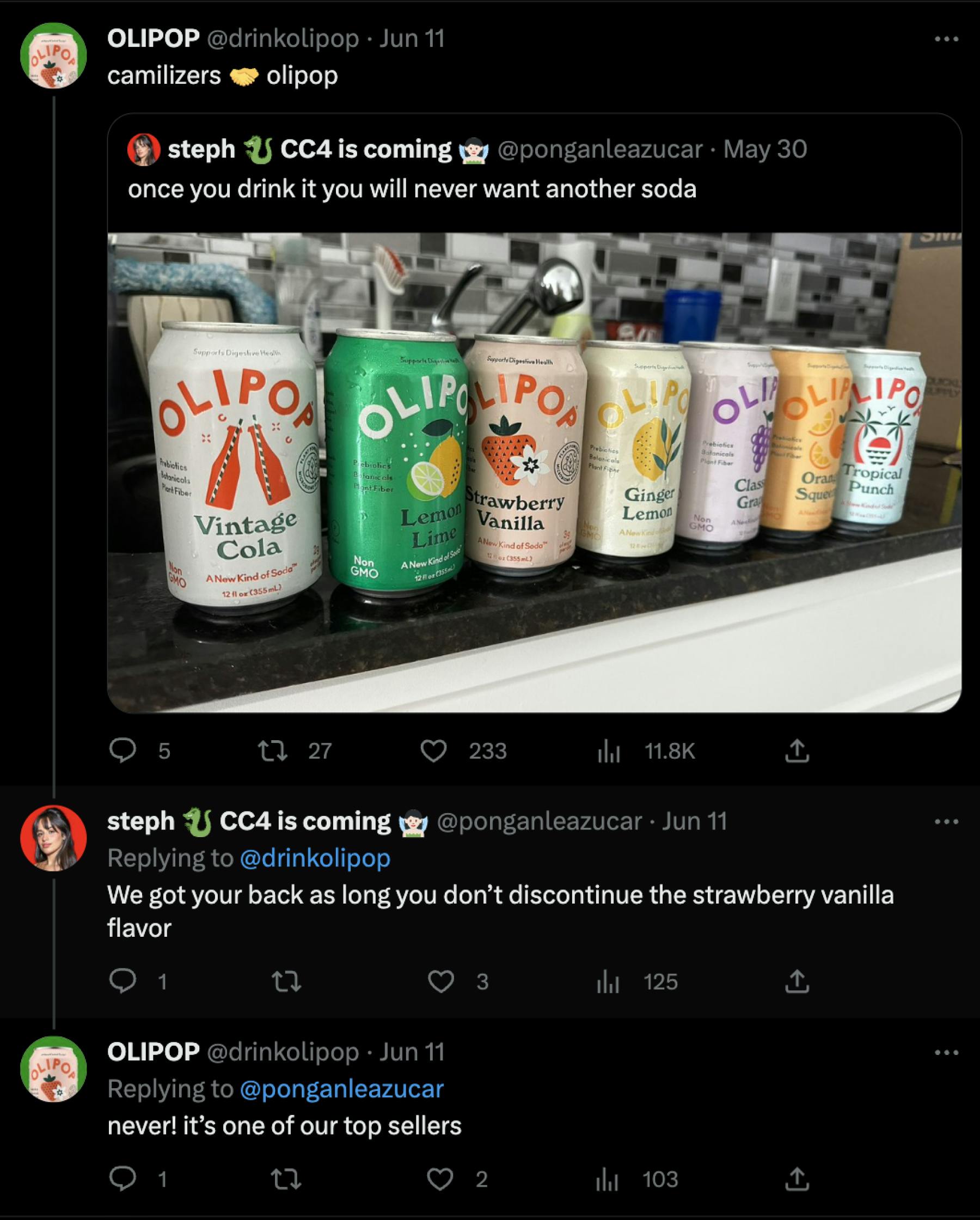 Why do interactions matter?
Customers who receive replies from brands get excited as they become part of the conversation. Interactions create an open dialogue where customers can freely express themselves, ask questions, and share their experiences. It's like having a virtual hangout where everyone gets to share their thoughts and ideas. 
By regularly interacting with customers, brands can turn passive customers into active participants, building a kickass community where each voice matters.
💜 Level 2: Building The Momentum
Welcome to the next level of community marketing! Once you've established communication and healthy interactions with your brand community, it's time to kick things up a notch and build some serious momentum.
There are four powerful strategies to note at this level: putting the spotlight on inspiring community content, offering authentic social proof, enticing purchase rewards, and supercharging engagement levels.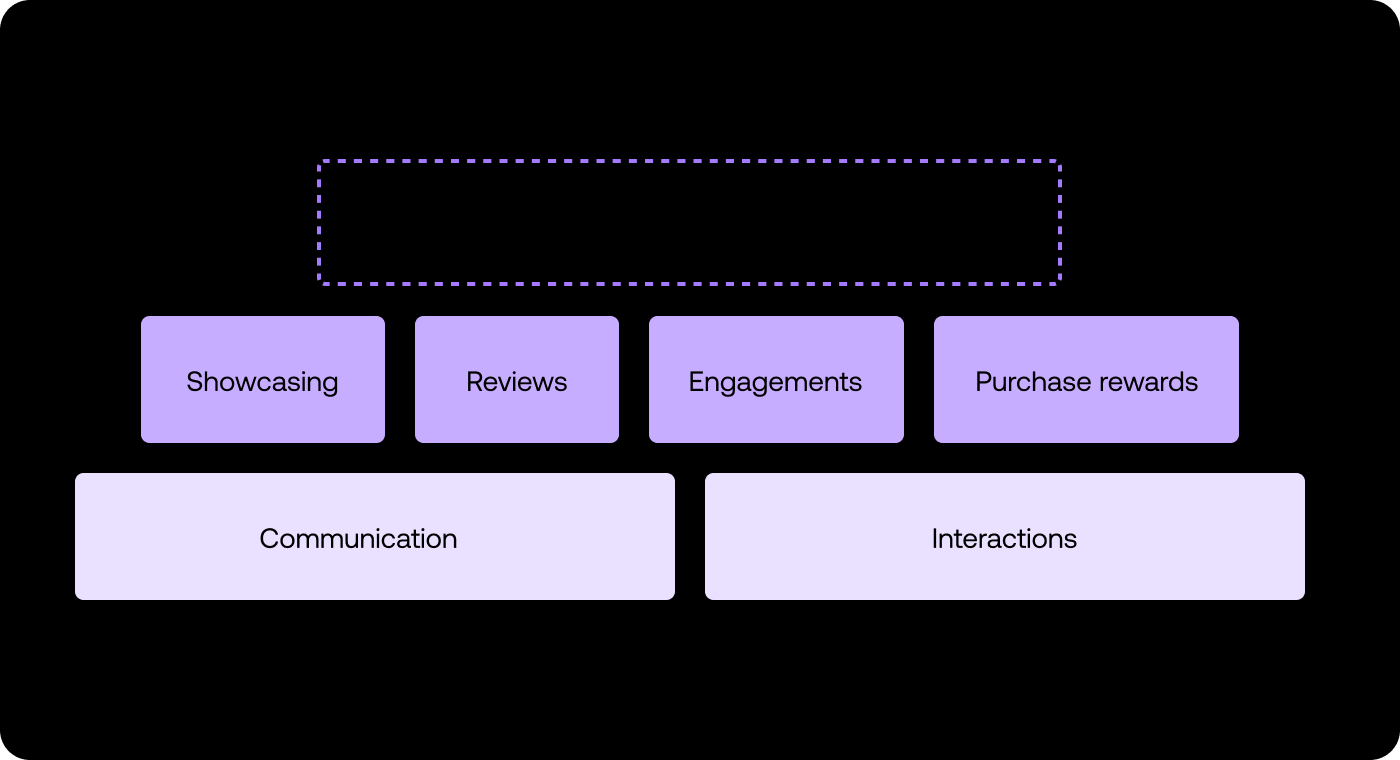 Let's dive in and discover the magic behind these game-changing tactics.
Showcase
Highlighting and recognizing your community members is important for building an engaged brand community. And one way to do that is by showcasing their visual contributions to your brand. By featuring your community members in your marketing efforts, you attract new customers and inspire and intrigue curious by-passers that could become your customers someday.
Why showcasing community content is important?
Showcasing community content brings numerous benefits, such as:
Authentic social proof. When potential customers see real people enjoying and endorsing your products, they're more inclined to relate to these experiences over brand-made content. Community content acts as authentic social proof, showing that your brand is genuine, reliable, and worthy of consideration. 

Better brand awareness. When you feature your community members, their unique stories and experiences become a testament to the authenticity and value of your brand. This not only inspires your existing audience but also attracts new customers who resonate with the real-life narratives shared by your community.

Engaging experience for customers. When customers see their content showcased, it creates a sense of pride and validation. Seeing their creations on your marketing channels makes a deeper connection with your brand as they become active participants in your brand story.

Cost-effective marketing. Showcasing community content is a low-cost way to leverage free content for your brand. By featuring user-generated content, you tap into a goldmine of valuable visuals that can be shared across your marketing channels. This helps diversify your content strategy and save on production costs.
Remember, showcasing community content is not just about displaying visuals; it's about celebrating the people who created them. Give your community a platform to shine, and you'll create an ecosystem of shared success, connections, and creativity.
What content can I showcase with Cevoid?
The possibilities are endless when showcasing captivating content with Cevoid. Choose from a wide range of UGC widgets designed to help you display your community's vibe across multiple marketing channels. 
Here are some exciting ways you can use Cevoid to make a difference for your brand.
Website galleries. Create numerous galleries for any page or section on your website. Include social proof on your product pages, launch a community wall, showcase influencer content, or make smooth lookbooks and shop-the-look pages.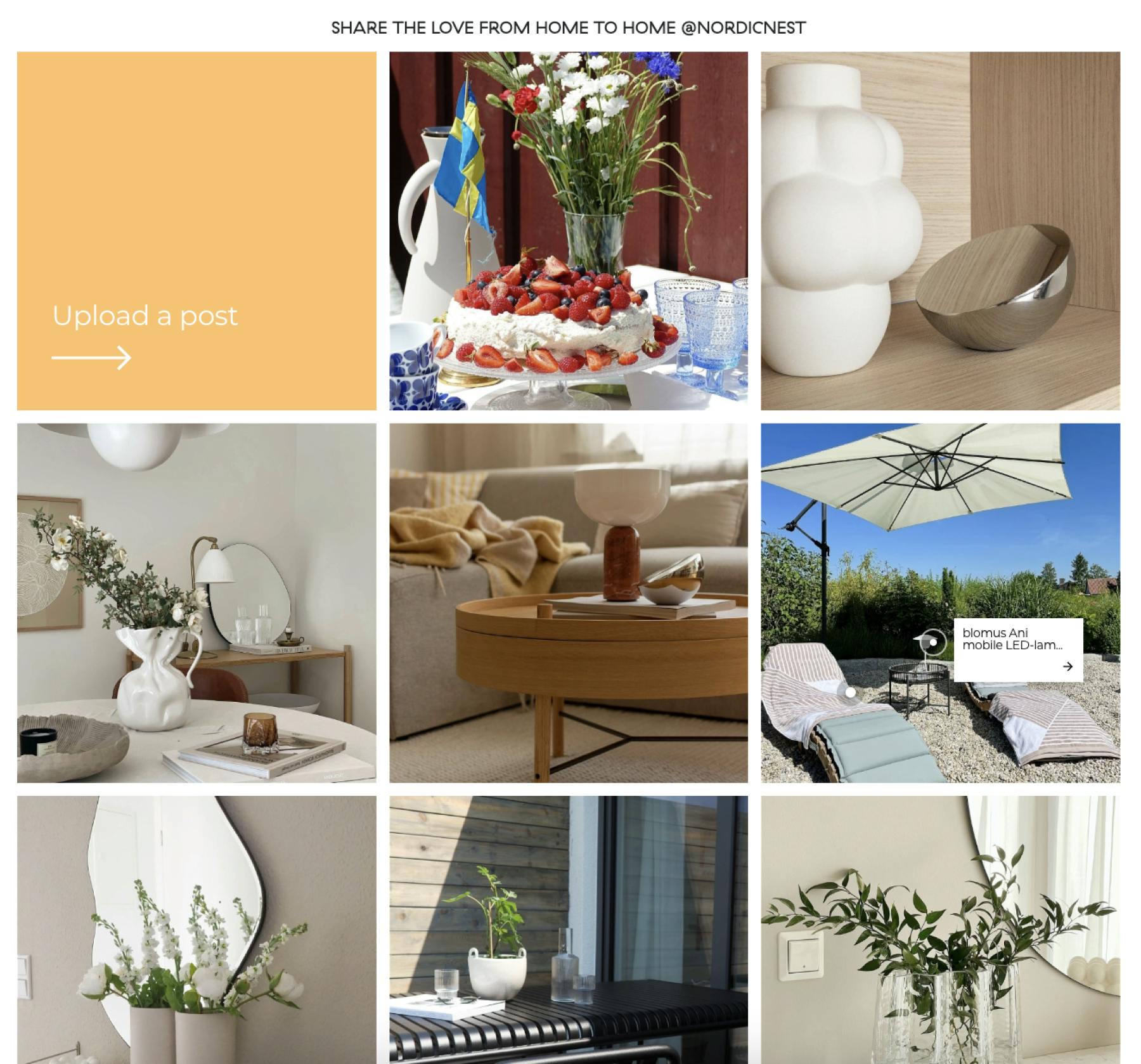 Shoppable cards. Highlight a specific product or showcase a whole look with multiple products and give your customers the ultimate shopping spree! Cards can be placed anywhere on your website or blog, and they're fully customizable, too.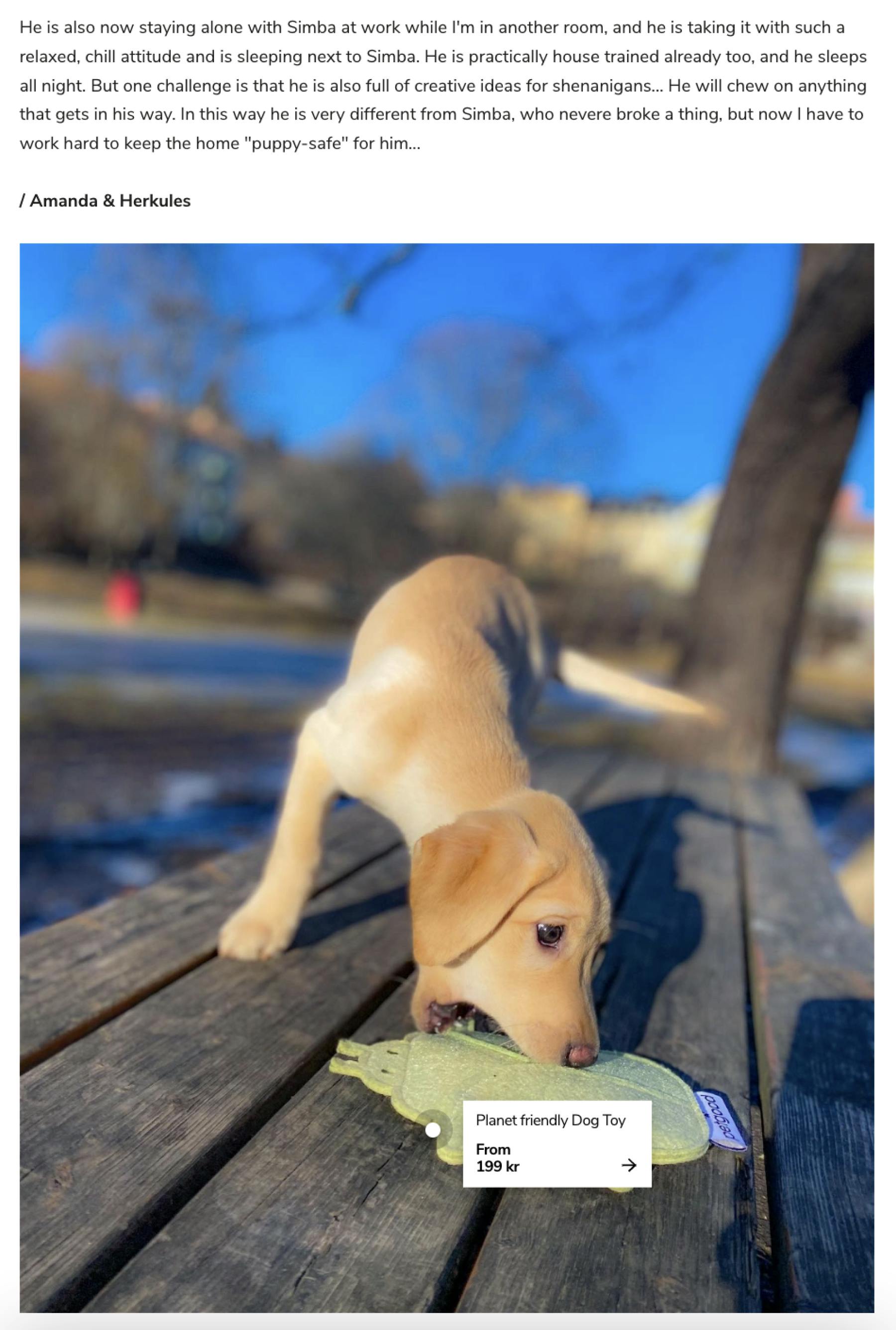 Email widgets. Give your newsletters a makeover with static UGC, or add dynamic widgets to transactional emails. With email widgets, you get to inspire your audience with stunning content every single day and make sure to always include hyper-relevant content in your flows.
Repost on social media. Take your collected UGC and post it straight to Instagram. You'll even get your own UGC content calendar, and once you've scheduled your posts from Cevoid, we'll publish them at your desired time and date without any additional involvement from your team.
Reviews
Reviews are important in establishing social proof and building trust on your website. They can make or break the impression for first-time visitors who seek reassurance through the experiences of others.
What type of reviews work best?
The more personable and relatable a review is, the better. Reviews that merely state 'good' or 'okay' may convey legitimacy but lack the wow factor. After all, if a product is 'just okay,' there's no sense of urgency to make a purchase.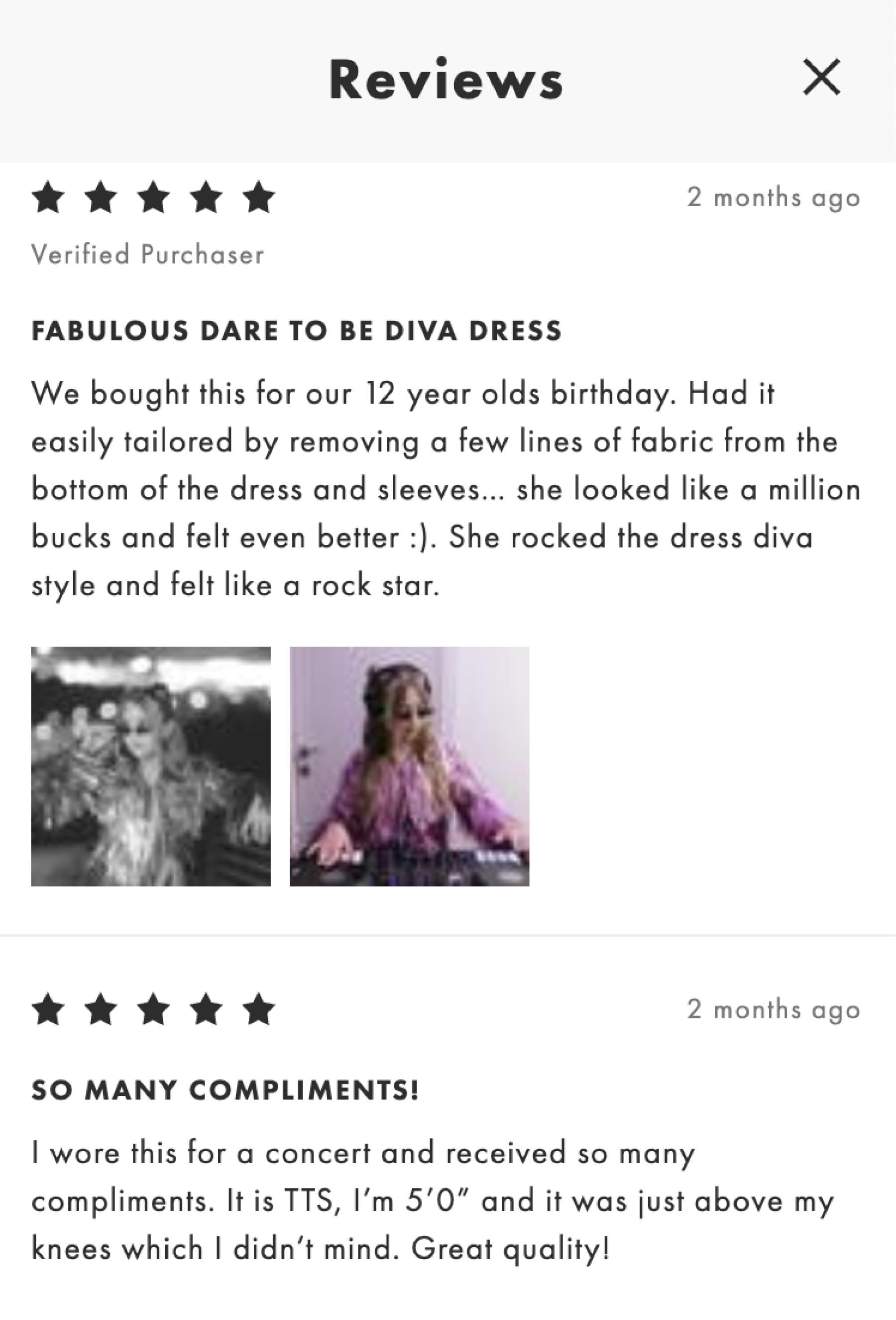 How can brands attain reviews from their customers?
One popular approach that ecommerce brands use is sending post-purchase emails to request reviews. Typically, these emails include options to rate the experience with stars, provide written feedback, upload images, or a combination of these practices.
However, a common challenge with this approach is that customers might need more motivation to leave a review. Even if they genuinely enjoy the product and wish to share their experience, brands sometimes need to provide an extra incentive.
Engagement
To build a thriving online community, it's crucial to go beyond simply attracting visitors and focus on keeping the party going. Regular engagement is necessary for excitement and actively involving community members in various activities. Creating an environment that fosters interaction, collaboration, and participation will help you build a more healthy and lasting brand community.
How can ecommerce brands engage their communities?
Create exciting tasks and missions that encourage community participation. Think contests, raffles, competitions, and other fun activities that make your community members feel part of something special.
Here's an example of a social media giveaway hosted by the skincare brand Coco and Eve.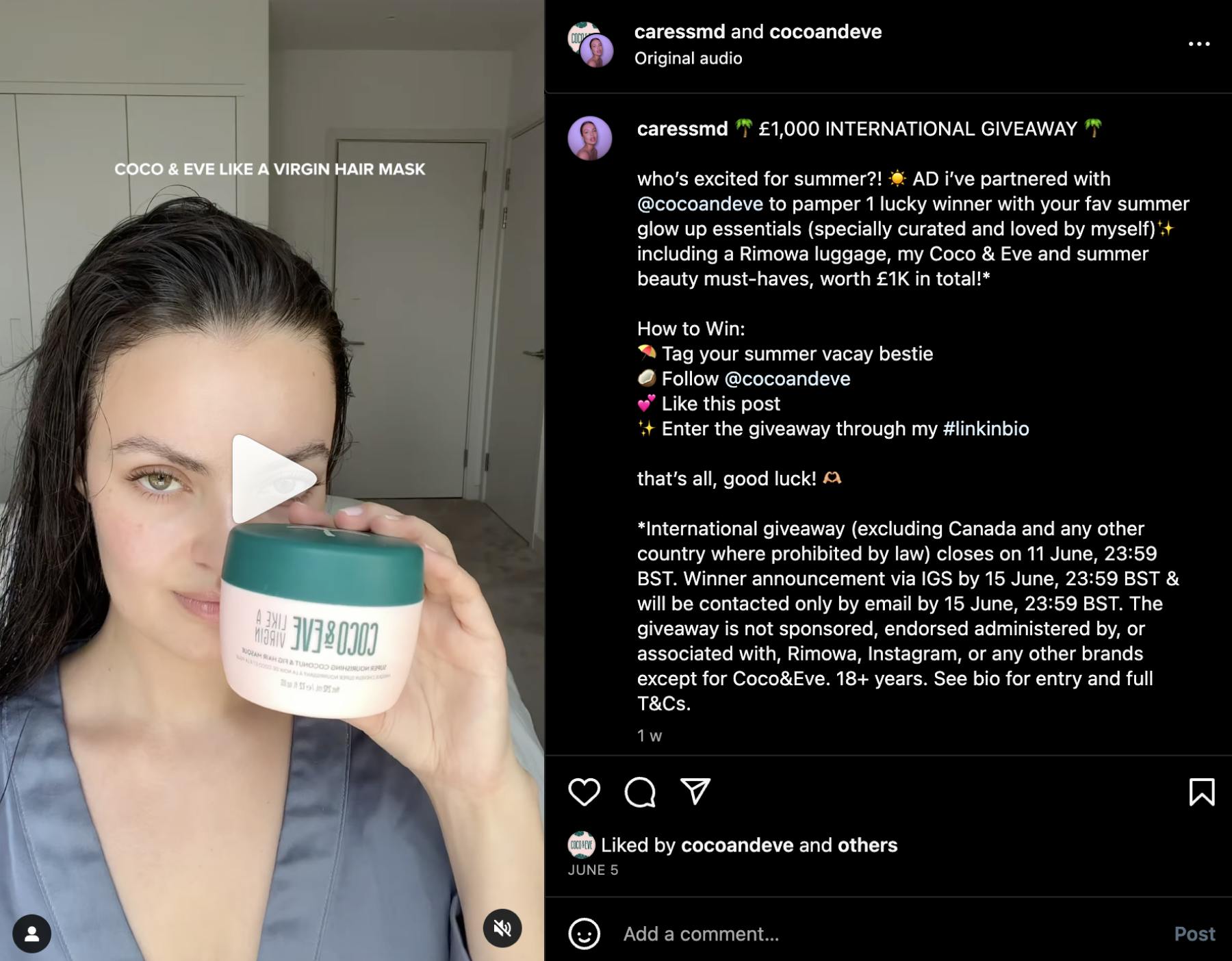 Notice that the giveaway is held in partnership with a digital creator. This is a particularly good way to boost engagement since the content is posted both on the brand's and the creator's page. This increases the reach and gets more participants to engage!
While beneficial, you don't always have to do your online activities with influencers or brand ambassadors. Interactive campaigns help create a community feeling among your existing followers and customers. By actively involving them in contests and giveaways, you encourage engagement, strengthen relationships, and create a pleasant, supportive feeling around your brand.
And here's a bonus tip: incorporating a voting system adds an extra layer of engagement and agency. This way, active participants and those who prefer to only contribute with their votes can feel included and empowered.
What prizes can you offer for contests and similar activities?
The most popular winnings brands usually provide are discount codes and free products. You can create a more memorable and personalized customer experience by offering prizes beyond discounts. 
Non-discount rewards have a special way of making people feel appreciated and valued. They add a personal touch to the interaction and leave a lasting impression on your community.
With many brands relying on discount codes or goodie giveaways, thinking outside the box can make your activities stand out. Consider prizes that align with your brand values or reflect your customers' interests. For example, it could be an exclusive behind-the-scenes experience, a limited-edition item, a customized package, or even a meet-and-greet opportunity with someone influential in your industry.
Another fun thing to try is gamification. You can give your community digital badges, special titles, and digital products when they interact with your brand.
How can ecommerce brands effectively engage their community?
Launching events, competitions, and other captivating activities from scratch takes substantial time and energy. That's why we're eager to create a way to help you double down on these efforts. 
Cevoid is currently working on a solution to make it easy for ecommerce brands to engage their brand community. We'll make sure to provide a smooth system for you to reward your customers with various rewards that fit your brand. Your brand community deserves a genuinely engaging experience, and we'll help you make it happen.
Keep an eye on our LinkedIn and Twitter in the upcoming months to be the first to find out.
Purchase rewards 
Purchase rewards are benefits that customers receive for making repeat purchases. If they fit your brand and are well-perceived by your community, purchase rewards can motivate customers to buy more.
What can purchase rewards do for your brand?
Purchase rewards are designed to drive repeat purchases. When customers are given the opportunity to receive something desirable in the future (such as a discount code), they see it as a valuable chance to enjoy additional benefits.
Are there any cons to doing purchase rewards?
While some ecommerce brands opt for this strategy, you should be aware of some downsides. There are running costs associated with implementing and maintaining purchase reward systems. Plus, this approach may not work for every product or industry.
Purchase rewards work wonders for brands and products that are everyday staples, like groceries. This is why most grocery retailers have a loyalty program anyone can enroll in. But when you're offering products that enhance your customers' lives but aren't considered essential, leveraging purchase rewards to your advantage becomes more challenging.
However, don't be discouraged—with the right attitude and creative ideas, anything can work. So if you're ready to give your customers some love and encourage a little extra consumption, purchase rewards can be an excellent tool for building a brand community.
💜 Level 3: Building a Thriving Community
Congratulations on mastering the foundational levels of community building! Now, as we dive into level 3, we will explore the last essential building block—community interactions—that will take your community marketing efforts to new heights.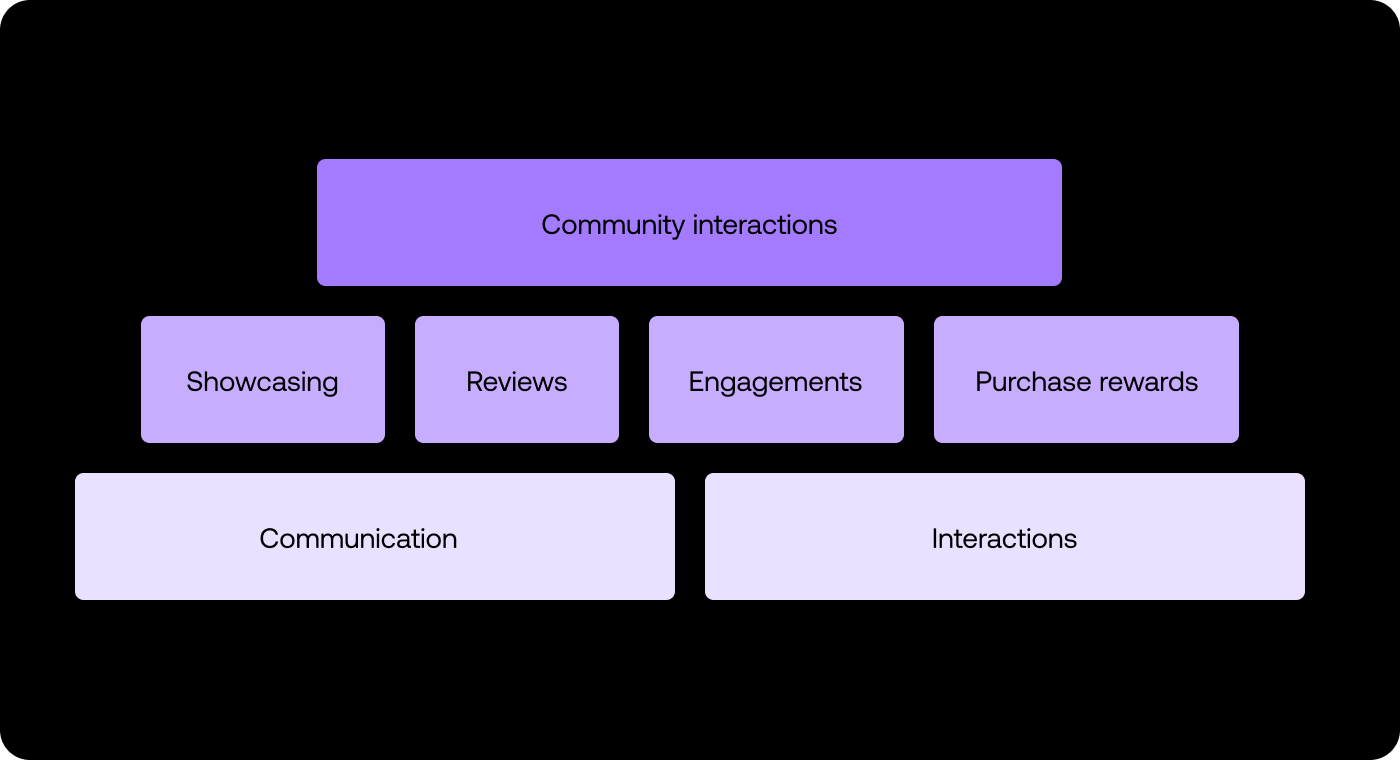 Community interaction
The final building block in our community marketing pyramid is community interaction. This level of engagement fosters a sense of belonging and loyalty that transcends traditional customer relationships. At this stage, it's crucial to create a thriving digital space where your community members can come together, connect, and engage with your brand.
What does a thriving digital community space look like?
Consider creating a community within digital spaces that provide opportunities for meaningful discussions. For ecommerce brands, it could be platforms such as Facebook groups, Discord groups, Slack channel, or even a dedicated community space on your website. 
Or, you can take your community gatherings a step further and organize in-person meet-ups for a more authentic experience.
Check out how the Swedish fashion brand Djerf Avenue has incorporated a community space on its website. Community members can create style boards similar to Pinterest and share their outfit combinations with the rest of the community.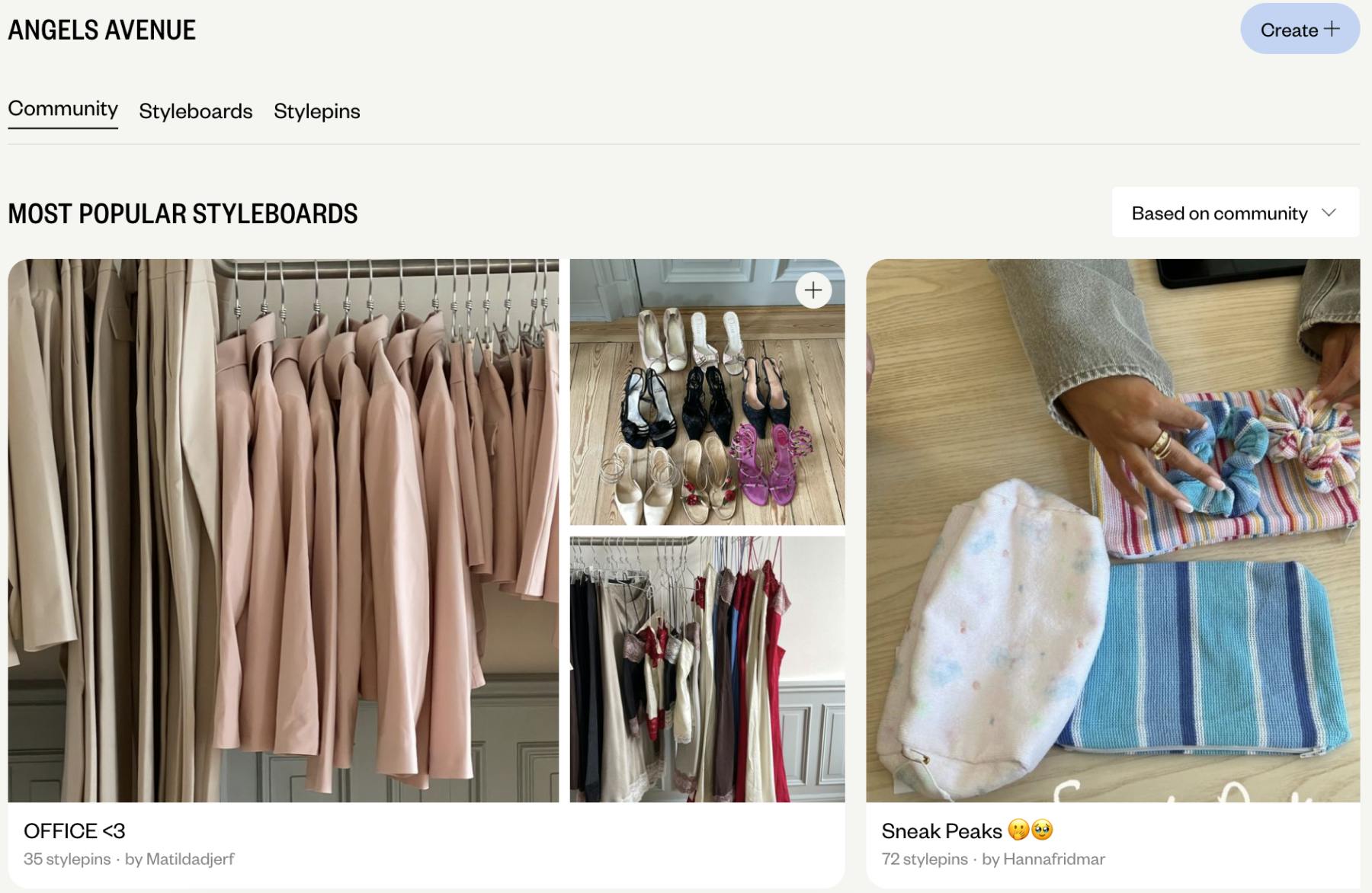 What is the benefit of engaged brand communities?
​​Engaging your community brings significant benefits to any ecommerce brand. It enhances customer engagement and fosters loyalty, which directly impacts your brand's success. Moreover, nurturing an engaged brand community lets you establish authentic connections with your customers and build trust.
By prioritizing community engagement, you create a supportive environment that amplifies your brand's presence and drives sustainable growth.
Let your brand community do the talking
Community-led growth is the key to success for ecommerce brands. Once you let your customers dictate the rules, you'll cultivate an engaged and thriving brand community in no time.
The best advice we can give you is to embrace the shift from one-way communication to an engaged community where everyone has a voice and the opportunity to contribute. This approach not only benefits individual community members but also empowers your brand as a whole.
To build a successful brand community—it cannot be emphasized enough—it's essential to set aside brand ego. The customers, or brand communities themselves, should be the guiding force for your next steps. By listening to their voices and incorporating their feedback, you can create a community that truly resonates with its members.
Mastering each of the seven building blocks is essential throughout the journey of community building. As you progress through the levels, nurturing your community, you will see it transform and flourish. 
We at Cevoid firmly believe that any brand willing to invest time, effort, and genuine care into their community can create a unique and authentic community experience. We're dedicated to supporting you in this endeavor through our UGC and community management tools. Give Cevoid a try—it's free to start—and elevate your community-building efforts today!